Just how crucial is Tosin to our plans?
Written by Sean Guest on 2nd June 2022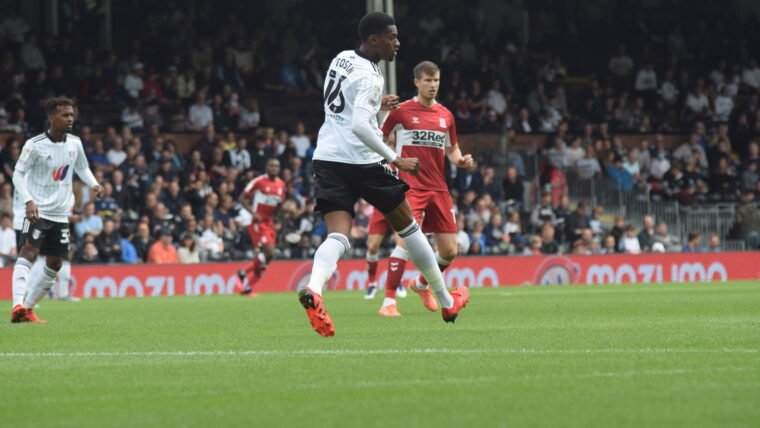 Amid Premier League interest and talk of a mythical 'Tosin window', Sean looks at the importance of our young centre-back.
Tosin Adarabioyo has become the poster boy for Fulham's transfer strategy in recent years.
The 24-year-old is the product of an elite academy who has played in the Champions League, the FA Cup and the EFL Cup for Manchester City and also spent time in the Championship thanks to loan spells at West Brom and Blackburn before joining us on a permanent deal in October 2020. Although his experience didn't extend to the Premier League, Tony Khan described him as a "formidable defender" who has "received positive ratings from our data team and our coaches" when announcing his signing.
Since then he's gone on to prove himself just that, and recent transfer interest from Arsenal and Newcastle has prompted the club to open contract talks with a year remaining on his current deal.
But just how crucial is he to our long term plans? Let's take a closer look.
Embed from Getty Images
Instant impact
It's easy to forget just how big an impact the arrivals of Tosin, alongside Joachim Andersen and Alphonse Areola, had on Fulham in the autumn of 2020. After conceding 11 goals in our first four games back in the Premier League, the post deadline day line-up shipped just four in our next four, picking up four points and a clean sheet in the process. All of a sudden we looked less like the laughing stock that got torn apart on Monday Night Football and more like a team capable of scrapping for survival.
And so it proved, as the three combined to make Fulham a difficult team to score against. Between their arrivals and our infamous 0-1 win against Liverpool at Anfield in March, we conceded two or more goals just six times. During that stretch, our average xGA was 1.24 while it exceeded 2.0 just four times, resulting in nine valuable clean sheets.
Tosin and Andersen looked as if they'd been playing together for years. And while the Dane was the more dominant of the two, leading the way in the bulk of statistical categories, while also wearing the armband for much of the season, Tosin actually logged superior numbers in key categories like tackles made, ground duel success percentage and blocks per 90 minutes, underling the value of his individual contribution.
Their partnership should have been the foundation upon which our survival bid was built. After all, we finished the season having conceded fewer goals than seven other teams (53) and with an xGA better than eight (52.9), suggesting that regardless of the actual outcome, our backline, anchored by Tosin, Andersen and Areola, arguably did enough to keep us in the top flight.
Embed from Getty Images
Ream team
With Andersen and Areola returning to their parent clubs last summer (a subsequently back to the Premier League), Tosin found himself playing as part of a remodelled defence this season. Making 41 league appearances, he helped us secure the third best defensive record in the Championship, as only Bournemouth (39) and Nottingham Forest (40) conceded fewer goals than we did (43).
Key to this was his partnership with the resurgent Tim Ream. The pair complemented one another well from the off, but it was ultimately the American who turned in the superior campaign. As illustrated by data from Squawka, over the course of the season Ream bested Tosin in key categories such as tackles, ball recoveries, interceptions and ground duels, per 90 minutes. Tosin in turn logged better numbers when it came to aerial duels, clearances and blocks per 90 minutes, using his additional height to good effect. As Peter Rutzler of The Athletic pointed our recently though, Fulham really benefitted from having two "ball-playing centre-halves who can drive forward with the ball and switch the play quickly from right to left. This combination allows Fulham the chance to shift opposition teams, finding space by either going long or by driving into their defensive block."
While this approach was highly effective in the Championship, it may be less of a point of emphasis in the Premier League next season as we spend more time on the back foot, and given Tosin's ability on the ball, Fulham may be open to sourcing a different type of centre-back to play alongside him. Despite his recent contract extension, Ream will, in all likelihood, be limited to bench appearances and the occasional cup game next season having looked far from stellar during previous stints in the top flight. That said, the club will undoubtedly be looking for someone who can not only marshal our backline but whose skillset complements Tosin's, as both Ream and Andersen's did.
Embed from Getty Images
Comfortable and capable
Considering how little Fulham paid for Tosin two years ago, he's already proven himself to be a shrewd investment. In two seasons with the club he's looked comfortable and capable in both the Premier League and the Championship and will no doubt be looking forward to getting a full top flight campaign under his belt next season.
What's more, with Michael Hector and Alfie Mawson both being shown the exit recently, he's now one of the only senior centre halves on the books. Given the need to add more quality and depth at the back this summer, Fulham should do whatever they can to deter interest from elsewhere by offering him what he's looking for in a contract extension, even if doing so eats into the budget available for upgrades elsewhere.
Embed from Getty Images
There is, of course, a risk that they add a few years on to his current deal only to get relegated at the end of the season, although this could be negated with a release clause. That said, in an ideal world we should be looking to hold onto him for the long term regardless of which division we're in. He is, after all, a young, talented player who's become a crucial part of our core over the past couple of years. And given the fact that he's arguably the greatest success of Fulham's data-driven approach to scouting under Tony Khan, it would be a surprise to see the club risk letting leave any time soon.