Why releasing Seri was the right decision
Written by Dan Cooke on 25th May 2022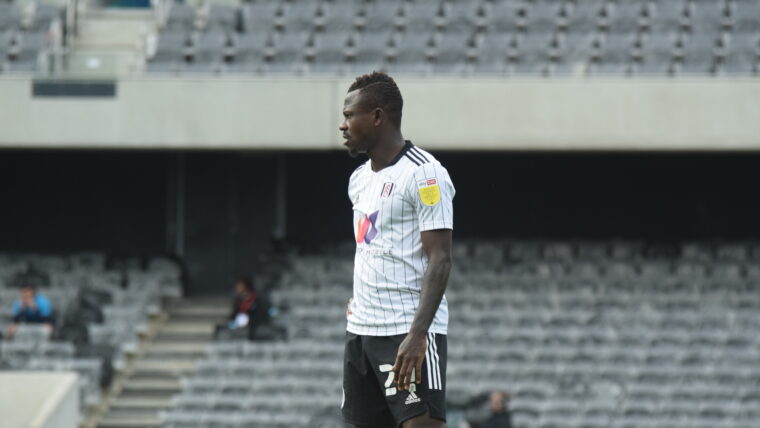 Dan Cooke discusses why, despite a marvellous season, it's the right time to bid adieu to JMS.
Monday was a sad day for many Fulham fans. A player who has had a turbulent time at the club since joining in 2018, one of many signings that saw some of Slavisa's 17/18 vintage pushed aside, has been released. It's fair to say that he hasn't always been viewed fondly by the fans, but after playing such an influential role in this magical season, I think most of us were rather melancholic when we saw Fabri's name on that list.
I jest. This piece is, in part, an ode to Jean-Michaël Seri – Mika – but also a realistic view as to why, despite him being a magnificent footballer, it was probably the right decision to let him go.
I can't think of many more talented playmakers to have graced the Cottage in the past few years. Mika's passing range is incredible, and watching him dictate play from deep this year has been a pleasure. He's a master at picking up little pockets of space and before he's even received the ball he knows where he's going to distribute it. A supremely intelligent footballer and a wonderful man.
But…
No. 6
Mika has played almost exclusively as our deepest midfielder this year, pulling the strings from that "number 6" role. For a Fulham side dominant in possession, this worked wonderfully – most of the time. It's the position on the pitch where Seri was going to see the ball most, giving him the opportunity to control the match. By having your best passer of the ball there, you give them more time on the ball and more chances to affect the game.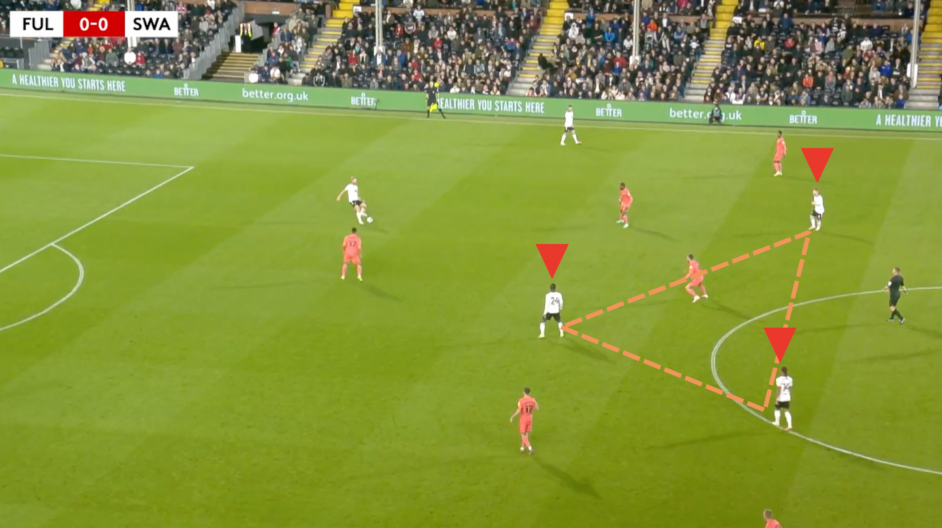 The best example of this was Swansea at home. They tried to press us high but Mika repeatedly got into positions like the picture above, finding that space between the lines, and we ran riot.
However, there's a huge responsibility that comes with being the deepest midfielder, especially in a side that plays on the front foot; protecting against transitions. The person occupying this role has to protect their two centre-backs by reading the game and snuffing out counter-attacks. You don't necessarily have to be the quickest player – think Sergio Busquets or, someone closer to home, Kevin McDonald. So, if you're not fast, you've got to be smart.
Reading at home was a good example of our vulnerability to transitions when Mika was at the base of midfield. The clip below runs through how we conceded the first goal, and it just highlights how, as exceptional as Seri is in possession, it's when the opposition has the ball that he is weakest.
His inability to track the runner, and his lack of instinct when it comes to smelling danger has cost us a couple of times this season. It's partially why we've looked so shaky against high intensity sides, because it's not within his skillset to handle these scenarios.
Another example would be Sheffield United at home; a goal that saw some fingers pointed at our two centre-backs. However, in an ideal world, you don't want them having to deal with these match situations, it's your number 6's job to protect them. This being said, we finished top of the league, so clearly his defensive frailties were outweighed by distributive abilities.
The Premier League is different though; it's football's elite. Offer top-tier clubs the opportunity to have players running directly at your back four and they will murder you. Picture Liverpool: if we get caught high up the pitch, we need a holding midfielder to slow down Salah, Mane, or dare I say it, Fabio Carvalho. What you can't allow to happen, is let players of that calibre have the freedom to cruise through the middle of the park.
We probably can't replace Mika with someone as talented on the ball, but it's a sensible trade-off if we can sign someone who can deal with these scenarios, who protects our back four. We may be swapping a Rolls-Royce for a Volvo, but we're going to need a dependable engine to get us through next season.
£££/week
I've heard suggestions that we should have kept Seri around, at least as a squad player. It's hard to disagree with that because he's a talented, much loved player, who despite his weaknesses, could still have a positive contribution in the top flight.
The only problem with that is, if you believe the websites that have this information, Mika is one of our highest earners, and potentially the top earner. You can't be spending that much money on someone you only consider to be a squad player.
We all know that we have to get it right as a club this year, and so if offloading Seri's wages means that we can bring in a player who is more suited to the role and the rigours of the Premier League, then it's unfortunately a decision that had to be made.
Adieu
I'm delighted that, in what turned out to be his final year at the club, Mika finally got the chance to showcase his talents. Witnessing that mutual adoration between fans and player was beautiful, and a wonderful redemption story. However, insert all of the clichés about football and its lack of sentimentality, because this ultimately seems to be a sensible decision.
Jean-Michaël, you will be remembered for a long time by the fans; one of the most technically gifted players I've seen at Fulham. He promised so much, and finally delivered, a key cog in an unforgettable season. You really were Marco Silva's man.