The 2021/22 season: Fulhamish roundtable
17th May 2022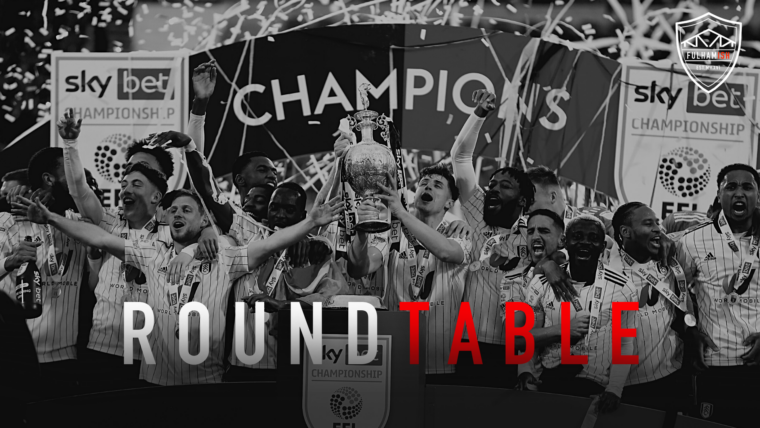 Now we've all calmed down a bit, the team reflect on a momentous campaign that'll live long in the memory.
Sammy James
I think it will take several years for us to truly realise the significance of this season. While it's true importance slightly depends on whether we stay up, I hope we will always appreciate how special the 21/22 campaign was. We may not have been the greatest championship team in terms of points, few have ever swashbuckled their way to a title with such attacking potency.
Following this team up and down the country has been a joy. Despite it not being one of the huge goal hauls, I think the Middlesbrough win was my favourite trip of the year. A special win at a difficult ground, won with an exquisite set-piece routine.
Embed from Getty Images
Jack Collins
Where to start – what a season! It's been a glorious time to be a Fulham fan. Our first title in 20 years, scoring 106 goals, Mitrovic breaking every record under the sun, it was all joyful. To pick out a few highlights feels like a dizzying task – but Mitrovic's first half hat-trick against Swansea back in September was the moment I thought we started flying. The palpable relief when Bobby scored the third against Rangers at home and it was apparent it had happened again. Muniz's equaliser up at Stoke when we got it done missing the big guns. The third against Preston when it was done and dusted and we were back in the Premier League. The pure, unfiltered joy of the seventh against Luton and Mitro's celebrations. As I said back in January, these seasons don't come around very often. Drink them in. Savour them. Enjoy this feeling.
Dom Betts
Well, what a season that was. Nine months worth of memories that will be treasured for ages, especially after coming after being shut out of grounds for 18 months.
Some highlights for me have got to be our huge away wins, such as putting five goals past a Huddersfield side on our first away game back – what a joyful day in Yorkshire. Our first 7-0 pasting of Blackburn on that freezing Tuesday night as everyone in that away end was like "what on earth is going on?". I'd say this is the night where everyone felt "yep, we're going up automatically this season".
If we're comparing that to when we fully believed the title would end up being ours, I would say it would be another midweek trip, this time to South Wales, in our 5-1 drubbing of Swansea, made all the better for a few other Fulham fans who put on a bet of a Neco Williams brace at 250/1. But these big away wins almost meant as much if not less than our closely ground out games like the 1-0 at Hull and the 1-0 midweek win at the Riverside.
The title being secured in pure Fulham fashion with a 7-0 win over Luton was beautiful with it being completed with Mitro's record 43rd goal, which is probably the goal most celebrated at Craven Cottage since Denis Odoi's header against Derby.
But as I started saying, the fact this record breaking season and our first title in 20 years happened after the covid lockdowns made it even sweeter I think. I hope everyone has a great summer and I'm sure I'll see you wherever our European pre-season adventures take us or at an away day coming to you in the Premier League soon. 
Embed from Getty Images
George Cooper
After a turgid season of Parkerball in the Premier League last year, all I wanted was a bit of flair back at Fulham. We'd lost our mojo: it'd been squeezed out by stifling tactics, like the residual dregs of a long-empty tube of toothpaste. Football under Parker last season was like waking up on a frigid frosty February morning feeling constipated. Football under Silva this season has been partying with fellow Fulham fan Margot Robbie at the Club Tropicana, getting hammered on Piña Coladas.
Obvious highlights include Mitro's eternal flame, Wilson's flawless debut season, watching Fabio Carvalho announce himself to world football, and of course all 106 of our goals. Off the pitch, I've loved watching our fanbase completely own all the usual lazy jibes that come our way, notably releasing that commemorative cheeseboard.
For what it's worth… I do think we'll stay up next season. If you look at our previous two Premier League campaigns, we are in our strongest position this year, by far. If rumours are true, add five-six high quality Marco Silva recruits and we should be able to climb the slippery pole of the Prem and finally take our grip on the league. While it's been fun, after the utter chaos of the last five years of Fulham, a boring season of 'midtable mediocrity' would do very nicely indeed.
Ben Jarman
There are very few things that can evoke emotion on the same level as your football team achieving success, and this season was one that had us beaming like Cheshire Cats from start to finish. Fulham rip-roared their way to the title, leaving a trail of goals in their wake, sweeping aside those who valiantly tried to stop them (apart from Coventry). We adulated as Mitrovic scored 43, we unified under cries of REEEEAM, and we fell in love with Fabio.
Those results in January; 7-0, 6-2, 6-2 – underlined the quality of this Marco Silva outfit, as the genius shook off the shackles the team had during Parkerball. The Portuguese Professor breathed new life in to Craven Cottage and more importantly in to the mercurial Aleksander Mitrovic, as Fulham bought home their first title in 21 years. We'll never forget those nights sealing promotion, and then the title – I know I won't. Fulham are back in the big time, and I for one can't wait.
Embed from Getty Images
Farrell Monk
Like many fans, I have rolled my eyes at countless lazy takes about Fulham this season. A lot of these would be naturally from people would never consider seeing football fandom from another perspective. But we all know and understand the context. Fulham came into this season, like a baker tuning up to the early shift – with a lot to prove. A new manager, players coming back from exile, and a star striker all looking to rebuild their reputation. What a redemption it has been to witness.
The strange thing was the apparent ease they went about racking up their wins. No last-minute winners, only a couple of times coming from behind. Fifteen times they secured victory by three goals or more, more than half our wins. 106 reasons to jump, fist pump and shout. The last of which will be debated for decades to come, which strike at this level was more special? Mitro or Davis? Almost a generation has gone by since Seany's curler versus Wednesday. But it goes to show how few occasions something special like this season comes along.  
Isabelle Barker
This has just been one of the most beautiful seasons to witness as a fan. I've soaked up every moment from virtually walking through someone's back garden at Kenilworth Road in Luton to watch a 1-1 draw on a rainy Saturday, to to chanting Harry Wilson, Mitrovic and Neeskens to the tune of Abba's Super Trooper as we pumped Birmingham 6-2 at Craven Cottage. I have loved every moment.
The stand out for me is Mitrovic breaking the second-tier goal-scoring record and proving that through thick and thin he is an absolute legend for the club. After he was bitterly cast aside by Scott Parker last season, our man was virtually out the door at the start of this term, but he stuck it out with us again and we will be eternally grateful for him.
Embed from Getty Images
Dan Cooke
12 months ago my submission for the roundtable was "we weren't there in person, so let's pretend it didn't happen. HMS Piss the League returns in August". It most definitely did return, but in the most magical of ways.
We will never forget this year, the 7(seven)-0s, the 6-2s, Mitro's 43. Statistically it may not have been perfect, but from the stands it was as close to perfection as we will ever get. Mitro's revival, Seri's redemption, Tim Ream's swan song, TC's return and Millwall at home, when 17,000 fans, coaches and players paid respects to one of our own. This is a special team, with a special manager, it's a special club.
And while there were so many incredible moments, the best thing about it all was that we were able to share it together, in person.
Drew Heatley
It's only in the years to come that we'll truly appreciate how good, how exciting and how monumental this campaign has been. Mitro's goals, the team's haul, the 7-0s, the Fulham Five securing the three-peat. Records have fallen, and spirits have risen; we've healed from another torrid Premier League relegation, and we've given ourselves our best chance yet to bounce back and stay in the top flight. We should all be excited for the future.
Embed from Getty Images
Adam Farquaharson
I'll start with a punchy statement, and proceed to back it up with absolute truth.
"This season was my favourite as a Fulham supporter."
The style of play is not only sublimely entertaining, it importantly gives us the highest expected goals we've ever experienced at the Cottage, and away from home. Marco took the plodding possession and transformed it superbly into swashbuckling waves of damaging, eroding, probing.
The team spirit was on show for all to see. Players sent off to hide under Parker were resurrected as Marco made it clear he could appreciate quality and utilised the squad expertly throughout the season. By welcoming in sports science to avoid overloading at risk players, we weren't lucky with injuries – we planned to avoid them. This kept the squad firing on all cylinders and relentlessness in their cohesive pursuit of the championship title.
Finally, Mitrovic. He had the season of his life in front of goal, taking long standing records and leaving them crushed in the wake of 43 net-wigglers. But somehow he's also transformed some of his passing from deep into an effective, naturally dangerous style that neutrals could easily mistake for Kevin De Bruyne.
Embed from Getty Images
George Singer
After a period of repeated relegations and ridicule, this year has been an incredibly special one for us all. I doubt we'll never see a Fulham side dominate a league like this ever again, routinely thrashing talented opponents both home and away. While celebrating promotion on the pitch was a wonderful moment, there's bittersweet aftertaste knowing that our prize will transform us once again into a small fish in a big pond.
Picking out one moment is clearly difficult, so the feeling I'd like to reference is the one of confidence. I've never felt so calm and happy following the Whites – I walked along Stevenage road every other week knowing we'd win – something I'd never felt before. And even in those rare times I was wrong, we'd built such a gap to rivals that there was never really any concern that we wouldn't finish top of the pile.
Embed from Getty Images
Cam Ramsey
The last time Fulham laid claim to an actual league title I was seven, so to be able to be a loud, proud part of our table-topping successes this season has been nothing short of a monumental privilege. Silva's men are record breakers, history makers, and we've witnessed the Whites decimate the Championship, live and present, after Covid denied us all promotion joy at Wembley two years ago. This has been a campaign like no other, bonds have been strengthened on and off the turf and now, I cannot wait for us to dig into the Premier League once again. This time, it'll be so, so different.
Jack Kelly
So, where to begin? From the 7-0s to the gritty 1-0 smash and grabs. The football; the goals; the records; the utter joy. This has been the most remarkable season I've ever experienced. A special season, where the club and fanbase reunited after months away, winning together, losing together and grieving together. Mitrovic 43 goals, 106 in total. Two pitch invasions and crowned champions. After the dark days of watching from home, barely creating a chance to free-scoring week in, week out. Marco Silva and Fulham have given me memories that I will cherish for the rest of my life. What a season! What a club!
Embed from Getty Images
Joe Sansom
This has been a season I will never forget, and my favourite as a fan to date. The moment Mitro hit our seventh against Luton will live with me forever among so many other memorable moments from a perfect day and pretty much a perfect season. The week we scored 19 goals may never be topped, but I hope we give it a good go next season! No matter what happens, at least we will be there in person to see it this time.