Fulham – and Mitro – are back where they belong
Written by Rhys Daly on 4th May 2022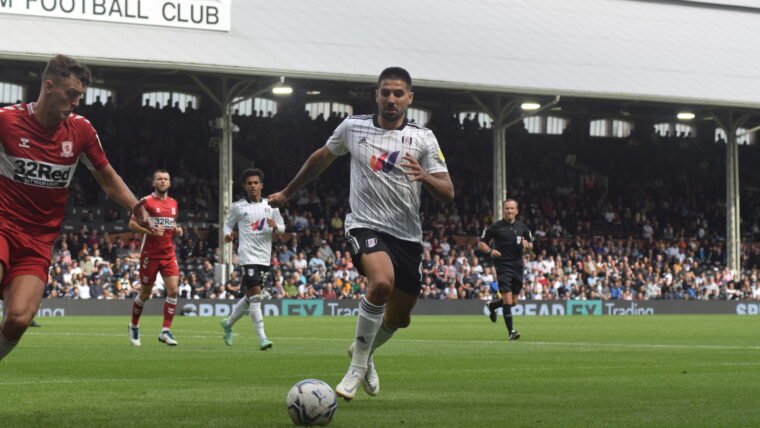 Mitro has cemented his status as an all-time Fulham great by firing us back into the Premier League. Rhys takes a look at the events that took us here.
Aleksandar Mitrović came back from the brink of a Fulham departure to smash home 43 goals across 43 Championship appearances to destroy recent records in one of the most unforgiving divisions in football.
The 27-year-old banished the memories of a miserable Premier League campaign under Scott Parker to grab second-tier defenders by the scruff of their shirts (often literally) to send Fulham back into the top flight under the guidance of a phlegmatic Marco Silva.
Tony Khan told The Athletic this week that Mitrovic was resigned to finding a new challenge after making only 13 starts in the Premier League last season – with only the arrival of Silva and assurance of his integral position to not only the team, but also the club, expressed beyond doubt.
Embed from Getty Images
Mitro cut a forlorn figure during his long periods on the bench during a second relegation from the top flight across three seasons, and was unable to have the impact he was used to during his fleeting appearances despite showing plenty of endeavour.
That campaign came after a 26-goal haul in 2019/20 under Parker, having managed an often over-looked respectable tally of 11 in his first Premier League season for the club.
More than four years have passed since Mitrovic fired 12 goals in 17 appearances after joining the club on loan from Newcastle, but his overall tally of 96 might've been over for good after reaching 53.
Embed from Getty Images
Khan said ahead of Fulham's 7-0 demolition of Luton, in which Mitrovic equaled and then exceed Guy Whittingham's 42 goals for Portsmouth in 1992/93 – the previous highest in the current 46-game format – that the star forward was ready to join Dynamo Moscow.
The departure of Parker and arrival of Silva gave Mitrovic enough reason to reignite his love affair with London's oldest professional club – and he might now feel somewhat relived.
He told Sky Sports on the Craven Cottage pitch: "I think we finished the season like in dreams. We wanted to do it with a big win at home in front of our crowd and I broke the record so it was perfect."
🎙️ "Everything was PERFECT!"

Aleksandar Mitrović and Fábio Carvalho react to the scenes at Craven Cottage as Fulham are crowned champions 🏆pic.twitter.com/ilMOufIgpR

— Sky Sports News (@SkySportsNews) May 2, 2022
When asked how many he would score in the Premier League next season, Mitrovic burst into laughter while saying: "I hope more than last time."
Although amused while reminiscing about the struggles of last season, a repeat of the three goals he scored in the Premier League last season is simply not an option for Fulham as they eye a repeat of their 13 consecutive top-flight seasons between 2001 and 2014.
The Premier League return means we will have been in the top flight for 16 of the past 22 seasons, and offer a chance to climb up from 16th spot in the overall table since the division was formed back in 1992.
Embed from Getty Images
There will be no big-money replacement for the forward despite the nagging detractors at rival clubs – Mitro's name is already written into Fulham history books and he's undoubtably our finest player of the post-Al Fayed era.
He added: "The first target is always to stay up, everything after is a bonus so there is the first target at the moment with the goals."
Concluding: "This club deserves where it will be now."