Positives and negatives: Fulham 7-0 Luton Town
Written by Cameron Ramsey on 3rd May 2022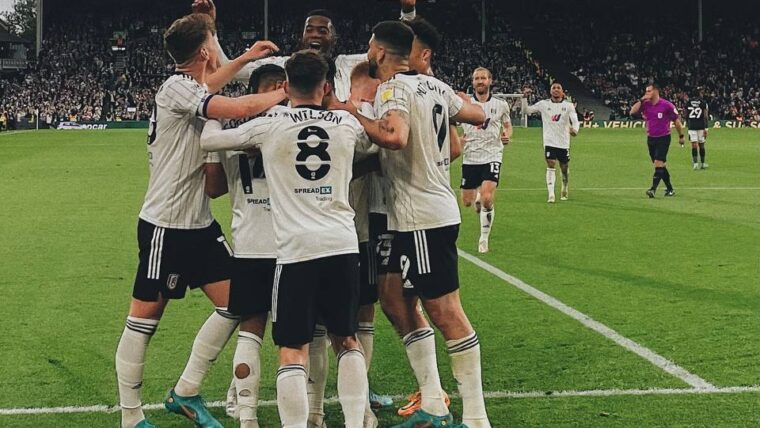 That's it, mission accomplished. In our penultimate game of the season, Fulham do the business and a delightfully hung-over Cam has pieced it all together. Does the fun ever stop!?
Goodness. That's 90 points on the board, 106 goals scored, we are incidentally the first side in 60 years to bag 50 goals home and away and ladies and gentleman of the mighty Fulham supporters' guild, the Whites are going up to the Premier League as confirmed, uncontested champions. AFC Bournemouth, Nottingham Forest, who honestly cares anymore? Runners-up, Play-Off winners, it just couldn't be our glorious little balling establishment.
Marco Silva lined his men up to humiliate Nathan Jones' Luton Town and they ran amok. What a way to seal the deal. Denis Odoi was in attendance, he is Fulham Forever, another pitch invasion ensued and that grass of ours tastes oh so sweet. As far as Bank Holiday Mondays go, this one was literally golden. Sheffield United will presumably lay on a guard of honour, artisan cheeses will perfume heavily populated train carriages, the smell of victory is an inviting blend on brie and Madri and we'll enjoy it our way, the Fulham way, as we have done since the beginning of August 2021. Boys and girls, the festivities are only just beginning.
Positives
Embed from Getty Images
Champions at last
So, this is what it feels like to be undisputed champions at last. As a Championship competitor, Fulham have always had an obsession with the spectacular, the miraculous, but claiming the title in front of the Johnny Haynes stand, beneath the towering elegance of the new Riverside has to be way, way up there in the greatest nights in the club's spotted yet rich history. Winning was imperative, a tetchy single-goal victory would have sufficed but nobody before kick-off could envision what was to come. The streets nestled between and within SW6 fizzed with anticipation, a burning anxiety cloaked by expectancy, and with tantalising images of the trophy resting on its plinth circulating social media platforms, Monday afternoon had to belong to the Whites. In the aftermath of two alarming defeats, two squandered opportunities to cement superiority, Silva's men had to regroup and react and they did so, emphatically. Thousands upon thousands of black and white scarves helicoptered in unison, the atmosphere within our enchanting segment of the capital deafening, it was an occasion that bared overwhelming similarities to both Wembley triumphs, however this particular conquest was predestined, and shaken nerves were soon converted into pure undiluted adrenaline. The Whites gained promotion under the lights at the Cottage, the ambience was electrifying and in our final home meeting of the campaign, with regal distinction enticing a rousing spectacle that will redefine chart-topping benchmarks, the favourites ascended into excellence.
It won't settle into our recollections for months, perhaps even years, but what we witnessed either in the flesh or wherever a television was present will resound as unforgettable, a date that will never cease to evoke pride and prestige, the 2nd of May, 2022, will be marked as a day where Fulham ruled and reigned supreme. For many, myself included, the privilege of witnessing our club clutch top spot is unfamiliar and this profound achievement, being Fulham's seventh league title, is pronounced because it will inspire and engross a generation that may have thought they'd never experience a Fulham side that comprehensively bettered, and indeed battered, the rest. For those that were alive when Jean Tigana's barnstorming Whites waged war on the Division 1 standings, and for those that are able to remember even further back to the days of Kevin Keegan (and yonder), Silva's stats-smashing parallel will only elicit emotions that are seldom experienced, however the sensation of relief and elation is intimately momentous and the euphoria of finishing in pole position is just as strong as it ever has been. The pictures, the clips, the vivid memories of unbridled elation, cherish them unconditionally, because an afternoon, an evening of that emotional magnitude may never happen again.
Mitro makes history
Better late, and I mean very late, than never, eh? Coasting into the final few seconds of the game, the terraces bayed for Aleksandar Mitrovic to slam home his second of the afternoon, a goal that would propel his overall tally to 43 in 43 appearances, a record-defining strike that would crown him the second division's greatest ever bagsman of the modern era. Mitro, of course, had equalled Guy Whittingham's remarkable 42-goal haul just after the hour mark, it was fortuitous, but as they all count the same as the next, the reception he received was rapturous. He had stunned, he had rocketed to heights that hadn't been reached since 1993, and on a cloud reserved solely for the prolific Serb himself, unaffected by altitude sickness, our daring pioneer pierced the stratosphere. They say nobody can hear you scream in space, although the blast that boomed from CC in added time sent shockwaves through the footballing universe and now, Mitro's already exalted reputation is otherworldly.
Galloping from Luton's dishevelled back line, Aleksandar demanded the ball from a surging Harry Wilson and with a first touch that opened up an irresistible angle, with only a shell shocked Matt Ingram to dodge, the 27-year-old ignited the fuse and cannoned low into the right. This is a move, a goal, that will compliment ground-breaking montages for decades to come. Reece Burke, Tom Lockyer, Dan Potts, these three men will be known as the trio that collapsed under the meteoric weight of Mitro's presence, they will go down as the defensive line that enabled new records to be established and no matter what they all go on to accomplish in their respective careers, they'll exist to be haunted by the ruthless spectre of a red-hot Serbian that excelled at their pitiful expense. He is inevitable, he is indomitable, Mitrovic is the merciless reaper that knocks until the bell tolls. Quivering Championship cynics are almost safe. Premier League naysayers: beware the beast that feasts on fear.
Harry, the creator
Embed from Getty Images
Since Opta statistics began (or so I've heard), as of Monday evening, nobody other than Graham Dorrans and Michael Kightly have racked up more Championship assists than Wilson. He is, in fact, tied with the aforementioned playmakers of yesteryear on 19 assists in a single campaign, and with one more meeting to go before the curtain closes on what's been a highly productive season for the Welshman, he too could etch his name into the annals as an outright trailblazer. Against the Hatters, Wilson was supercharged in the final third, scheming from flank to flank, and as he ventured into central areas, fixated on creation, he ingeniously supplied the ammunition for three successful strikes. From subtle flicks to punchy digs, Harry perused his personal reserve and uncorked the finest tipples for his teammates to swill and savour the titillating flavour, they most certainly did.
Full flow, spurting through Luton's porous composition, Wilson was simply unplayable and his thirst for invention was unquenchable. When our flying 25-year-old glugs out solid 10s, Fulham's overall performances elevate, he entices expeditious counter attacks with an insistence that stimulates and if he isn't serving, he's often on the receiving end himself. 10 goals accompany his lofty assist total to date, he may have graced the Championship Team of the Season but his contributions, as plentiful as they may well be, have been overlooked by fans of other clubs, however his inclusion is fully merited. He has been a tremendous acquisition, he has redefined his game to amplify Fulham's goal-scoring opportunities and his animated efforts have not been in vain. The visitors toiled, Harry's resourcefulness compounded a miserable visit south of the M25, although if it's any consolation to them, they are not the only side the Dragons international has sent packing without a satnav.
A collectively outstanding outing
Other than the two I've rightfully pinpointed already, there are another 12 players that featured on the day that are worthy of commendatory plaudits, so I'll just abbreviate slightly and say they were all marvellously mustard. We had Tom Cairney rifling in belters and juggling during passing phases, Fabio Carvalho grabbed the Xbox controller and mastered ligament-busting combinations, Jean Michaël Seri turned the screw in the latter stages and cracked his first goal of the season from 30-odd yards, the entire squad cooperated symmetrically and Luton's disjointedness was exploited discourteously. From back to front, each department assembled and each component constituted towards an obscene mauling. Kenny Tete was phenomenal, he courageously charged into combat and with his weaker foot, he also thumped a long-range sizzler of his own. Ruthlessly unforgiving defensively, a constant outlet on the break, the Dutchman was a colossus.
I'm digressing, my intentions were to prune this portion of the article but here I am, waxing lyrical about everybody. Bobby Decordova-Reid raised eyebrows as he stalked within congested pockets, his goal was expertly dispatched and though he was deployed out wide, he was incredible in central positions. Harrison Reed patrolled with a search warrant, Antonee Robinson switched on the turbo to cover every inch of his touchline, Tim Ream and Tosin Adarabioyo continued to flaunt a balanced partnership and Marek Rodak, admittedly, was unruffled throughout. If I've missed anyone, I apologise sincerely and it's nothing personal, this time. It was as one-sided as they come, Luton pissed themselves as Fulham boiled it, their Play-Off hopes are still very much intact but their confidence would've taken a violent bludgeoning. They now join Blackburn Rovers and Reading in the 'fucked by the Fulham' trauma unit and as it was at Ewood Park and the Select Car Leasing Stadium, the Whites convened to paddle another unsuspecting contender, live on Sky Sports.
Negatives
Pfft, as if
Not even going to entertain this. Make up your own negatives because I ain't gonna be that guy. Sweet, bye now, see you next Saturday, up the Fulham.