Grading our 2021/22 signings
Written by Jack Stroudley on 29th April 2022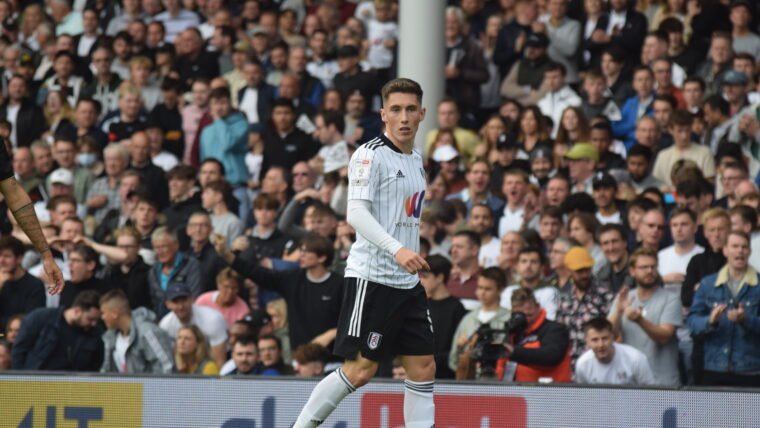 Jack Stroudley grades all of the signings from this seasons' promotion campaign.
It's that time of the year again. Fulham weren't as active in the transfer market as we have been in the last few seasons (potentially down to our already ludicrous squad depth for this division) but nevertheless we did make six signings across the summer and winter transfer windows.
Overall, this season has been a monumental success. Promotion has been secured and winning the title looks inevitable at this point. But how have the signings fared? I'm going to grade all players taking into account their price tag, impact at the club and how they have benefited the team.
Paulo Gazzaniga
Embed from Getty Images
We'll start in goal, where we saw former Argentine international Paulo Gazzaniga signed from Spurs in the summer on a free transfer, on the same day as a certain Welsh winger (who'll we'll get onto shortly). The 29 year old immediately came into the side, starting our opening 11 games of the season.
A lot of fans felt that Marek Rodak was harshly treated by Marco Silva due to his former successful campaign in the championship under Scott Parker just two seasons ago. It wasn't long before question marks were raised about Gazzaniga with sloppy distribution and mistakes beginning to creep into his game. The nail in the coffin came at the Ricoh Arena in early October where a dismal performance against Coventry saw Rodak regain his place.
The Slovakian keeper has since started every game bar our two outings in the FA Cup and a league fixture at home to Derby in November (in which Rodak was absent from the side.) While not setting the world alight in a Fulham shirt it seems incredibly harsh to give Gazzaniga a very low grade, a free transfer for a keeper who is capable at this level is a fairly shrewd piece of business (that being said I can't see him featuring regularly next season).
Grade: D+
Neco Williams
Embed from Getty Images
Our only piece of January business came in the shape of Liverpool and Welsh defender Neco Williams. The Wrexham born right-back signed on deadline day after Denis Odoi's departure to Club Brugge. Since coming into the side, Williams has offered attacking quality in abundance picking up two assists and scoring two goals during his 15 appearances at the club- as well as hitting the bar from the half way line.
Despite all of this, I still think that Kenny Tete is a better option at full-back; the Dutch right-back is more than capable going forward and has a wicked cross on him, but he also offers defensive stability that I feel Williams has lacked at times this season. Tete's dropping feels harsh, but it can't be denied that Williams has performed at a good level throughout his tenure at the cottage.
There's been talk about Williams staying on next season, but he's seemingly put them to bed, claiming he wants to stay at Liverpool to "play against the best players in the world". Despite all of this I think that the signing of Williams for a short-term deal was a smart piece of business' he's been a solid player.
Grade: B
Nathaniel Chalobah
Embed from Getty Images
Nathaniel Chalobah (or 'Natty Chabs' as some Fulham fans call him) was signed on the summer deadline day from Watford. The former England international has made 19 league appearances and has run out twice in the cup this season. Chalobah made his debut away at Birmingham in September in a 4-1 victory. During the game he impressed getting two assists as well as being brought down for a penalty in the first half.
The midfielder then picked up a hamstring and calf injury putting him on the sidelines for the best part of three months. During this period, players like Reed, Seri and Cairney had all stamped their authority on the midfield, making it difficult for Chalobah to make the impact he did at the start of the season.
He's still been used on a regular basis, featuring in 15 of the last 21 games either as a starter or on the bench. Despite this, I think the injury came at the wrong time for Chalobah and I now think we have better midfield options in the Championship as well as next season in the Premier League. His fee is unknown, but reported to be in and around the £2 million mark, for that price he's not been a terrible signing.
Grade: C-
Domingos Quina
Embed from Getty Images
You'd be forgiven for not remembering that Domingos Quina was a Fulham player this season and will probably pick up a winners' medal despite currently playing for relegated Barnsley! The Portuguese attacking midfielder only made three appearances for the club; two in the league in September, as well as a cameo appearance against Bristol City in the cup.
His loan was then terminated by Watford and he was sent to struggling Barnsley. He did make an impact at the Yorkshire based club picking up two goals (one against QPR), but despite an improvement in form the Tykes were relegated. A signing to forget.
Grade: U
Harry Wilson
Embed from Getty Images
The one I'm sure you've all been waiting for. Welsh winger Harry Wilson was signed on an initial loan with an obligation to buy for £12 million. The high price tag resulted in the entirety of the Championship fanbase having a meltdown. Despite this extra pressure, the Welshman has set the league alight as part of the trio to that famous ABBA song.
This season, Wilson has managed to pick up 27 goal contributions in the Championship with another two coming in the FA Cup. His excellent season was rewarded with his nomination for Championship player of the season, as well as his inclusion into the Championship team of the year.
It's hard to argue that this transfer hasn't been a huge success. It's been fantastic business, and we've signed someone who's been pivotal to our successes this season and will have a big part to play if we are to survive in the Premier League. Not a bad signing for £132 billion!
Grade: A
Rodrigo Muniz
Embed from Getty Images
Rodrigo Muniz came to Fulham completely unaware of the 'cult hero' status he currently finds himself in amongst the younger fans, but he has been decent value since his £7 million signing from Flamengo. The Brazilian hasn't featured regularly this season, but when he has been called upon has always done a solid job.
Muniz has played 454 minutes of Football this season and managed to accrue five goals with a very respectable conversion rate of a goal every 90.8 minutes. While Muniz isn't helped by the fact he has the best striker in the league in front of him, the 20-year-old has been able to learn his craft from Mitro and has been important when called upon (with a particular mention to his brace away at Stoke).
While I don't think he's paid the £7 million fee back yet as it were, he was never going to in one season. He's a player happy and settled at the club and willing to learn and get better with age. For his first season he hasn't done too bad for himself.
Grade: B-
The recruitment
Embed from Getty Images
I think overall, it's hard to argue that recruitment this year hasn't been solid. The signings of Harry Wilson and Rodrigo Muniz have helped bump that up, but as a whole I think we have recruited necessarily and smartly across the board bringing in a small sample of players to help fill the squad out with the quality and depth that has helped us gain promotion back to the Premier League. (With the exception of Domingos Quina – sorry, Domingos!)