How will Fulham shape up next season?
Written by Colm O'Donnell on 26th April 2022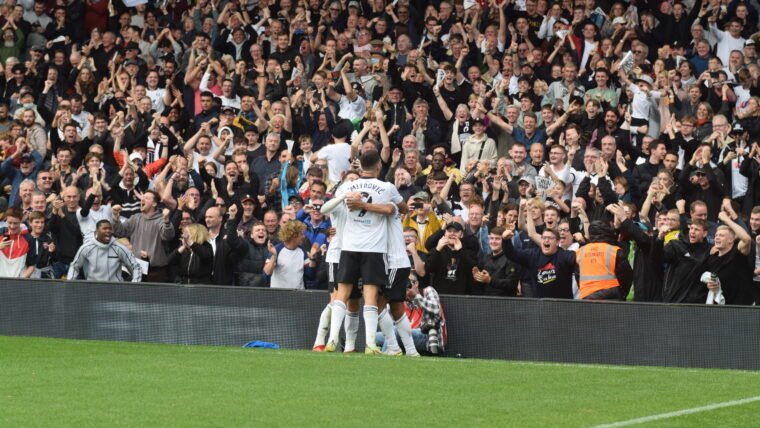 Colm analyses the work Marco Silva and his team needs to do ahead of our return to the Premier League.
With Fulham's promotion to the promised land now confirmed, many questions remain over how our squad will look come August. With contracts expiring and big clubs looming, we'll take a look at who'll be around next year, who won't be, and who might make the move to Craven Cottage.
Three centre-backs to depart
Embed from Getty Images
The one place on the pitch that Fulham will see the most dramatic change is in the centre-back role, with Tim Ream, Alfie Mawson and Michael Hector all out of contract this summer. Ream has been a magnificent servant to this club and will undoubtedly be in the conversation for Player of the Year this season, but as he turns 35 and his failure to make an impact in the Premier League previously, one would presume a trip back to the MLS to finish out his career is on the cards.
As for Mawson and Hector, neither have featured heavily in the Championship this year, so appearing in the Premier League squad seems out of the question. All this leaves us with two senior centre-backs in Tosin and the ever-injured Terence Kongolo. As we saw last season, Tosin will have no issue with the step up to Premier League football as long as he has a solid experienced partner alongside him.
Over the past few weeks, Joe Gomez's name has been linked as part of a double move involving Neco Williams. With Gomez featuring a little bit more regularly for Liverpool recently, reported interest from Aston Villa and Tottenham and a £24m valuation, this one might be a bit ambitious, but it would definitely add strength and Premier League experience.
Other centre-backs linked are AC Milan's Alessio Romagnoli who has made five Champions League appearances for the Rossoneri this year as well as 18 league appearances, but Lazio seem to be in the driving seat to capture his signature. FC Koln's Timo Hubers is another man that plenty of Premier League clubs are keeping an eye on, including Fulham. Newcastle, Leeds, Crystal Palace and West Ham are all credited with having an interest in the 6ft 2in German who is currently enjoying in longest stint in the Koln starting team. Neco Williams has had a massive impact in the right full-back role since his January loan move began. Both Fulham and Williams seem to be keen to extend the stay, so hopefully that is one we can count on.
The goalkeeping situation
Embed from Getty Images
When Fulham got promoted to the Premier League two seasons ago, Marek Rodak didn't put a foot wrong all year. For this reason, many supporters found it harsh that he wasn't given his chance in the Premier League. This was quickly put on the back burner though when the quality of Alphonse Areola was realised. Rodak has had another solid season this year but a few small mistakes have crept in in recent weeks, and against Premier League opposition this could cost us much more dearly than they have this year.
The news that PSG have promoted Lucas Lavallee to the first team squad to rival Donnarumma and Navas for the number one jersey would indicate that Areola's chances in Paris will be very limited if West Ham don't take up the option to buy him when his loan deal expires at the end of the season. The lure of first team opportunities may entice him to back to Fulham over West Ham.
Nick Pope and Dean Henderson are the other two names being bandied about in relation to taking the number one slot in West London. With Burnley three points away from safety with seven games remaining, the Pope deal may rely on where Burnley are playing their football next season as he tries to insure his place on the plane to Qatar. Henderson's desire to play first team football and lack of opportunities at Old Trafford also make him a real possibility. Any of those three would be a top drawer signing and place us in really good stead for the Premier League season.
Attacking creativity
Embed from Getty Images
With Fabio Carvalho all but confirmed as a Liverpool player next season (even if Marco Silva did get our hopes up slightly last week that he might stay!), it looks like Israeli winger Manor Solomon is all but confirmed to be his replacement. Jack Stroudley has done a full player profile on him, which you can read here. With Wilson, Kebano and Mitrovic also there, this is still a solid base of a dangerous front four. However, we will definitely need more strength in depth with the likes of Knockaert, Cavaleiro and Muniz our only other real options – none who have featured too much this season. Burnley's Dwight McNeil has been linked in recent days and would bring some Premier League experience to the team, having amassed over 100 appearances in the top flight over the past five seasons. Like Nick Pope, this transfer probably depends on whether Burnley survive in the league.
Seri and Anguissa
Embed from Getty Images
Jean Michael Seri and Franck Zambo Anguissa swapped roles this season, with the latter going out on loan and Seri staying to fight the Fulham cause, one would wonder where they will both end up next year. Seri's contract is up at the end of the season, but there's an option to extend it by a year. While he put in some tremendous performances this season in the white, he has fallen slightly out of favour since returning from the African Cup of Nations and has found himself on the bench more often than not. This along with his big wages may be a factor in him being taken off the books come next season.
Anguissa on the other hand signed a new contract with Fulham at the start of the season before immediately going out on loan to Napoli. This seemed to be a case of not wanting to lose him on a free at the end of this year. It has since been revealed that there is a £15m option to buy included in the deal. Napoli love him and he loves Napoli, so any chance of him making another return to a Premier League Fulham are probably very slim as it seems a permanent move to Napoli is inevitable.
Erick Gutierrez from PSV is a name that has been rumoured over the past few days and could be a direct replacement for Seri and Anguissa. While unproven in England, he has impressed in Holland and may be able to bring a bit of stability to the centre of the park. The surprise link that has come to light in recent days is that of Sergej Milinkovic-Savic. The Lazio midfielder has been link with Man Utd, Chelsea and Tottenham but it's believed Mitrovic is trying to talk him around to coming to West London. As exciting as it is, it has to be remembered that these type of signings don't always work out. Jean Michael Seri also had similar links and similar credibility when he signed for Fulham and while he has been impressive this season, it didn't initially go to plan.
Tyrese Francois started out this season in the Fulham starting 11, but injury and an overload of central midfield options has seen him fall down the pecking order. Marco Silva is on record as being a big fan of the Australian but with his contract running out this Summer, there is some doubt whether he will be here next year.
Approach to life in the Premier League
When we got promoted in 2018, Tony Kahn went all out and completely changed the Fulham squad, signing 15 players throughout the season. The complete upheaval left Slavisa Jokanovic and later Claudio Ranieri and Scott Parker with a completely unbalanced, unsettled team and Fulham never looked like surviving. Huge wages were dished out to the likes of Anguissa and Seri also which meant they weren't retainable when we eventually did end up back in the second tier.
In 2020, when Scott Parker got us back to the Premier League, again there was a complete rejig of the squad. This time though, the loan market was exploited with Fulham signing seven players on a temporary basis, in order to try avoid another hangover if things didn't go to plan. Inevitably, things certainly didn't go to plan, and many supporters pointed their fingers certain loan players lack of desire to fight for the cause as they weren't emotionally invested in it.
In August 2022, when Fulham line out in the top tier again, a balance needs to be struck. While improvements in certain areas need to be made as discussed above, the likes of Tosin, Reed, Mitrovic, Wilson, Kebano and Cariney are all more than capable of making an impact in the Premier League. This approach should create a nice balanced, settled team while also having a small injection of fresh, talented faces who are there to improve the squad and give us every chance of stopping the yo-yo-ing between the two tiers.