Positives and negatives: AFC Bournemouth 1-1 Fulham
Written by Cameron Ramsey on 24th April 2022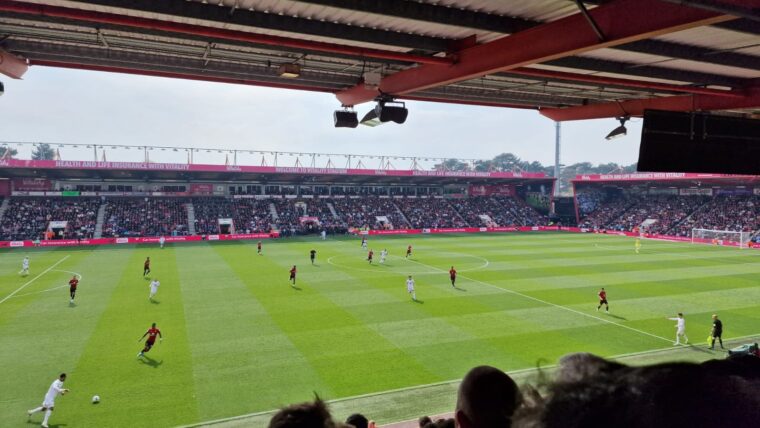 Graham Scott loves a pointless yellow so without wasting any more time, here's Cam's take on a game where both sides ultimately couldn't be separated after 98 tense minutes.
The title procession continues. For Fulham – disregarding the painful circumstances – a point at the Vitality Stadium is much more valuable to us than it is Scott Parker's AFC Bournemouth. The Cherries are being tailed by Nottingham Forest, who are the Whites' next opponent, incidentally, and with a 5-point gap between them and Steve Cooper's Garibaldis, the race for second could go right down to the wire. Fulham are nine points ahead at the summit, there's three games left to confront and while our run-in isn't the easiest, our road to the Sky Bet trophy is mapped out before us.
So, Harrison Reed reached 100 outings, Marco Silva was sent to the stands for bollocking anybody that got in his way following the hosts' last-gasp penno, Parker managed to take the conceited credit for his successor's, well, successes and with Tuesday night upon the horizon, a second pitch invasion of the season could be on the cards. You just didn't hear it from me. Honours even, a tricky trip to the south coast navigated, the popping of champagne bottles is tantalisingly close and we will be there every single step of the way, flutes in hand.
Positives
Embed from Getty Images
Mitro's fine margins
Nobody could be sure whether it crossed the line or not. To the naked eye, in real-time, Aleksandar Mitrovic's headed opener appeared to be the season's greatest ghost goal but under inspection, with CGI animations defusing controversy, the slimmest of measurements allowed the Serb's 41st of the season to remain chalked and he is edging ever close to that coveted 42-goal marker. Bagging in front of Fulham's colourfully-clad away following, Mitro lapped up the scenes, the Whites were in the ascendency, and though many will contest the positioning of the on-line technology and the validity of Scott's overriding decision to allow the game's opener to stand but pivotally, physical evidence can not be questioned.
Mark Travers appeared to have executed a ridiculous diving save, I was in disbelief as the score line altered in Fulham's favour but there's no luck or fortune in Aleksandar's conversion. It crossed the line, albeit by a pubic hair's breadth, and that's all that matters. The 27-year-old was restrained abidingly by Nat Phillips and Lloyd Kelly, he was kept on a short leash for the majority of the encounter but as the Championship appreciates all too well, one opportunity to influence proceedings drastically is all it takes for our Serbian gunman and regardless of how aesthetically pleasing the goals may well be, they count all the same and I hope Parker sobbed into his special fried rice. Your defence is terrified, Mitro's fine margins.
Terrific Tosin & Tim
With plenty to keep them occupied, Tosin Adarabioyo and Tim Ream joined forces, as they always do, to banish Bournemouth's second-half resurgence and throughout, with calmer heads than most, the pair administered possession sensibly and also initiated compelling passing phases to soothe the narrative. What I've come to admire from our central defensive pairing is their judgement and common understanding between one another, they cooperate in tandem to devise and withstand, and with the division's 'pound-for-pound greatest striker' in Dominic Solanke to contend with, Tim and Tosin were virtually unmoved.
Whilst in custody of possession, both defenders picked their passes intuitively, the centre of the park was initially congested but pockets gradually formed and play was duly offloaded to advanced playmakers. They're both assured on the ball, and though there were a few close shaves, an air of sensibility emanated from our dynamic defensive duo. Switches reached destinations without turbulence, one observed as the other belted out orders, it was a coalition that has strengthened over the course of the campaign and they're undoubtedly growing in stature as a pairing. Tim's confidence is soaring, he even channelled his inner Denis Odoi with a nimbly navigated dribble into Bournemouth's half and Tosin is trusting of his expansive instigations, too. It's not the perfect partnership, but it's a collaboration that's complimentary of Silva's vision and the benefits vastly outweigh the weaknesses.
Singing Kebano's praises
On the charge offensively, at the double defensively, Neeskens Kebano started Saturday's encounter with a set of specific instructions and he undertook his duties manfully, at both ends of the pitch. Kebano is never short of enthusiasm when play ventures into his path, and though he was instinctively direct on the counter, he offered support at the back as well, acting as an auxiliary wingback to blockade the Cherries' inroads as they plotted a route through our deep defensive line.
What you see is really what you get with Kebano. He's an honest winger that purely sets about his business with 100% commitment, however at the Vitality, we witnessed more than just offensive directness and final third involvement, because he was ready and willing to put in a serious shift alongside his defensive colleagues, too. Neeskens is the very definition of an unsung hero. He's an earnest operator that trusts his capabilities and he also recognises his flaws, but what we can always depend on is his tireless output and his eagerness to learn and develop. This season, he's taken Silva's stewardship on board and his contributions on the south coast were typically persistent.
Jedi's steadying impact
Embed from Getty Images
Joe Bryan was walking a tightrope in the first half and with a caution to his name, the favoured left-back of recent weeks had to be hauled off at the break because he was dancing with the devil. Bryan was visibly fired up for the occasion, to presumably prove a vigorous point to his former manager, and as he flew into innocuous scenarios to upend unsuspecting victims, his temper was nearing boiling point and a change in personal, which expectantly came in the shape of Antonee Robinson, was necessary. Robinson was focused, alive to the task at hand and where Bryan lunged in irrationally, Jedi was calculated.
As we know, Robinson's main feature is his pace over a short and indeed long distance and he patrolled his flank diligently, cruising with surveillance. He didn't crash into challenges or wrongfully manhandle his direct opponent, he marshalled Ryan Christie stride for stride and timed his interceptions carefully. As ever, the opinion-splitting left-back was a prominent driving force and bringing him on at the break to save Bryan from potentially being sent off was a particularly intelligent decision from Silva. Perhaps I'm dreadfully wrong about Robinson. I couldn't fault his application during the second half, he soaked up pressure to defuse advancements, he carried possession at full tilt to draw his team out of troublesome situations and vitally, as a fully-fledged fullback should, he respected his defensive duties first and foremost to extinguish the flames that Bryan left behind.
Negatives
Gut-wrenching ending
With less than, say, 15 seconds of additional time to see out, Bournemouth waged one last siege on the Whites' penalty area and within an instance, with victory all but assured, the prospect of a well-deserved victory was snatched away as Harry Wilson conceded a last-ditch penalty. Harsher penalties have been awarded this season, Adam Smith made a meal out of minimal contact from our flying Welshman but critically, clear and obvious contact was made and a somewhat unjust equaliser for the hosts was staring the visitors in the face, goadingly. The game was rife with contentious officiating, play was interrupted constantly without consultation but I have to admit, there could be no solid complaints in this gut-wrenching instance.
A classic case of attacker hashing a simple defensive scenario, Wilson attempted to dispossess Smith from behind and you just don't do that, ever, in the 18-yard box. He could've screened across to push the midfielder towards the byline but it screamed last-minute panic, we were literally seconds from three points and it all boils down to wrong man, wrong time. Solanke dispatched his spot kick, Marek Rodak was deceived and the home support, all 300 of them, exploded as though they'd gained promotion themselves. Both games between the two teams have ended honours even this season, disputable infringements have tarnished both occasions but none more so than the Cherries' penalty at the death. It just seemed so unjust, the hosts rallied in the second half and before they squared things up the Whites conducted themselves professionally, although one sudden rush of blood to the head was the undoing of the three points and for that, Parker can count himself as the luckiest man in the world, at his former employers' sickly expense.