Positives and negatives: Fulham 1-3 Coventry City
Written by Cameron Ramsey on 11th April 2022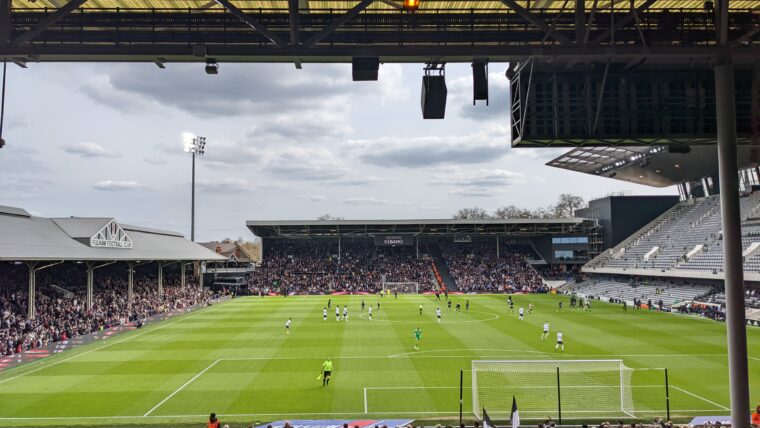 One to forget. Cam tries to put our 7th loss of the season into perspective, a blip on the road to promotion that's hard to stomach.
Well, that was hideous. Mark Robins' Coventry City have a formula for humbling Marco Silva's Fulham and honestly, we were secondary in both meetings this season. Our worst away performance of the season came at the hands of the Sky Blues and they compounded our worst home outing to date, too. The standings haven't changed, though, so does this sobering defeat really matter?
I'm not expecting us to win every time we take to the turf, we're going to experience days such as Sunday where we stutter out of the traps but it's the manner in which we submitted to City, again, which is discouraging. Our return to Craven Cottage was flat, the travelling hoards were in fine voice and all, from a home perspective, was subordinate. Yeah, we're 10 points clear and nailed on for the title, although defeats like this still sting and now, the autopsy begins.
Positives
Embed from Getty Images
Tim Ream
Only one player can hold their head up high with their dignity still intact following Sunday's atrocities. The best of a putridly bad bunch, Tim Ream attempted to stave off Coventry's persistent press as a one-man army as those around him plummeted to deplorable lows, and the visitors third goal is not to the centre-half's detriment. Ream was plunged into hot water, courtesy of Marek Rodak's hospital pass, and he was powerless as the Sky Blues hijacked possession. The 34-year-old's been a pillar of authority in recent weeks, he's organised his squad manfully from a deep vantage point but he is physically incapable of carrying his teammates collectively. He took it upon himself to pick up the pieces, and while his efforts were committed, the remaining Whites refused to reciprocate.
The American is a vocal presence on the turf and on social media, and he made his feelings known to the masses following the final whistle. He was visibly irked during proceedings, he attempted to stop the rot but as the Sky Blues widened the gap, his commands fell on deaf ears. Tim will recognise his individual flaws and he will work tirelessly to stamp them out, and though it was far from a vintage performance, his overall application was sufficient, opposed to abysmal. It's certainly not how he or we envisioned his 250th Fulham appearance to pan out, celebrations were abruptly cancelled, but Ream was never at fault and now, more than ever, his example has to be acknowledged because he gives the club 100% every single matchday, win, draw or lose.
Negatives
Outplayed, outfought, outclassed
Twice this season we've encountered a Robins squad that want the victory much, much more than Silva's lacklustre complement, if you can call it so. When Fulham befall a defeat it's unceremonious, lacklustre, and when we're chasing games from challenging positions, we are seriously unprepared. Silva doesn't seem to have a contingency plan when we're losing, his strategic implementation dissipates as our organisation disintegrates and Coventry took full advantage of our periled misconduct. The visitors swarmed the midfield to restrain Nathaniel Chalobah, Callum O'Hare spearheaded their press as Gustavo Hamer and Ben Sheaf isolated Harrison Reed's involvement and their rigidness was very rarely tampered with. Fulham were outfought, outworked and outclassed by City, and this defeat is a cold reminder that Fulham still have a great deal to do before the end of the current campaign. If we are unable to devise alternative game plans before next season, we will suffer.
From the get-go, the Whites were panicked and they couldn't steady themselves. Coventry's first and second goals were freakish, they may have caught us off guard although we failed to retaliate. City regrouped, picked their opportunities to pounce wisely and we allowed them to manipulate the narrative. Of Fulham 27 shots on goal, only 7 were registered on-target, we held 65% possession with 547 passes but the stats lie, they don't tell the story accurately, because amid goal-mouth activity where crossbars were struck and headers whistled wide, alongside predictable passing phases, the Whites were unbalanced, daunted and wildly counterproductive. There was a 20-minute spell where we did react, Bobby Decordova-Reid swept home a convincing move in the 82nd minute to slash City's lead in half but it was too little, too late. Silva has transformed Fulham's fortunes this season, on our day we're a genuine force to be reckoned with but Sunday's deflating defeat smacked of Scott Parker's unexceptional derivative and with 6 games to go, 10 points ahead, we still have a job to do if we're to prevail as champions before we face Sheffield United on the final day of the season.
Marek Rodak
Embed from Getty Images
Of the choices we have at our disposal, Rodak is Silva's preferred choice and for the majority of the 2021/22 campaign, the Slovakian's regular inclusions have been merited. He is a capable stopper, one that can pull off the spectacular to preserve clean sheets but against Coventry, disturbed and dishonoured, the 25-year-old's glaring deficiencies were thrust into the spotlight. Marek, following City's opener, was shaken and he couldn't relax as they manoeuvred towards his penalty area. With the ball, he was rushed as Viktor Gyökeres approached, Ream regularly gesticulated for his 'keeper to calm down but Rodak's nerves were beyond repair. He was slack with his distribution, he's completely forgotten how to hold commonplace crosses and for all of Coventry's goals, he was directly culpable and there is no escape. He played teammates into troublesome scenarios, he was subservient at set-pieces and he flapped at simple strikes that really should've been smothered.
Anxiety clearly got the better of him, the search for an established goalkeeper is supposedly underway for next season and with esteemed names such as Nick Pope and Alphonse Areola being touted, perhaps his confidence has taken a beating. His blunders are damning, his timing and judgment suggests that he isn't equipped to guarantee a starting spot in the Premier League and as much as I appreciate his loyalty, being an academy product, acquiring a tried and tested stopper with actual top-flight experience and pedigree is essential in the summer transfer window and no, Paulo Gazzaniga is not the answer. I feel for Marek, I really do, but in terms of endorsing his credentials, his concerning outing against Coventry was damagingly inflammatory.
Mitro and Muniz muted
Has sticking two up top in the closing moments ever worked? Just an observations but for me, Aleksandar Mitrovic and Rodrigo Muniz cannot occupy the final third as a partnership. It isn't viable. Their understanding is lost in translation and against the Sky Blues, Silva's compulsion to field Rodrigo felt forced, as though he was shoehorning the young Brazilian into action for the pure sake of it, without a cause or purpose. Deploying Mitro in an offensive double is dysfunctional, he operates effectively as a lone attacker, he coped relatively well on his own and crucially, Muniz isn't mobile or indeed physical enough to latch onto the Serb's knock downs. It just didn't sit right.
Coventry's back three muzzled and muted Aleksandar and his 20-year-old understudy, we sacrificed an outright winger in Neeskens Kebano to accommodate a change in shape and it was pointless. The game was screaming for calmness and control, Jean Michael Seri would've surely settled things down, so I just don't see the logic in deploying a double-pronged attack when it's never paid off before. I would've replaced Chalobah with Mika and persevered with a single striker but then again, what do I really know, eh? I can see, to an extent, why Marco wanted more bodies in the final third, however we didn't overload the Sky Blues' 18-yard box, we didn't pin them back with an iron grip and tactically, Fulham isn't built for long-ball onslaughts. Aerial bombardments aren't spontaneous, they're meticulously practiced and with two strikers to occupy, the visitors tightened up and resisted detectable switches, hoisted, in hope, in Mitro and Muniz's vague direction. Ideally, Mitro and Muniz would cooperate with one another systematically but in reality, it's counterintuitive.