Tim Ream: earning a new deal or bowing out in style?
Written by Rhys Daly on 7th April 2022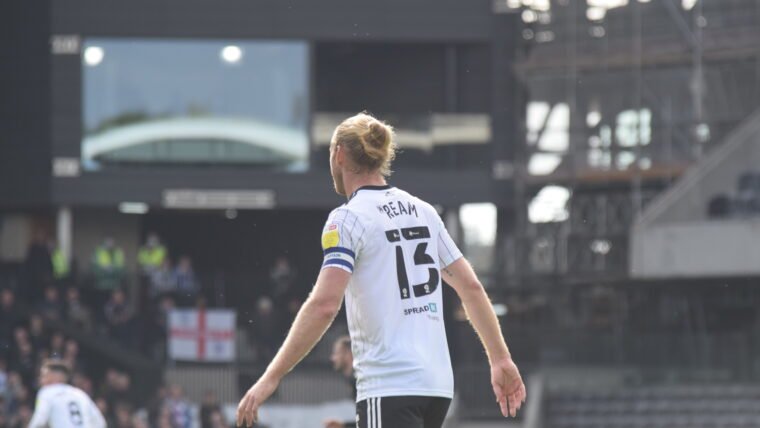 With Tim Ream yet again proving himself to be one of the best defenders in the Championship, Rhys takes a look what the future holds for the Craven Cottage icon.
When asked on the recent Writer's Room edition of our podcast for a negative thought to take from this season, my sentimental mind immediately took me to a situation that we haven't yet needed to contemplate.
I have been a staunch defender of Tim Ream's adequacy amid, sometimes justified, concerns from sections of the fanbase – and feel vindicated to see him ageing like a fine wine in the cellar of the Premier League that is the Championship.
The former left-back has an affection with the ball that has escaped the overwhelming majority of Football League defenders across the thousands that came before him – providing a reliable pillar to not one or two but three promotion campaigns.
Embed from Getty Images
A classy mainstay
His unwavering preference to pick out an eye of the needle pass overrules the urge to play it safe and send the ball downfield – handing him a pass completion beaten by only six Championship players this season including team-mates Tom Cairney and Jean Michel Seri at 88%.
Now 34, Ream has almost completed his seventh full season as a Fulham player despite question marks surrounding his arrival, – but will be out of contract in the summer with no clear answer as to what the future holds.
Ream made no secret of his desire to be a mainstay in Marco Silva's side at the beginning of the season after making just seven appearances in the Premier League last time out, and he has subsequently featured in all 39 fixtures, missing just an hour of action in total.
Embed from Getty Images
Bonafide legend
Captaining Fulham on 27 occasions in the absences of fellow 2015 summer arrival Tom Cairney, his influence both on and off the pitch have made him arguably out most important player behind only Aleksandar Mitrović.
Ream told The Athletic earlier this week of his pride over the connection between players and fans and just how much he has loved the season as whole as he approaches his 250th FFC outing.
Having formed a fine affiliation with Tosin after only five outings in each other's company last season, his 16th central defensive partnership at the club and quite possibly the best one yet looks likely to end abruptly at the peak of their connection.
Embed from Getty Images
A decision to make
Despite the defensive solidarity that has provided a staunch base for Mitrovic, Harry Wilson and Fabio Carvalho among others to fire Fulham back to the Premier League as likely Champions, it looks more plausible than not that Ream will be off in the summer.
As good as he has been in the second tier in each of Fulham's last three campaigns at this level, Ream has struggled in the top flight and been forced onto the bench by more than one manager, something he can't risk next season with eyes on the 2022 World Cup for which the United States have qualified.
With timing more than anything else playing a pivotal role in the future of Ream on the banks of the Thames – it's looking probable that Ream will end his time at Fulham in the most satisfying of circumstances – as a Champion.
Should that be the case, there is no doubt in my mind that Ream's connection to the club will be resumed at some point in the future in a form that is not yet clear, but we will do will to remember that contribution on the pitch might never be replicated.