Positives and negatives: Middlesbrough 0-1 Fulham
Written by Cameron Ramsey on 7th April 2022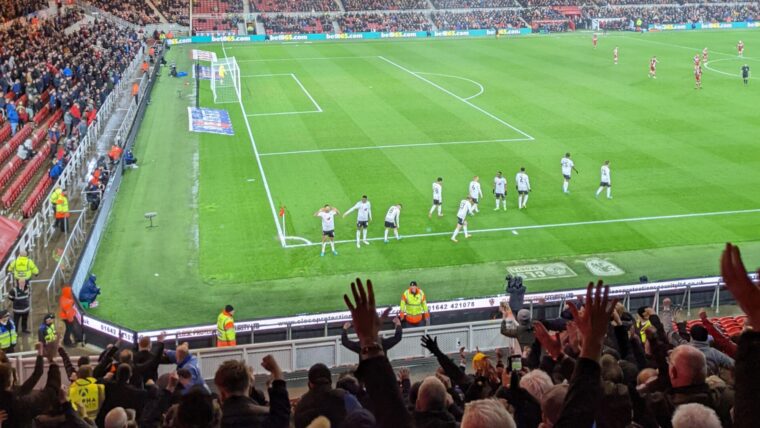 What a crazy night that was. As ever, Cam puts his spin on things and the wheels of automatic promotion just keep on turning. All aboard!
Those that made the journey up to Middlesbrough were astoundingly impressive, first of all. Middlesbrough's fan base has always been passionate; the Riverside can be unforgiving, but the noise pouring from the away section was ceaseless. Marco Silva's Fulham were examined by Chris Wilder's outfit, proceedings were tetchy, volatile, but cream always rises to the top and now, the Whites are 11 points ahead of AFC Bournemouth. With seven games to go the title is within touching distance, but we have to go again, one match at a time.
Here's a few quick takes from our hard-fought dub in parmo land: Marek Rodak can't catch, but he can certainly keep a clean sheet under fire, Nathanial Chalobah actually conducted himself calmly, without being terribly resourceful, and Josh Onomah is basically the same player as Natty Chabz, just slower, somehow. Now, let's get stuck into the meat of the matter, shall we?
Positives
Embed from Getty Images
The beauty in ugly dubs
We have witnessed 7-0 decimations, we have ground out toilsome single-goal triumphs at treacherous destinations on the road but this result, in the driving rain at a rocking Riverside, is by far the most satisfying of the campaign. You cannot discount the collective belief within Silva's camp, against a Middlesbrough team that were nine games unbeaten ay home and chasing a spot in the play-pffs. His set-up was defiant as the Teessiders waged war and that is the overriding hallmark of undisputed champions. An ethic has been instilled in this Fulham team; a gumption that isn't falsified and make no mistake, our record-defining successes to date have been a massive collective effort, a fearlessness that surfaces when it matters. Boro's confidence was brewing in the second half, the Whites had squandered key opportunities to break the deadlock and the narrative darkened momentarily amid tough challenges and desperately close shaves.
Whoever claimed the opener would have to sweat for it; the encounter would inevitably be concluded by a singular strike and in this instance, despite the hosts' resurgence that nearly paid off, the truly dominant side ultimately stole the spoils. Wilder's team is a credit to hard graft and the benefits of never giving up, although this time, lessons will have to be learned and they'll have to respond with a renewed motivation. It's never easy to be chased; teams at the top are there to be shot at by clubs like Boro with oafish weapons like Matt Crooks, and they either fly or fall. After a shaky March schedule, a period where the Whites also had to relinquish insecurities of their own, the runaway league leaders are stirring in the latter stages and this aggressive, tense, ugly victory is what some may call unconventionally beautiful, and I'm completely charmed. To a man, abilities interrogated by courage and bravery, Fulham were distinguished and prevailed with a clean sheet, maximum points and northern tears of anguish. There was nothing soft about this southern performance, and in a meeting which Silva labelled the most testing of our remaining fixtures, the Cottagers' backbone was boldly pronounced and our lads stood tallest.
Harry Wilson's wonderful
Left-footed Welshmen are always certified ballers and we have a show-stopper in Harry Wilson. Enlivened on the wing, Wilson made all the right runs and lifted his head to rotate possession constructively and at dead-ball situations, he summoned world-class quality that cannot be denied at this level. He and Aleksandar Mitrovic have forged a relationship that promises bulging nets and as Harry's feathered set-piece sailed into a vacant corridor, Mitro emphatically butted his 38th goal of the season in the 73rd minute of play. The sequence was choreographed, synchronised, and Wilson's stroke of genius on the border of the 18-yard box brought his 14th assist to date, a significant return that demonstrates his instrumental vision and cooperation. He heads the Championship supply chain rankings, he has full-backs scurrying on the back foot; he is a terror that will intrude if the door is unlatched.
After the break, the Whites were cordoned off by Boro's high defensive line and Wilson had to contribute defensively to stave off the hosts' squeeze. He supported Kenny Tete as Marc Bola jostled for space out wide, and when play had been turned over, he was hot-footed to regain territory in advances areas. Functionally, the 25-year-old's recognition of his all-round responsibilities is maturing and in the North East, he made an extraordinary statement of intent. This is a winger that can do it all, pretty much. 10 league goals have been dispatched alongside the aforementioned assists, he's a catalyst for scorching counter attacks and his finely-tuned fitness enables him to remain present in a preservative sense, too. Against Middlesbrough, virtually all of these convenient attributes were prominent in his outing and a solitary flash of finesse made all the difference in the heat of the battle. He's a player that is only going to evolve further upon the Premier League stage, and there's still plenty of room to grow in the coming weeks, too.
Ream's bloodied leadership
Embed from Getty Images
Sometimes – actually more often that not – leadership resembles a scarred brow, a bloodied nose and a willingness to get up from one's knees time and time again to answer critics combatively. Tim Ream, my word, his greatest performance in a Fulham shirt came on 6 April and it isn't a first for him during the 2021/22 season, because he's excelled for the duration. For a defender, a student of his trade at the age of 34, that is as close to a 10/10 you can possibly get. Boro were hostile, whether they were guarding their penalty area or advancing with force, they were full-blooded in their actions and we had to replicate their attitude. Ream was an exemplar to this, he didn't rise to Boro's clamour and he put his actions into practice with sturdy, rational deeds of duty.
The American stifled daunting phases, he rallied his comrades constantly to secure the hardiest victory of the campaign and with a popped sniffer, literally taking one for the team, Fulham's defensive line was practically impenetrable. Of course, Josh Coburn nearly glanced home a late equaliser, he may have slipped way from Tim's custody in that particular scenario, but he was marginally offside and I'd say our veteran central defender held his ground appropriately, and shame on the linesman if the flag wasn't raised. Ream and Tosin Adarabioyo have formed a pragmatic understanding, as one rises for aerial duels, the other drops off to pick up the pieces and they're both continuously vocal. I've no doubt that Tim's absorbed many serviceable traits from his reassuring partner and likewise, Tosin would've soaked up so, so much from his vastly experienced co-worker and together, they've commanded the strongest defence in the Championship.
Negatives
Kenny Tete
We are all aware of what Kenny Tete's is capable of offering, he's an international standard right-back with Champions League experience but Neco Williams is clear of him by a distance. Williams was not involved in Wednesday night's encounter due to personal reasons, and we wish him well, and it was Tete that slotted into Silva's XI in the Liverpool loanee's leave. Obviously, the Dutchman is out of regular matchday involvement and against Middlesbrough, his evening was always going to be demanding but it was the simple side of the game that he mismanaged, rather than complex tactical requests. I don't know whether he heard calls from teammates late, but his passes were untimely and as we scoured for inroads along the flanks, aimless long balls would arc innocuously into touch, counteracting our momentum.
In foot races, he overestimated his athleticism and was routinely intercepted by Andraž Šporar, who isn't even particularly nimble and he allowed Boro to get goal-side far too frequently, without biting back. His outing was noticeably off colour, he subsequently had just enough to hold down his sector of the turf but we certainly lacked dimension. He did very nearly provide Bobby Decordova-Reid with a six-yard-splitting drive, and that was as good as it got. Neco's fitness has improved drastically, he is able to explore the right flank unremittingly and he is also a sustained outlet whereas Kenny, in comparison, is slightly limited. I just didn't feel overly safe when held possession; he always appeared to be swimming against the current and I guess it all boils down to minutes. He's been kept out of first-team operations by Williams, justifiably so, and if he's to feature next season, he has to elevate his standards to be far more consistent than they are today.