Positives and negatives: Swansea City 1-5 Fulham
Written by Cameron Ramsey on 9th March 2022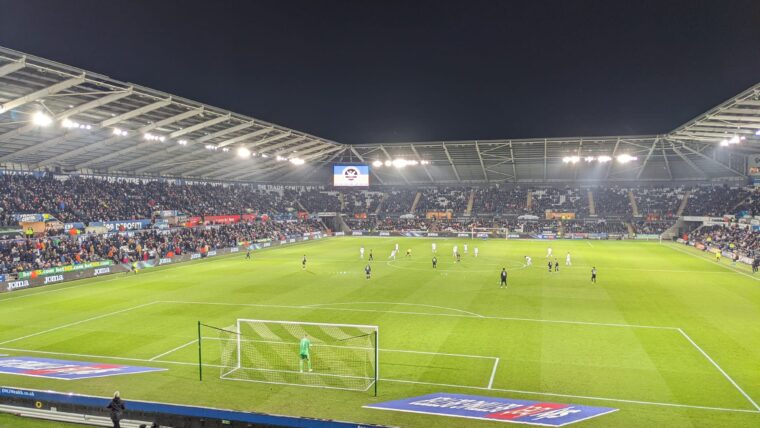 It was a special night on Tuesday – for those in the stands and for those with complicated VPNs or dodgy streams. Cam takes you through it all.
But – but – Swansea City were in charge until the 42nd minute, the referee's a bloody cheat who loves tory wankers. Bottle those tears. Marco Silva's Fulham ripped more piss out of another substandard Championship outfit, and I cant believe I ever rated the Swans as a decent club. It's okay to be upset, but grown men crying on camera is mental.
One potential banana skin down, four more to go until we can parade Craven Cottage again, perhaps in the splendour of being officially promoted. The Whites understand the assignment; there's 11 games left, 33 points at stake, and we are 14 points clear of our closest rival for the title. AFC Bournemouth will be eight points behind if they win their two games in-hand, and though things are far from over, I can smell the booze and see the confetti already. You Whites!
Positives
Embed from Getty Images
Second-half whitewash
It's hard to believe that it was 0-0 at half time, isn't it? Swansea were rightfully cut down to 10 men, Fulham manipulated the extra space and for the second 45 minutes, they put a training drill well and truly into practice. Silva's monster awakened – and it was ravenous. What was achieved in south Wales was a formidable team victory, a premier standard that inferior sides simply cannot resist. Holding the hosts hostage, the Whites rotated play with style, prowess, and a fatal objective that plucked and roasted the Swans and my, oh my, did we feast. Balanced across the park, even in Swansea's depletion, Fulham lured the hosts into cunning traps and ambushed with expansive overlaps, doubling up on soft spots in hijacked territory. The Jacks seldom escaped unscathed; a meagre consolation did arise, but it only provoked a vicious reaction – almost instantly – and that embodies the true mentality behind Marco's machine. Cornered, sucker punched, baying for blood, it just doesn't stop on nights such as these.
The conversation engulfing Fulham's all-time Championship status is pronounced and contested. Dizzying figures speak for themselves, our feel-good factor cannot be ignored or denied, but those that follow other teams will ordinarily oppose what many themselves have seen unfurl before them. Reading 05-06 were trailblazing, that Newcastle United side with Andy Carroll up top was unfairly adorned with notable game-changers but really, this Fulham contingent upstages all that have previously monopolised. There's goals aplenty throughout the camp, a defence that will react when it's breached and collectively, sensing vulnerability, Fulham pillage mercilessly and they infiltrated Swansea without remorse. An SAS operation that took us one step closer to securing promotion, as champions, indefinitely. 
Neco's naughty notches
50-yard crossbar spankers aside, scoring a brace in your homeland for a table-topping powerhouse must've felt sensational and Neco Williams's first two goals for Fulham weren't your average, everyday conversions. Oh no, they were both firm and calculated, and I think we can expect to see much, much more of the same valour in the weeks to come. Finally opening his club account in the 77th minute, Williams ventured into the 18-yard box and strode onto a loose ball that sat up invitingly for a ruddy good paddling. Knee over, sights locked, his piercing strike zipped through legs and his conviction symbolises his confidence. It was a versed striker's finish, from a fullback that shouldn't be anywhere near the centre of the penalty area.
The 20-year-old's soaring, he's enjoying a period of genuine distinction and his second for the club, and of the evening, was choreographed flamboyance. Perched on the fringe of the 18, Neco chested a bouncer, fine-tuned his stance and within a singular motion, he swazzed the sexiest of volleys over an airborne Andy Fisher, into the postage stamp. Signed, sealed, delivered. I mean, right-backs just don't do that unless they're special, really, really special. Defensively, Williams has refined his timing but constructively, as a constant outlet, he's adopted a slightly inverted berth, which enables him to remain relevant and, in turn, allows him to influence offensively. This, incidentally, is something Trent Alexander Arnold has embraced and one can only imagine it's in preparation for next season in Merseyside. Jurgen Klopp has a very impressive competitor at his disposal, one that is cooperatively and tactically attuned, and if for whatever reason he is to depart Liverpool, Williams has to be Fulham's gain. We can't fall madly in love with another loanee, but we're beginning to fantasise.
Mitro's one goal closer
Our Serbian King is one goal closer to equalling, and maybe even bettering Guy Whittingham's resounding record of 42 goals in a single season. With 35 goals, and now the most goal involvements in Sky Bet history, Aleksandar Mitrovic is surfing a wave of his own at this level and breaking the deadlock at the Liberty Stadium enticed an onslaught, of which we've already gotten a semi over, but I digress. Mitro isn't a solitary being under Silva, or solely confined to the 18-yard box, he's an attacker that's elevated his overall application as on Tuesday evening, he bagged, supported and constructed. Make that seven-and-a-half to go with his hefty haul of his, if you will. I'll never tire of including Mitro in these articles, it's the very least he deserves and he doesn't even read them.
He was limited to half-chances, headers which went askew by a whisker but then, hunting for strays, the Whites lay in wait and boxed the Swans in. Overloading the penalty area, Fulham set siege and supplied an unmarked Aleksandar, who swept his effort, first-time, to inevitably break the deadlock. Punishment, administered by Europe's chief executioner. His role in Bobby Decordova-Reid's nod was prominent, interlinking with his teammates is a matter of habit and now, not that there was any doubt before, he has all the correct ingredients to prosper in the top-flight, and it's a formula that's making a mockery of substance-deprived defences of the Championship. Silva's engineered a striker designed for the elite specifically, a prolific detonator that doesn't require a multitude of opportunities. This will be Mitro's last dance in the Championship. He'll either reside in SW6 as a generative Premier League contract killer for the foreseeable or he'll grace another revered stage of relegation befalls us, but the journey Mitro's embarked upon this season, after being cast aside, is a marker of his dignity because in adversity, he's conquered. 
Negatives
Embed from Getty Images
A rash and reckless red
If, like me, you couldn't travel to the game because of blasted work commitments, watching a ropy stream or acquiring a mate's Fulham TV log-in details, complete with a VPN, was the only way to take in the action. Fortunately, a nice fella called Peter streamed the game via his flat screen, and all was well until Swansea's commentary team spoke from their arses. They tried to dispute Ryan Manning's red card, and it angers me that people that literally know nothing about the obvious repercussions of a reckless lunge, even if you're an ex-pro like Leon Britton, get paid as actual experts. Manning was hideously late, his studs were up, his boot was high on Wilson's calf, that dismissal was stonewall, it's not even a subjective matter.
The sending off ruined a perfectly poised spectacle; Swansea were easily the better of the two sides in the first half, but that's all the hosts and their freakish fan base have to cling onto, as if it's a credible consolation for just how feckless their team actually is. If they can't admit and recognise horrendous altercations, they can have this pathetic defeat of theirs on bone china, with a slither of Vicky sponge. If Wilson's leg was planted, it could've snapped, Manning has previous for being a violent cretin and his marching orders were completely justified. There's something about commentators from across the western border, they can't seem to fathom gross misconduct and it's such a dangerous complex. If limb breakers are okay in their worlds, they need locking up.
More Robinson rubbish
Another matchday, another abject outing for Antonee Robinson where simple first touches propel into the faces of ball boys. After a few decent weeks along the left, Robinson's artless defects trickled into proceedings and it was regularly when the Whites attempted to spring counter attacks along his respective channel. I get it, Jedi wants to move supersonically – it's what he's renowned for – but when it comes to carrying possession at full tilt, he is impotent, it's as though he's never clapped eyes on a football before and this, apparently, is as good as it gets for Fulham where left-backs of the flying variety are concerned.
Being readily capable to apprehend rogue runners is one thing, an opposing player can't avoid his raw pace, after all, but when Robinson's basically forced to retrieve and deliver possession progressively, even for a split second, the USMT international shits the bed and it stunted our momentum at the Liberty. I perhaps it really didn't matter, though, however it was far from a convincing evening for Antonee, in a positional sense and competence, and the more I watch his flappy, misguided contributions, the more uncertain I become about his impure ability. He is our defensive department's AK47, or a hawkeye lining his arrow up with the back of a teammate's head from point-blank range. Two proper nouns: Ziyad Larkeche.