Positives and negatives: Fulham 2-0 Blackburn Rovers
Written by Cameron Ramsey on 6th March 2022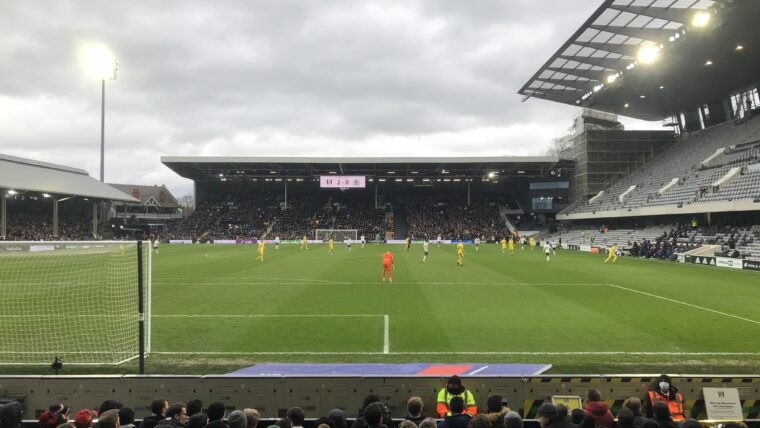 Fulham win, AFC Bournemouth lose, this weekend's fixtures have given us life and Cam Ramsey is back to chew over those all-important good and bad vibes from Saturday's 12:30 kick-off.
That's surely got to be it for Blackburn Rovers' automatic promotion hopes. Tony Mowbray's boys were cut adrift by Marco Silva's Fulham who – after securing the victory and due to results elsewhere – are now 11 points clear of Huddersfield Town and with 12 games to go, the gap between guaranteed silverware and a tasking trip to Wembley is widening rapidly.
Now, the Whites have three consecutive away games to get to grips with, starting at the Liberty Stadium on Tuesday evening. This period of the campaign could be problematic, a life on the road isn't desirable but we have to respect each game individually and in south Wales, there'll be no room for carelessness. This is where things are going to get extra spicy, and chokers won't be tolerated.
Positives
Embed from Getty Images
Need for Reed
The ground Harrison Reed covers is vast and astonishing. Examining the playing surface, blade after blade, our one-man midfield firewall denied Rovers access with a never-ending steeliness, exerted in hard yards and tough tackles. Reed is a master of the beautiful basics, his functional aptitude instils a competitiveness that is absolutely essential in an unforgiving environment such as the Championship and his supercharged work-rate is an attribute that some may never attain.
When he laces up his boots, he knows he's going to be dragged to the limit and he isn't reserved in making his actions felt. It doesn't matter where the run of play may be on the deck, Harrison is always in the foreground, scheming and scrapping for possession within melees to devise and defuse, and I'd hazard to say that he is actually our most invaluable matchday asset. Nobody maintains standards as consistently as Reed, his physical investment is infinite and in terms of distance explored, longevity in his labour, our unremitting custodian is uniquely extraordinary. Blackburn couldn't establish a convincing foothold because of Harrison's assiduous application, and he was undoubtedly the game's stand-out performer.
Neco, the crossbar cracker
Inches from opening his goal-scoring account with an audacious 50-yard dig, Neco Williams persisted along the right flank both progressively and conservatively, and with each passing minute he features, the more I'm bowled over by his evolving endurance. No longer does he fade out of foot races late on, neither does he lose track of his positioning. Under Silva's stewardship, Williams is developing into a seriously promising fullback and those that are monitoring his advancements on Merseyside will be pleasantly satisfied with the 20-year-old's gainful output.
Both Williams and Kenny Tete are superb right-back options, either one of them is equipped to prosper in their current surroundings and I've no doubt that they can both kick-on and succeed in the Premier League. Williams, of course, is not our player, but if the opportunity to snap him up permanently arose, I sincerely hope the club wouldn't hesitate to take him off Liverpool's books. Similarly to how Matty Targett integrated into Slavisa Jokanovic's squad, temporarily, Neco's impact has been profound, he's cooperated with Fulham's vision and he's taken to Silva's expectations smoothly. Cracking the crossbar from a neighbouring postcode is daringly ballsy, he's willing to express himself in order to entertain and until the 85th minute, the young Wales international paraded a boldness that will carry his career to the very top.
Toasting Tosin
The Whites were maybe a little too patient with their build-up play throughout Saturday's encounter but in the 35th minute, with the ball in Tosin Adarabioyo's custody, the visitors were systematically exploited. Scouring for movement at the base of our back four, Tosin locked in on Harry Wilson and conjured perfection with an incisive through ball that severed Blackburn's spine. Wilson, darting off the right channel, supplied a luxurious dink to finish. Admiring pinpoint precision, I honestly can't stop watching the sequence that promised our second of the afternoon, the craftsmanship from Tosin is devastatingly delicate and Wilson's involvement is top-shelf rudeness.
Organising ahead of Marek Rodak, Tosin distributed purposefully, he encouraged the Whites to gain territory and his consciousness in possession, as it is so commonly, enabled his teammates to slot into advantageous areas, to prolong our routine spells on the ball. Tosin, alongside Tim Ream, is a secondary instigator behind our prime playmakers, however his measured technique is just as effective. He's a disciplined defender, firstly, although as the Whites insist on building from the back, his care and attention on the deck is a prominent property that rarely goes unnoticed. Command and composure can be found within Tosin, and he's the embodiment of the ideal ball-playing centre-half.
Comfortable victory achieved
Embed from Getty Images
Rovers had a goal chalked off because it was miles offside, but other than that particular brief scare, the Whites were relatively untroubled and a second clean sheet on the bounce is certainly of value. The visitors' pint-sized attack was supported by Sam Gallagher in the second half and the Jurassic Park Tyrannosaurus of a striker rampaged, bundling through road blocks like a monster truck but fortunately, as the Whites firmly held their shape, Blackburn's attacks greeted dead ends. Ream and Tosin called the line, Reed upped the intensity and out wide, our fullbacks were constantly combative. It was a collective performance that defined professionalism itself, Silva's men were regimented, orderly, and it ensured a comfortable victory, achieved at a contented tempo.
It wasn't necessary for Fulham to shift out of second gear, because Blackburn didn't force the issue, they didn't pose a forbidding threat and even at 50%, against a side that will hope to frequent a Play-Off spot, the Whites were superior in every aspect. Our game management was stately, as a collective our strategy was harmonised, and while it wasn't a feverish affair that assaulted the senses, it was satisfyingly conventional and all the rudiments were put into practice without being contested. We all want 7-0 spankings, but if we really want to prevail as champions, we have to get real and admire the modesty in outings such as this. After all, it's virtually impossible to fire on all cylinders, all of the time, so if a lessened cadence still authorises three points, we're surely in the safest of hands.
Negatives
Chalobah's offish cameo
I'm not going to dwell on this too much, I don't actually think there was much wrong with Fulham afternoon, at all, but there were a few fleeting moments where hearts were in mouths, especially after the 80th minute, and the scenarios usually included a certain Nathaniel Chalobah, and his docile tendencies. Chalobah only had 14 minutes or so on the pitch, and I distinctly recall one instance, on the edge of our 18, where I thought "what the fuck are you doing?" out loud. He was very nearly robbed of possession with his back turned against proceedings, he seemed to gravitate towards potential disaster, and I'm seriously lost. I just don't know what to make of him anymore.
He's such a strange midfielder. A few weeks ago, I heaped praise upon the 27-year-old for his calming qualities but as time's rumbled on, with more game time coming his way, I've gradually noticed the degradation in his game and against Blackburn, as they pressed the centre of the park, he was wildly off the pace and, let's face it, it wasn't remarkably frenetic anyway. A competent dispossessor, yes, although I'm struggling to see the sense in trading powerful fortitude for slackened disorder. I guess we don't have alternatives that compliment that of Reed and Jean Michael Seri, but as soon as Tom Cairney's fully recovered from his illness, I'll be more than happy to see the last of Chalobah for a short while. I hate to be unkind, almost unfairly so, but as it stands, I'm growing increasingly impatient with the former Watford man and I think I'm right to be.