The Riverside Stand: is it really worth getting excited about?
Written by Adam Pogrund on 2nd March 2022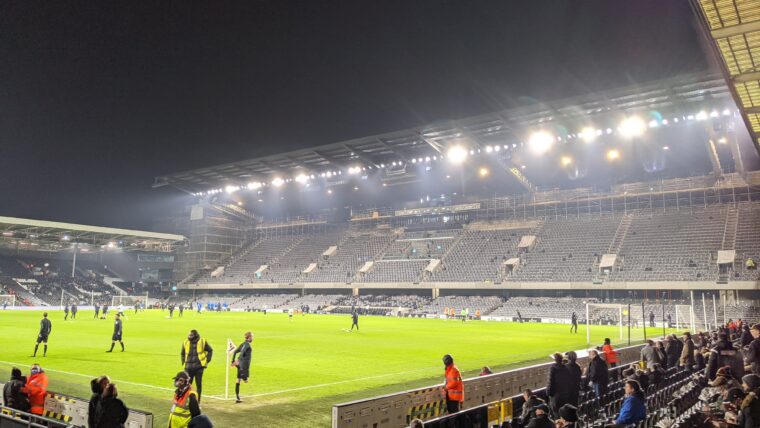 Adam Pogrund asks whether the Riverside Stand project will actually mean a lot to hardcore fans.
The new Riverside stand is nearing completion, and hopefully will open to fans at some point this year. It will boost the stadium's capacity and modernise the ground that Fulham has called home for the past 126 years.
The redevelopment is a statement of intent from Shahid Khan, and to most fans it's a welcome one, with Fulham coming close to losing Craven Cottage on more than one occasion. 
But is the stand really a good idea? And will it have much of an impact on fans like you or me? Here are what I see as the pros and cons of the redevelopment.
Pros
It's good to see investment
For a club at one stage almost forced to sell the Cottage and on the brink of extinction, the idea of the £80 million investment into the stadium is a relief. It looked likely the Cottage was going to be turned into luxury flats in 2003.
The club said at the time that "Fulham River Projects Limited, a finance and development company, agreed last September to buy the ground from Fulham Stadium Limited, which has owned it since 1985." Thankfully, those dark days are no more, and pumping money into the stadium further consolidates Fulham's future.
Embed from Getty Images
There'll be quality amenities
The new stand will provide amazing facilities, described by Shahid Khan as being a "a real game-changer for Fulham Football Club, our neighbourhood, and all of London." The corporate packages will be much improved, and residents will be pleased about the new walkway, allowing uninterrupted walking access between Hammersmith and Putney bridges. There will be restaurants and a health club, including the infamous rooftop pool.
It will benefit the club financially, and hopefully bring new fans
The extent of the financial benefits from the new Riverside stand are not yet clear, but the increased capacity means more ticket sales, and the leisure facilities will draw in further profit for the club on non-matchdays.
What's more, the image of a large modern stand will shine a spotlight on the club and hopefully encourage a new generation of supporters. Craven Cottage is being modernised, but it's still maintaining the heritage of the stadium, with the Cottage, the Johnny Haynes Stand, and the Hammersmith End all unimpacted. It will keep its traditional charm.
Cons
We're not selling out three stands
Fulham can generally boast a loyal and decent sized home following. Despite being in the second tier most games are packed and there are not too many visible empty seats. But with an increase of 3,900, even in the Premier League, this might not be the case.
Last month with Fulham on scintillating form, the turnout at the Cottage was mediocre. We tore Reading apart with 7-0 away, and then scored six against Bristol City the next Saturday. We repeated the 6-2 score line the following Tuesday against Birmingham City, but despite being top of the league, and playing dazzling attacking football, only 16,500 fans showed up to the cottage. This means that there were 3,000 empty seats, even with only three stands open. One can point to Covid or say it was a weekday, but ultimately it was a poor showing. With an enlarged stadium, would this lack of support be even more visible?
Embed from Getty Images
We're not a stable Premier League club at the moment
Fulham are not a yo-yo club in the Norwich mould quite yet, having stayed in the top division for 13 consecutive years until 2014. But, if we're relegated again next season, it will be harder to argue against it. We need to be an established and upwardly mobile Premier League club if we want to maintain higher attendances with a new stand.
Even if Fulham were to stay in the top tier for many years selling out the whole stadium would prove challenging. The last home fixture against huge rivals Chelsea had such slow sales that 700 free tickets were given to residents, with two per household for free. It was a great gesture and supports the idea of ours being a family club, but it also highlights the difficulties the club could face with a new, improved, and larger Riverside.
It won't improve the atmosphere
Craven Cottage is known for its beautiful location and its old-fashioned ambience, but not it's atmosphere… and I can't see the Riverside stand improving it. So far, the only fan to attend a game in the new stand is Junior, otherwise known as FFC Builder Boy, a construction worker-cum-diehard Fulham ultra who waved his flag and created atmosphere pre-Covid. Despite him being the only person in attendance, he probably created as good an atmosphere as we can expect from the new stand.
Craven Cottage has an acoustics problem. It always has. With the likely over-inflated prices sending only those who can afford it into the new stand, the notoriously quiet side of our quiet ground is unlikely to find its voice any time soon.
There are clearly positives from the stand. Most importantly, it's evidence of Khans' ambition to drive Fulham back to the summit of English football. However, many of these benefits are not football related, and aren't directly focused on fans of the club, but instead on the area. There will be financial gains, but it's hardly as if the Khans are short cashed and desperate to secure funds for new transfers.
The advantages provided by the stand could potentially be outweighed by seeing empty seats, and a negative impact on an atmosphere. The development is not a disaster and Fulham is in good hands, but the increase in capacity is not necessarily a solution to any problems. Maybe we don't get too excited just yet.