Which transfer to a West London rival hurt the most?
Written by Rhys Daly on 1st March 2022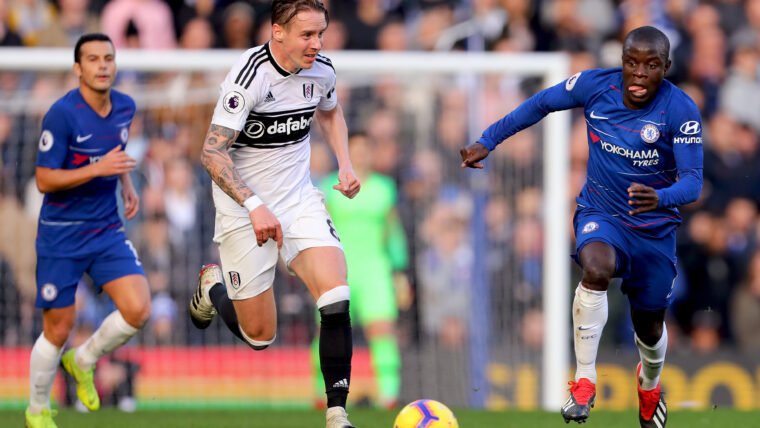 Watching a fan favourite join a West London rival can be gut-wrenching – and Rhys has taken a look at 10 recent times we had to stomach it.
With Stefan Johansen being handed the armband at the QPR and Marcus Bettinelli recently posing with FIFA Club World Cup champions Chelsea – it can be hard to see former fan favourites lining up for local rivals.
Despite those relative successes, there have been notable transfers from Fulham to elsewhere in West London that have proved to be far less rewarding – as I've taken a delve into below.
Gordon Davies – to Chelsea
Embed from Getty Images
Gordon Davies, well on his way to becoming the most prolific striker in the history of the club, was forced to consider moves away from Fulham in 1984 after talks regarding a new deal broke down over appearance money.
Unfortunately for Fulham fans, Chelsea were the only club to come in for the Welsh striker, with a tribunal deciding on a fee of £100,000.
Following six goals across 16 league outings and six goals for the club, Davies spent a season with Manchester City before returning to his second home of Fulham.
Painful? – Yes
Les Strong – to Brentford (loan)
Les Strong begun his professional playing career at Fulham back in 1972, three years after joining the club as a teenager.
The defender went on to make 427 appearances for the club in all competitions, but sadly missed out on a 1975 FA Cup final appearance due to injury.
Going on to be named club captain by Malcolm Macdonald, Strong helped Fulham into the second division in 1982, having been granted a testimonial the previous year.
Towards the end of his career, the former club captain was loaned out to Brentford (where he would make only five appearances) before single seasons with Crystal Palace and Rochdale.
Painful? – No
Paul Parker – to QPR
Embed from Getty Images
Paul Parker started his professional career with Fulham in 1982, going on to feature in 153 league fixtures before a move to West London rivals QPR.
The defender would make 125 appearances before the Hoops before joining Manchester United for £2million in 1991 – meaning Fulham missed out on a huge chunk of cash.
Parker went on to win two Premier League titles and both the FA and League Cups with the Red Devils, briefly returning to Fulham in 1997 and later joining Chelsea.
Painful? – Yes
Leroy Rosenior – to QPR
Leroy Rosenior began his career with Fulham at the same time as Parker, going on to score 15 goals across 54 league outings before joining QPR.
Rosenior returned to Craven Cottage in 1987 and was more prolific, managing 20 goals across 34 fixtures before leaving for West Ham.
During his time at Upton Park, he returned on loan for a third spell, grabbing another three goals.
Painful? – No
Bobby Zamora – to QPR
Embed from Getty Images
Bobby Zamora became a fan favourite at Fulham during his 89 appearances under Roy Hodgson, smashing home 23 goals and adding 16 assists thanks to a bumper 2009/10 campaign – before earning two England caps.
He managed five league goals in each of the next two seasons before joining QPR for around £4million, telling fans that he wanted a new challenge.
Zamora failed to save QPR from relegation in 2012/13, but fired them back into the top flight with Championship play-off final heroics vs Derby.
Painful? – Yes
Andrew Johnson – to QPR
Embed from Getty Images
Although Johnson missed the vast majority of the Europa League campaign through injury, his importance to the team grew over the next two seasons.
The former Crystal Palace forward scored 11 goals in all competitions in 2011/12 – before following his former team-mate Zamora to Loftus Road.
Johnson managed only two goals for the club across his two-year contract, retiring in 2014 after a brief spell back at Palace.
Painful? – No
Aaron Hughes – to QPR
🎂 | Happy 42nd Birthday to former QPR defender Aaron Hughes. #qpr | #onthisday | #birthday pic.twitter.com/maAUCci4Zs

— On This Day – #QPR (@onthisdayqpr) November 8, 2021
Aaron Hughes was a stalwart at Fulham between 2007 and 2014 – making 250 appearances and forming a formidable partnership with Brede Hangeland in the heart of the defence.
Hughes left the club in the middle of the 2013/14 relegation season, joining Championship QPR on a free transfer to continue the trend of local West London transfers.
While the Northern Ireland icon only made 11 appearances for the Hoops, it was tough to see him in their blue and white only months after Chris Baird had rejected a contract offer from them in favour of Reading.
Painful? – Yes
Mark Schwarzer – to Chelsea
Embed from Getty Images
The ever reliable Mark Schwarzer made 218 appearances for Fulham after joining from Middlesbrough in 2008 – with 60 of those coming in a bumper 2009/10 campaign.
Despite his fondness of the club, he was left incensed after Mark Hughes and Mohamed Al-Fayed blocked interest from Arsenal during the summer of 2010 by asking for £10million.
The Australian hero went on to join Chelsea on a free transfer in 2013, becoming the oldest ever player to debut in the Champions League at 41 years and 195 days old.
Although he didn't make any appearances in their title-winning season of 2014/15, Jose Mourinho promised that he would be recieving a medal.
Painful? – No
Stefan Johansen – to QPR
Embed from Getty Images
Stefan Johansen formed a memorable midfield trio alongside Tom Cairney and Kevin McDonald under the guidance of Slavisa Jokanovic – and played a huge part in firing FFC back into the Premier League.
However, he would make only 12 appearances in the top flight before being loaned to West Brom – and suffering the same fate with QPR after again helping Fulham to play-off glory two seasons later.
With that move to QPR being made permanent, he was also named club captain, and although he has been off the pace slightly of late – he has been an undeniably successful signing.
Painful? – Yes
Marcus Bettinelli – to Chelsea
Embed from Getty Images
For a long time Marcus Bettinelli was Fulham's longest serving player having joined the youth set-up way back in 2006 and making his first-team debut 10 years later.
Bettinelli was first choice stopper during the 2014/15 Championship season, but had to contest with Andy Lonergan, David Button, Sergio Rico and Marek Rodak in the campaigns that followed.
Following a loan to Middlesbrough in 2020/21, Bettinelli joined Chelsea on a two-year contract, made his debut in their FA Cup victory over Chesterfield, and can now count himself as a FIFA Club World Cup champion.
Painful? – No