The return of Jean Michaël Seri
Written by Dan Cooke on 25th February 2022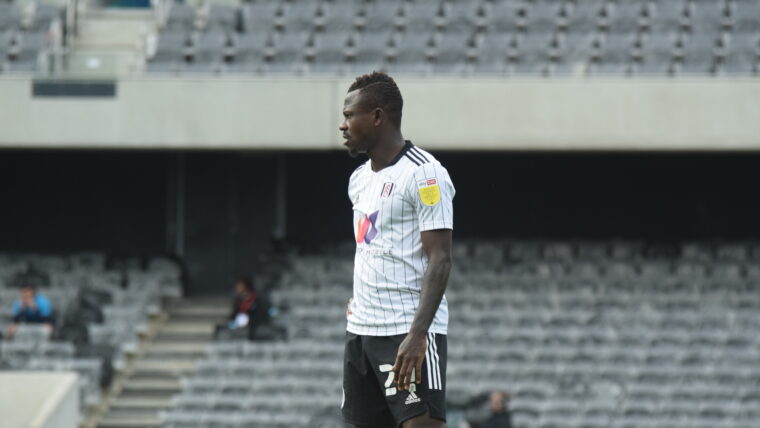 Dan Cooke looks at the return of our Ivorian playmaker and whether the central midfield spot should be his.
This article was originally going to be focused on Nathaniel Chalobah. After back-to-back good performances, his display in our defeat to Huddersfield drew criticism from some fans; I wanted to come to his defence, as I'm a believer in "Natty Chabs". However, Jean Michaël Seri's performance against Peterborough had me purring, and whilst I think Chalobah is a good player, our bleach blond playmaker is different gravy.
Passing Ability
Embed from Getty Images
After his AFCON exploits, Seri has had to wait to get himself back into Marco Silva's starting XI. With the resurgence of Tom Cairney, you'd be forgiven for forgetting just how much Seri contributes to this Fulham team.
He was supreme against Peterborough; he proved that every action does indeed have a reaction, as his raking diagonal balls elicited applause and wonderment from the Cottage faithful. He also played the two best passes of the game, dinking the ball over a crowded Posh defence, first for Mitrović and then for Harry Wilson.
It was simply a clinic on how to run a game from the base of midfield. He completed 101 passes, Peterborough's starting midfield three completed 93; our 5ft 6in Ivorian outpassed an entire midfield. He also completed six key passes (Peterborough's total key passes – 4).
Seri certainly passes the eye test as our best holding midfielder, but I'm a numbers man, and I wanted to see how the data stacks up for the season so far.
I looked into the passing outputs of the three men to have staked a claim for the holding midfield position this season (Seri, Reed, Chalobah). To try and account for the fact that both Chalobah and Reed have also played other roles, the data is only for the games that these players started in the number 6 slot.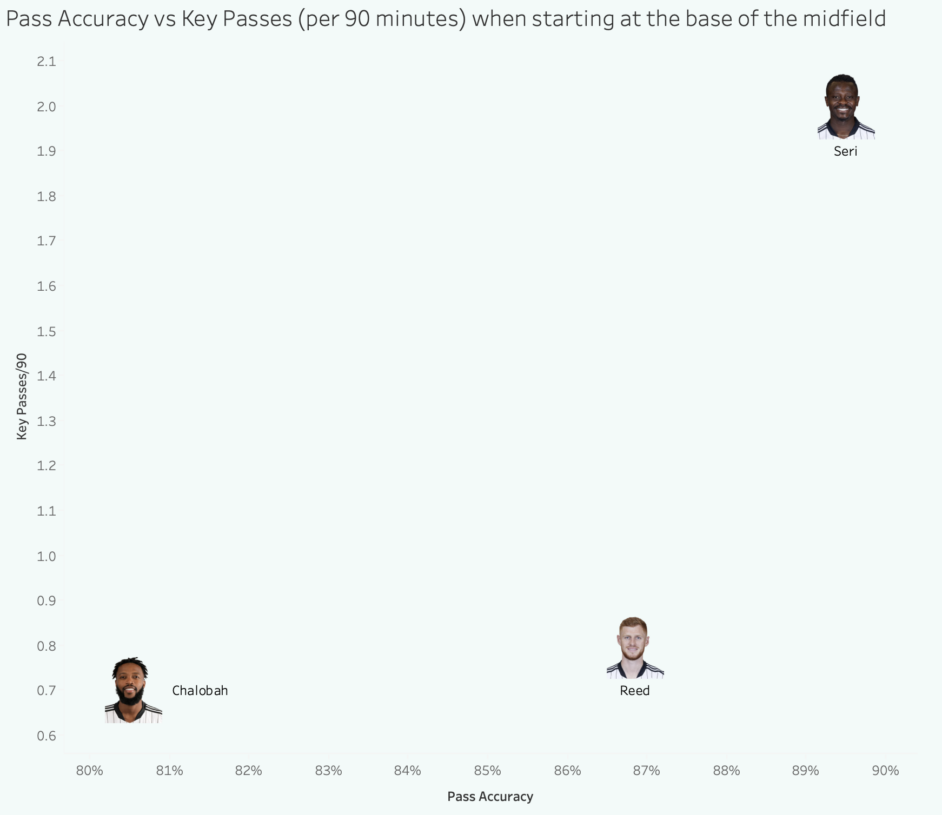 The above graph is ridiculous. This is where Seri provides a different level of on-the-ball quality to his competitors. Highly creative midfielders tend to produce strong numbers for key passes at the cost of a worse pass accuracy; trying to pick out that killer ball will invariably see you misplace more passes than a midfielder who simply looks to recycle possession. Not Mika.
Seri manages to play both roles, the creator and the controller. Compare this to Harrison Reed, who tends to keep his passing game simpler, and is consequently less creative on the ball. Despite this more conservative style of play, he still isn't as accurate with his passing as Mika. However, this isn't the end of the impressive numbers.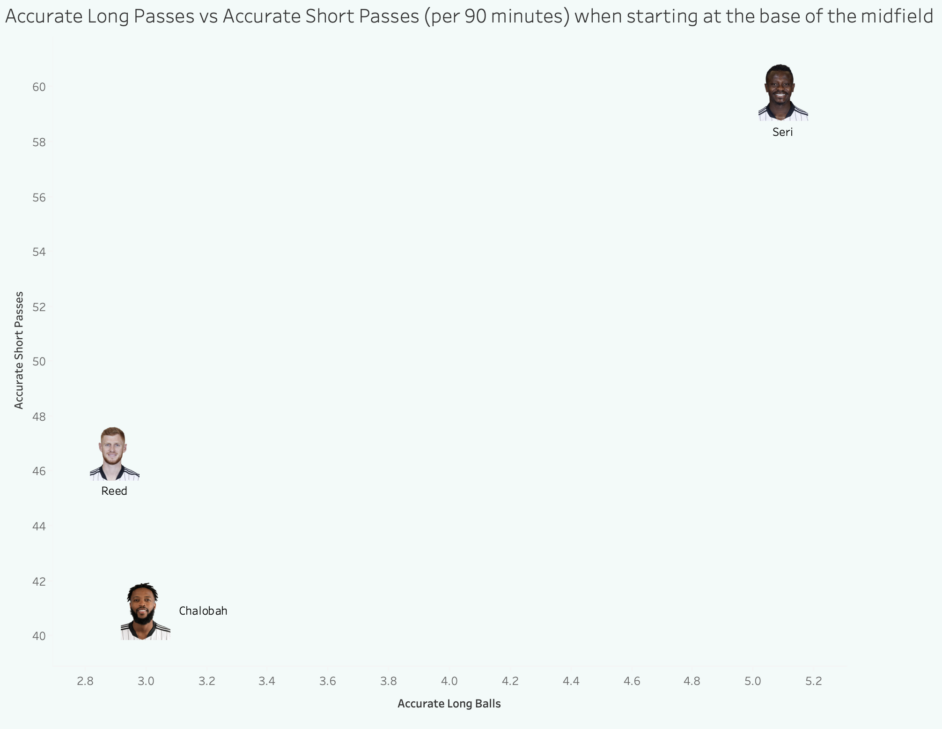 What makes Seri's numbers even more ridiculous, is the sheer volume of passes that he plays. From a purely statistical point of view, the more passes you play, you would imagine the worse your pass accuracy. Not with Jean. Having someone who is able to control a game as Seri does is integral to this Silva side. He completes a vastly superior number of long and short passes, whilst also not misplacing more than his competitors. The man is a distributing machine.
A word on Nat Chalobah. Admittedly these plots are not flattering, he does not have the accuracy nor the creativity. For me, he's an example of where the eye test doesn't necessarily match the numbers. I see a good player in the former Watford man, and whilst he looks the worst of the three from a numbers point of view, he's in impressive company. His output isn't too dissimilar from Harrison Reed, who I think we all agree is a Premier League quality player, and he has proved as such. If Nat can cut out the unforced errors when it comes to misplaced passes, I believe he adds value to this squad.
Cairney Conundrum
For me, there's no doubt that this season, Seri is by far our best option in the number six role. However, there's the issue of our skipper, Tom Cairney. There is a history of TC and Seri playing together without much success.
This season (partially due to injuries and AFCON) a start for TC, has meant either Reed or Chalobah in the six slot. Why?
Well if we erase Reed and Chalobah from the plots, and put in Cairney, we start to build an understanding as to why they don't really complement each other.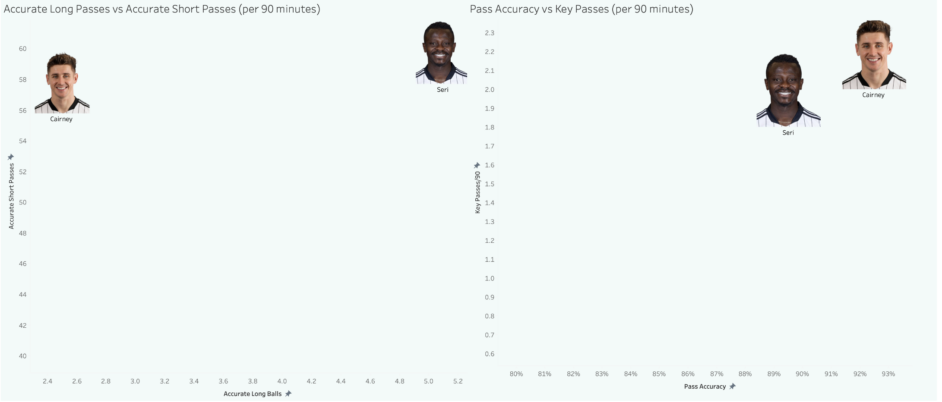 Both Seri and Cairney want to do the same thing. They both love being on the ball, controlling play but also trying to create opportunities. They both play a high number of accurate passes, whilst also being creative. It can be difficult having two players trying to carry out this role, and we've seen that in the past.
The interesting thing in this case, is that they perform a similar role from a different position on the pitch, partially enabled by the versatility of Harrison Reed. By playing both Seri and Cairney, unless you drop Fabio Carvalho, suddenly we have a midfield who constantly want to be in possession, crafting out openings. But crucially what it means is that we don't have anyone with the nous or defensive awareness to protect us from opposition counter attacks.
Hence why when both players have been available, we either see Harrison Reed playing in front of Seri, providing dynamism, or Chalobah playing behind Cairney, providing stability.
To Seri or not Seri
It's a tricky, yet wonderful dilemma. Our best number six and our best number eight take on the same role within our team, which likely explains why they struggle to play together. So who plays? Marco Silva is a much smarter man than me, and he will have an idea of which sort of game suits which player. Based on my observations, I think Peterborough away was a good example of how these two carry out their roles in subtly different ways.
Tom Cairney is very good at finding pockets of space in the final third. His ability to receive the ball further up the pitch, helped Fulham finally break down a resilient Posh at the Weston Homes Stadium.
Whereas Seri does this work slightly deeper, unlocking defences from distance. His ability to switch the play helps us get at teams from out wide, but also that passing range has helped us steamroller sides on the counterattack.
I don't know the perfect answer, but I do know that it's a joy to watch both of these maestros conducting our return to the Premier League.