Positives and negatives: Fulham 1-2 Huddersfield Town
Written by Cameron Ramsey on 20th February 2022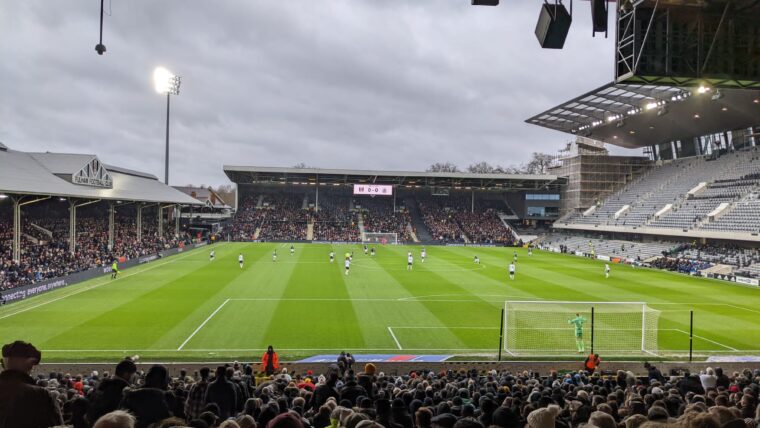 Forget about this one. It probably isn't worth the effort because these things happen, however Cam Ramsey wants to unpick our 5th loss of the campaign as it really isn't all doom and gloom in the aftermath of Storm Eunice.
Let's all take a step back and calm down. Huddersfield Town are not the same side we tanked 5-1 in August, Carlos Corberán has transformed his team into a promotion-chasing juggernaut on a now 13-game unbeaten marathon and a defeat against such an organised side is not a cause for concern.
Marco Silva's Fulham couldn't resist the Terriers' tenacity in the opening 45 minutes, although the game did ebb towards a grandstand finish. Too little, too late. With a game-in-hand on 3rd-placed Blackburn Rovers, 6 points ahead of second, the Whites are still clear and this hiccup will provoke a dynamic reaction on Wednesday evening, when Peterborough United come to town. Mid-February, 15 games left, Fulham are going to befall results such as this and as champions-elect, we have to put things right.
Positives
Embed from Getty Images
Williams is developing
I'm yet to be fully convinced by his defensive capabilities but as a modern right-back rendition, a position which is endlessly demanding at both ends of the pitch, Neco Williams is a competitor that's adapting to the rigours of sustained exertion, and he's ultimately learning more about his lofty potentiality and his gullible limitations. Tasked to support in advanced areas, Williams wielded a readiness to pepper Huddersfield's penalty area with inviting crosses, he supervised possession conformingly and in 50/50 duels, where he had to be 100% committed, the 20-year-old was unmoved. Neco, in many ways, does exactly the same job as Kenny Tete. They're both useful outlets in the final third, they're both feisty and sincere, although when it comes down to raw physicality, the Wales international's marked lower and it is a small defect of his.
An intensive grafter, Williams' legs begin to tire, they're heavy in retreat and if possession is lost, his fatigue is palpable. Over a shortened distance, the young fullback's drilled consciousness to his surroundings is a massive plus, but he is prone to being outweighed in shoulder-to-shoulder conditions and he was pickpocketed, albeit irregularly, by a restless Duane Holmes. He is a temporary addition that I've been satisfied with, he's showing all the expected signs of being a future Liverpool mainstay and he's invested in Fulham's cause for a title siege. His first few days at Mostpur Park were supposedly exhausting, he will be examined day in, day out by Silva and his coaching staff but this is not a vacation for the promising right-back. If he wishes to make it at the very top, he has to excel. Williams is developing, some attributes are stronger than others, however his respective outing against the Terriers exemplified both sides of his game in equal measure and overall, he continued to impress.
BDR scores again
That's 3 goals in 4 games for Bobby Decordova-Reid, bringing his overall return to 5 goals in 27 Championship outings for the Whites, and while his exploits weren't sizzling hot, I'm pleased the versatile attacker is finding the back of the net on a more consistent basis of late. Williams' botched drive from 30-yards ricocheted into BDR path and he curbed the ball's wild bounce with ease. Shifting into a clear scoring position, the 29-year-old stroked past Lee Nicholls with his left and it sparked a mini – yet futile – resurgence from the hosts, and his recent form suggests that he's a man that's revised his functionality as a free-formed element.
Huddersfield's stubborn defensive line held on, Decordova-Reid couldn't influence activities without being diligently apprehended, but the visitors' persistence hindered our entire offensive armoury, so the manner in which he dispatched Fulham's response represents his sharpened instincts. He had to be animated to the situation, he had to convert instantaneously and as a player that's improving ever so slightly with every minute he features, I'm glad BDR recorded our shallow consolation, because it'll be something that he'll fundamentally work to build upon midweek, heading into Wednesday.
Ivan Cavaleiro
Embed from Getty Images
Recovering from a groin injury and ravaged by fitness problems, Ivan Cavaleiro took to the turf for our U23 set-up midweek and returned to first-team affairs in the 76th minute and, for what it's worth, I thought the winger performed splendidly. Physically assertive, Cavaleiro attracted possession and hustled Huddersfield's fullbacks, pinning them back to the parameter of their 18-yard box. The 28-year-old noticed movement ahead of him and tried to incorporate his creativity with cute dabs into runners and off the ball, he showed for possession with a purpose.
He netted a brace against the Terriers in August, so the Portuguese flanker would've been trusting of his own ability in the final third. He sized his marker up, opened the taps and defied a narrative that dangled in Huddersfield's favour. Much like Anthony Knockaert, Cav' fulfilled his duties with a refreshing enthusiasm, he's a forgotten component of Silva's system that's often dismissed as a liability, but maybe his restoration to Championship events will galvanise our wide options because truthfully, nobody is truly safe. Fit and motivated, Ivan will push Harry Wilson and the like to the brink of their athletic extremities, and he's a keen alternative that will seek to trade cameo appearances for a starring part.
Celebration Day
Saturday, February 19th, was of significance to the Fulham family as it was earnestly inaugurated as our official Celebration Day. A date for reflection and commemoration, the club, working alongside the Fulham Supporters Trust, vowed to remember those who had recently lost their lives, and it's a mark of solidarity and respect which is heartfelt and wholly essential. From 2023, it will become a yearly installation and it will only pull us even closer together.
I am proud of our club. We are a community and each individual is important to making us the compassionate powerhouse we are, and especially at the turn of the year, in Paul Parish's memory, we have an annual event to honour all that are no longer with us in person, but always present in our hearts and minds. To those that are grieving, to those that are in sorrow, to those that are staying strong in the face of hardship, Fulham Football Club and everyone that is affiliated, in the terraces, the dugout or the boardroom, will stand beside you.
Negatives
Too many passengers
We condemned ourselves to this loss. In areas where we should've cleared our lines without delay, Fulham dawdled in possession and prompted Huddersfield to heighten their press and they eventually hijacked proceedings. Slackened, casual, Fulham failed to rid risk from their defensive game plan and cursory individual errors were swiftly exploited. It felt almost conceited, as though Fulham were under the false impression that they couldn't be hurt, and the Terriers' willingness to expose our complacency is a distinct reminder that we are not and never will be invincible at any level. Numerous bread and butter chances to respond were squandered, patterns broke down unceremoniously because our shape was passive and static, a difficult encounter was compounded as urgency declined until the final 5 minutes of play. The ghost of Parkerball haunted Fulham's approach, spooking those that dared to watch on behind squinted eyelids.
There were far too many passengers idly stalling in the action. Tom Cairney's scarce defensive knowledge presented Huddersfield their first of the afternoon, out wide we were bypassed with detectable long balls which Barry from your local pub team could've intercepted and in the centre of the park, we severely lacked intensity. While Nathaniel Chalobah's an attentive midfield watchman, he only has one gear and his overly-relaxed demeanour impeded momentum, and when Harrison Reed was introduced to reinvigorate our shackled midfield department, the Terriers had already mastered our approach. Antonee Robinson swapped simple passes for a dead trim, Wilson refused to beat his man on the outside, from back to front, in fact, the Whites languished as Huddersfield established a firmness that guaranteed three points, and it's a rocket up the backside that this team periodically cries out for.
No Mitro record
Embed from Getty Images
Locked on 31 goals for the season, poised to surpass a record that's stood for, well, a little under a year, Aleksandar Mitrovic's outing was subdued and repressed, and as the visitors presumably sensed the Serb's eagerness to expand his tally, they smothered and overloaded to counteract his imposing presence. Huddersfield's centre-half pairing of Tom Lees and Matty Pearson cooperated staunchly to tame Mitro, they shadowed the striker intently to suffocate his final third existence and the league's runaway top scorer simply couldn't shake them off. Grounded as crosses sailed by, constricted and quarantined, Aleksandar's opportunities were sparse and when he did manage to wriggle free momentarily, he was half a stride behind.
Seconds before Huddersfield found the opener, Fabio Carvalho slipped a tantalising ball across the 6-yard box and with Mitro lurking, a goal appeared imminent. Fabio's low cross was perfectly placed, however our prolific No.9 couldn't convert with an outstretched leg, encapsulating the striker's performance as close but yet so far from success. If he dropped deep to retrieve possession, he was hassled by a snappy Jonathan Hogg and as our playmakers manufactured hopeful offensive sequences, Mitro was confined ineffectively and for now, he'll have to wait until Wednesday at least to rewrite the history books once and for all. Huddersfield defended manfully, hurling themselves into confrontation, and they didn't care about Mitro or his formidable tendencies.
Not Marek's day
You've got to feel for Marek Rodak, because everything the usually dependable 'keeper did against the Terriers was a game-changing mistake to his own detriment. Undoubtedly, Rodak, compared to Paulo Gazzaniga, is the reliable option for regular matchday selection but between the sticks as the visitors gradually grew in confidence, the 25-year-old's assurance waned at vital moments. His angles were miscalculated, his posture was askew, and routine saves were cast aside forlornly. It's easy for bystanders to say Marek should've done better for Huddersfield's opener, but it was a strike he would typically repel and in those split-seconds before Danny Ward pounced, he wasn't set and prepared.
Further insults were added just before the break when he was punished for purely closing the gap between himself and Sorba Thomas, who duped Tony Harrington into awarding the Terriers a soft-as-shit penalty. As a goalkeeper naturally would whilst guarding his target, Rodak lessened the likelihood of Thomas pulling the trigger by charging down space and the attacker, launching himself into the stopper when he realised he couldn't fire goal-bound, simulated a scenario that defrauded the Slovakia international. In real-time, you could see why a penalty was given but upon examination, deceit and duplicity was unconcealed. Following their fortunate goals, Huddersfield rarely tested Rodak's target although the damage had already been done. The defeat can't be directly attributed to Marek, although he did play a calamitous role and as our last standalone deterrent, he'll admit his deficiencies and act upon them appropriately.
Shamefully inferior officiating
The argument for competent officials across the Football League rages on, furiously. From condoning play-acting to bewildering penalty fiascos, Harrington's control over matters on Saturday lunchtime was ill-advised and misinformed, and that goes for his hapless secondary staff, too, who gazed on blindly as wrong calls and incorrect sanctions tarnished a game that could've looked a whole lot different if there were passable adjudicators in charge that actually knew what they were employed to do.
Across the nation, perfectly competitive matches are destroyed by part-time novices who are forced through the FA's flaky training programme, and with a whistle and a notepad, these amateurs rob centre stage with their shameful inadequacies. Huddersfield's penalty should never have stood, we know this, and amid contentious breaks in play for overly-robust challenges and layman dramatics, a clear penalty shout for Fulham was waved away in the closing stages because neither of those with linesman's flags or a set of coloured cards spotted a handball which was flagrantly undisguised, yet a stadium of observant onlookers could. The EFL, in particular, has to revamp its inferior officiating standards because from what was comically brandished at the Cottage, the sporting body's guidelines are plummeting way, way short of the necessary mark.