Positives and negatives: Hull City 0-1 Fulham
Written by Cameron Ramsey on 13th February 2022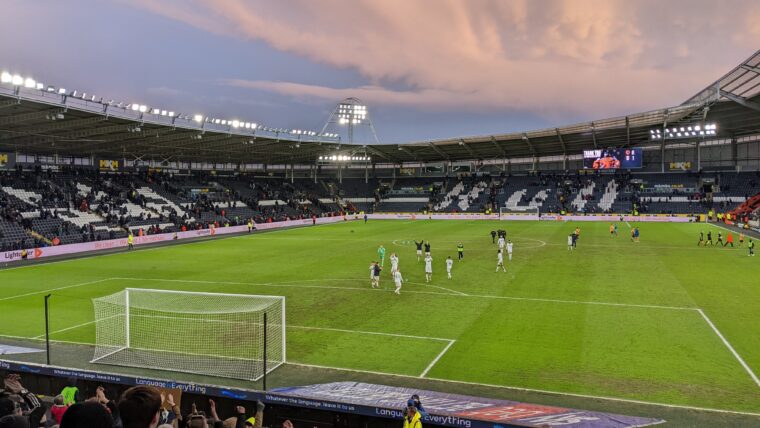 A hard-fought win on the road means more disgruntled northerners. Cam Ramsey's back to walk you through the best and worst aspects of Saturday's victory against Hull City.
Cold, wet, miserable, and that's just the weather. Hull is not a place I'd like to visit ever again but if we can take another three points off their hands, I'm sure we can sit through another 90 minutes in the downpour, and if another one of those loaded hotdogs are swung my way, too. It wasn't all that bad, then.
That's seven games unbeaten in the Championship, 78 league goals smashed, and against a side with new ownership, a new manager and a renewed sense of optimism, order was restored. Marco Silva's Whites are 6 points ahead with a game-in-hand on Blackburn Rovers, so things are bound to hot-up very, very rapidly.
Positives
Embed from Getty Images
Mitro equals record
Hull's centre-halves must've thought they'd done enough to subdue Aleksandar Mitrovic's lethal prowess in the final third but one opportunity is all the Serb required to guarantee three points. In the 57th minute, Mitrovic equalled Ivan Toney's Championship record of 31 goals with a sublime glancing header, which skimmed off the turf and into the bottom left corner. Alone, he's netted 5 more goals than the Tigers, and even before he landed the winner, we let the hosts and their strange fan base know all about it. If you were to dispatch a penalty, Mitro's header is precisely where you'd want to stick it. Matt Ingram hadn't a hope in hell of clawing it wide, the precision was exquisite.
With 16 games left, the 27-year-old will slam a new record that will not be broken again. He's got to be on for a 50-goal campaign, and while Saturday's outing wasn't his liveliest, he prayed upon Jacob Greaves and Sean McLoughlin, occupying imposing areas to engineer space for his teammates to roam. The man is a freak of nature, the most accomplished finisher in Europe, and he's agitating opposing fans across the country with shushing gestures and speaker box calling cards. With a third of the season to handle, we are going to witness one man achieve the impossible in a side that's already exceeding expectations.
Williams creates winner
In his first two appreances for the club, Neco Williams' performances have been suggestive. He's a willing outlet but there's certainly room for improvement, and in testing conditions at the MKM Stadium, the Liverpool loanee influenced proceedings acutely at both ends of the pitch. Wise to his primary duties, Williams shadowed Keane Lewis-Potter persistently, limiting Hull's left winger to very little action and in retreat, the 20-year-old's last-ditch tackles were impeccably timed.
Interlinking with Harry Wilson, forming triangles that bypassed Hull's press, Williams ventured into commanding positions and rotated possession neatly, and his connection with Mitro specifically is profitably developing. Spotting the striker's dash across the 18-yard box, Neco wrapped a flawless cross into the trigger-happy hitman's territory and as it left his right foot, a goal was impending. Williams has integrated into Silva's system appealingly, and once Kenny Tete's fighting fit, we'll have a very healthy selection conundrum to contend with.
Nathaniel Chalobah
In each department, Silva's options are plentiful and he isn't short of dynamic central midfielders to choose from. Nathaniel Chalobah has been immovable since we travelled to the Etihad and his involvement against Hull was profoundly functional. Partnering Tom Cairney, Chalobah allowed TC to orchestrate and in support, no less than 10 meters away from the skipper, he disrupted the hosts' patterns of play and supervised possession calmly and efficiently.
Sensibly tempering play, Nathaniel's languid style is not a defect as it enables him to remain in control, serenely, and that was the case in central areas. He does run of he risk of slipping into a relaxation that warrants repercussions, but his measured demeanour as Regan Slater and company toiled epitomised the former England international's underlying quality. As it stands, Chalobah is complimenting Fulham's procedures rewardingly, and players such as Harrison Reed and Jean Michael Seri have to unlock a higher standard if they're to oust the 27-year-old. Reed and Seri's form hasn't dipped, they're both enjoying superb seasons respectively, it's just that Chalobah is hitting all the right notes and Silva has bought into his multi-faceted services.
Ream & Tosin
Embed from Getty Images
Securing Fulham's spine cooperatively, ruthlessly administering authority, Tim Ream and Tosin Adarabioyo stifled Hull's offensive progression and when Fulham constructed meaningful phases, the central defensive couple contributed constructively, with short passes and switches being dispensed adroitly. Ream's composure whilst being hassled was commendable, the veteran defender plucked hoisted balls out of the atmosphere with a magnetised exactness and his positional awareness was also convincing.
First to every aerial duel, Tosin was imperious and he carried possession into higher reaches perceptively, combining with his midfield teammates to prolong the Whites' patterns of play. Communicating constantly, organising Fulham's shape and ridding danger ruthlessly, our centre backs safeguarded a clean sheet for Marek Rodak and they confirmed two consecutive shut outs without being perturbed. Defensively, Fulham are sound and Tim and Tosin's consciousness is synonymous.
Antonee Robinson
This is not a drill. Each week, I find time to lambast Antonee Robinson and everything he does (or doesn't do) but I have to say, the wildly peeving left-back conducted himself marvellously on Humberside, and is fully deserved of recognition. Passes actually stuck, first touches weren't ridiculously heavy and as an advancing element, he was ever-present and practical. Pace is one of the only reassuring feature of Robinson's game and he utilised his athleticism expertly, up and down the left channel, the 24-year-old closed space and stretched, prising avenues wide open for Fulham to occupy.
Featuring in the build-up to the game's only goal, Jedi flaunted judgment and poise, selecting his passes shrewdly and staying within his lane when necessary. It was an outing of logic, initiative, and it's a side of Antonee that we very rarely encounter and I really hope, for his sake, he continues to improve and refine his performances. I'm still not keen on Robinson, he fluctuates too regularly between mediocrity and inferiority, but he is capable of establishing himself in games and he demonstrated a purpose and resolve and for this week at least, he's on the right side of these articles.
Negatives
P*ss poor pitch
I can't really think of any massive negatives at all, other than the playing surface itself. What an embarrassment for Hull. They play within a multi-million pound stadium and the surface held up play to the point where strong passes dribbled to a dead stop. Yes, it was pissing it down for the entire day, saturation is going to take its toll, but I've never seen a pitch which is presumably maintained scrupulously flood so humiliatingly. Two professional sporting establishments play at what was known as the KCOM Stadium, one being a rugby team, of course, and that surely has to factor into the worsening conditions.
Clapham Common pitches play better, and it ruined the flow and rhythm of the game, subsequently for both teams, so Hull should feel fairly hard done by. The pitch at the cottage is a snooker table cloth, heavy, adverse weather conditions aren't an issue and there really isn't an excuse in the modern era of sport. It's an empty negative, to be honest, but I'm obliged to whinge about something so Hull's horrendous excuse of a professional-standard bog is where my angst is being directed towards. Next time, we'll rearrange the game at a local recreational park, equipped with dog shit and empty crisp packets.