Positives and negatives: Fulham 6-2 Bristol City
Written by Cameron Ramsey on 15th January 2022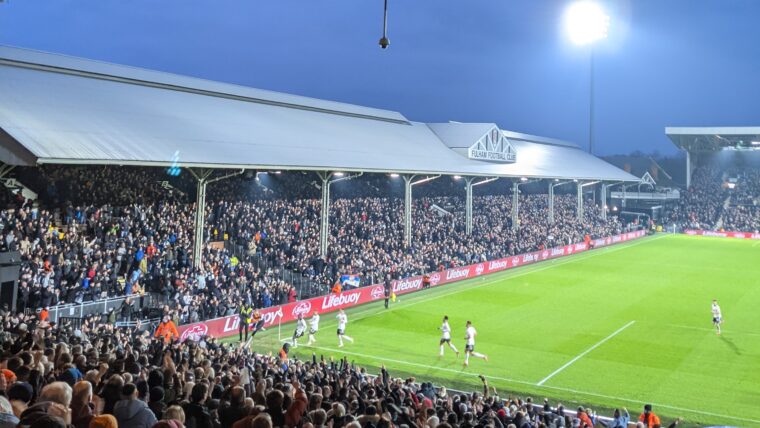 Having only just caught his breath back from a stupidly entertaining first half, Cam explores all that needs to be mentioned in the aftermath of another ridiculous Fulham victory.
Tell me, has this possibly been the most exciting week of Fulham football, ever? What a time to be a supporter of this glorious institution of madness. 13 goals in two fixtures, 10 goals in the last 75 minutes, advantage at the summit with a game in hand, and after a very ugly December schedule, the Whites have slipped into a gear that is far too advanced for the Championship to handle.
Marco Silva has cracked it. Nigel Pearson and Bristol City craved redemption, and we applaud them for turning up for, well, the opening half-an-hour but for the best part of 60 minutes or so, the Robins were clipped, plucked and roasted. The right-hand side of the numeric row on my keyboard has never faced such a frantic tapping before. Will we ever get another normal, commonplace Sky Bet result again? We will find out on Tuesday evening, and I cannot wait to be back at Craven Cottage for more scintillation under the lights.
Positives
Embed from Getty Images
Mitro's third hat-trick
Involved in 34 of our 64 league goals to date, Aleksandar Mitrovic's scolding form is torching the Championship to a crisp. With 21 games left to play, he's closing in on Ivan Toney's short-lived goal-scoring record of 31, and there is absolutely nothing anybody can do about it. Mitro has bagged 27 goals in 24 outings, a staggering return for a striker that was shunned by Scott Parker in the previous Premier League campaign and, having diverted a clinical first-half hat-trick against the Robins, the Serb is repaying Silva's faith in him, vehemently, and his dedication to his net-bulging duties is unyielding.
When Swansea City visited the Cottage, Aleksandar blasted three strikes beyond the 'keeper before the break, too, so to accomplish such a majestic stunt twice in half a season typifies his lethal tendencies. He does, in fact, have three hat-tricks altogether, and that in itself is worthy of serious recognition alone. Beside his dizzying tally, the 27-year-old also has 7 assists to his credit, with his latest being a nod across the 6-yard box for Neeskens Kebano to pull the game level. Silva has modified the striker into more than just a prolific hitman, for Mitro is now an offensive instigator, probing and punishing with a steely intent that makes him the continent's finest contract assassin.
Kebano's a killer
To the horrific sound of tendons snapping over shattered ankles, fullbacks far and wide see Kebano when they sleep. His movement is untraceable, his appetite to humiliate is never satisfied and under Silva's supervision, the 29-year-old's resurgence in black and white has been a revelation. With Bristol slumped on the ropes, the restless winger slammed a brace past Max O'Leary with stinging grace to kill the visitors off, once and for all. Let's talk about his second. The composure to adjust, the cold-bloodedness to execute, Kebano dead-eyed the target and squeezed the trigger without remorse. A fatal deed, tendered by a made man.
A livewire, oozing vitality, Neeskens got at Jay Dasilva instantly, railroading the young wingback into a state of shock, and as the DR Congo international interrogated, Fulham gained the upper hand and went on another vicious rampage. Schaffer is one of many players that have consummately amplified their standard, although his revival is easily the most pleasing to the soul.he really should've hit three of his own, but with 7 goals and 5 assists, he's another double-figure phenom that has a score to settle. Better the devil you know, because the torment Kebano inflicts upon vulnerable beings along the right flank is heinous.
Harry Wilson
Embed from Getty Images
Hoisting into the danger area for Mitro's first of the afternoon, Harry Wilson, on the opposite flank to Kebano, also conducted himself terrifically, forcing the issue down his touchline and notching his 10th assist of the season so far. Cameron Pring's surveillance of the flying Welshman was fraught, laden with error, as the 23-year-old left-back lolloped into lopsided footraces and mistimed challenges, for which a yellow was soon incurred.
A constant option during Fulham's offensive charges, Wilson complimented the Whites' urgency moving forward and his weaponry in the final third is exceptionally advantageous. It's one thing to have a striker of Mitro's calibre up top, and it's also another to harbour Neeskens' endeavour, however Wilson's expedient efforts are equally appreciated. Between Fulham's strongest front three, being the aforementioned trio, the Whites have scored 42 goals, a threesome to be reckoned with, and Wilson is a participant who's contributions are trying, as well as climactic. Please, don't quote me on that.
Harrison Reed
Stefan Johansen would've punted Antoine Semenyo into orbit, we know that too damn well, and while Harrison Reed didn't see red, thankfully, the holding midfielder with a fiery shock of hair ensured that despite two goals being shipped, the pain was not prolonged or protracted. Refusing to falter further, the 25-year-old tightened his laces and summoned his supercharged energy, covering yards in milliseconds to negate the risk of being outnumbered offensively, and defensively.
Wherever an extra body was required, he was on hand to plug the gap. I'm constantly gobsmacked at the sheer mileage Reed clocks up each matchday, often twice a week, and he never seems to tire or shy from confrontation. His ethic, especially in pushing harder yards than any professional in the game, is wholly commendable and as he patrolled and paraded his vigilance, City's ideas ran dry. Harrison, however, kept on going and some say he still is now.
Fabio's wow moment
Embed from Getty Images
The last few outings for Fabio Carvalho haven't been the kindest. Select individuals have started to turn on the teenage sensation after a series of fairly jejune performances and, though he may have started Saturday's encounter tepidly, he soon reached boiling point in 36th minute of play, when he did what can only be described as an utter madness. I adore Carvalho's persistence, particularly while he's being pursued by an entire midfield department, and as he picked up possession just within Bristol's half, magnetised to the target, a force field formed around the surging youngster and the visitors were powerless.
Sucking defenders in, Fabio slalomed oncoming congestion sublimely, trusting each foot to manipulate the ball's course to perfection and on the fringe of the 18, full flow, the 19-year-old caressed Fulham's third of the afternoon into the bottom right-hand corner. It was an individual exertion drizzled with technique and confidence and for the remainder of the game, he continued to contest the Robins' fortitude, and he maintained a disposition that was unfazed by flailing legs and close contention. Keep shining, starboy.
Tom Cairney
Lauding Tom Cairney's excellence, weekly, isn't laborious or fatiguing in anyway, at all. I'll try not to prattle on too much, however our skipper was simply majestic in the centre of the park and with two pinpoint assists to his name, it'd be rude not to doff one's cap in his direction for the second time in mere matter of days, like the squealing fanboy I most certainly am. TC has adapted himself to Silva's game plans without a fuss, he is duty-bound and readily obliged to trust the process, as it were, and subsequently, his timing, consciousness and end product has evolved.
Bristol hunted in packs when Cairney attained possession, the need to stifle his serenity was crucial if they were to alter the narrative but truth be told, the Robins weren't equipped to interfere with his finely-tuned wavelength. It's ultra-fast fibre broadband versus dial-up. As the first half came to a close, the 30-year-old served up Mitro's second and third goals, one from a perfectly placed corner, the other from a piercing slip into the penalty area as Bristol struggled to regroup. Opportunities will come in abundance with TC's respected stamp of approval, and until he was replaced by Nathaniel Chalobah in the 72nd minute, the sharpened playmaker was the brainchild behind multiple twists to the plot.
Negatives
Embed from Getty Images
Soft goals conceded
There's bones to pick with Bristol's goals, mind. Take absolutely nothing away from Semenyo, he still had a great deal to do in both of his successful strikes before they whistled into the goalmouth, but it's the manner in which they both came about which is mildly concerning. Ovie Ejaria's first in our loss against Reading, Iliman Ndiaye's unopposed solo for Sheffield United, for some reason unbeknown to our coaching staff, Fulham do not cope well, at all, on the retreat. I've no clue why TC was filling in for Kenny Tete for Semenyo's first, but it ponged of miscommunication and the Robins' scorer put everything he had through the ball at the near post, rendering Marek Rodak a bystander.
It was a poor goal to concede, however our guests' second really rankled. With an alarmingly high line pressed against the centre circle, Fulham goaded Semenyo to spin and spurt from Tim Ream, who was caught completely flat-footed. Bearing down on the target, Semenyo held off Reed, miraculously, and he thundered low onto the left upright. The ball cannoned into the opposite corner, heads were in hands, and we'll never really know why somebody didn't just take one for the team. I guess it doesn't matter, but for the sake of the dynamic of this article, we have to whine about something, and I'm pleased to say that flaky defending, which was cancelled out by cohesive attacking, is the only irritant from Saturday's pasting by the river.