An in-depth look at Marco Silva's backroom team
Written by Arthur Duke on 7th December 2021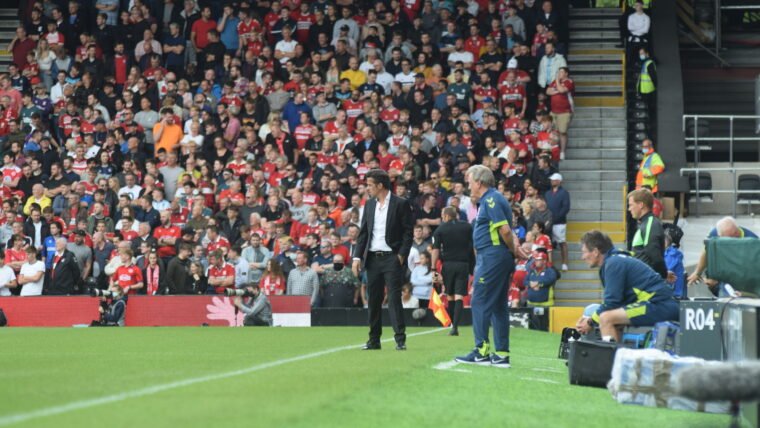 In his debut piece, Arthur Duke digs deep to give us a look at the team helping the Whites fire on all cylinders this term.
Upon Silva's appointment in the summer, he brought a proven team of coaches, each of whom brought a unique trait that has emerged in the performances of this Fulham team. Here's a look at the men who make Silva – and Fulham – tick.
Bruno Mendes – Head of Performance
Bruno Mendes moved to England to be part of Marco Silva's backroom staff at Everton in 2018 after a 17-year stint at Benfica. As head of performance, Bruno describes his role as a "responsibility to liaise with the main team, contributing actively to straight and conditioning processes, with personal fitness solutions for each player's needs". He adds that he's "responsible for the prevention and recovery of injuries sustained by players".
While this all seems standard for a performance coach in the modern era of football, Mendes differentiates from his field via the famous Benfica LAB, an innovative method of approaching football performance. This system, adopted by Mendes, "takes raw player data and uses it to optimise match readiness, define personal training schedules and prevent injury." And if we as Fulham fans were to judge the fitness of the squad this season, especially with regards to injury, there has been no major run of knocks that have directly influenced our form or momentum.
Embed from Getty Images
It's also worth noting that the precious return of Tom Cairney can be attributed to Bruno himself. Given Fulham's past with statistics in football, and Tony Kahn's two-box method of scouting analysis, it would not be a surprise if the link between Mendes and Silva made Silva a more attractive candidate for the managerial job.
Stuart Gray – Assistant Manager
Gray has of course been a key part of Fulham's backroom staff for several years. His managerial career has been slightly skewed with just one permanent job at Southampton among a plethora of caretaker roles across England's top divisions.
He first arrived at Fulham in 2015 to form an integral part of Slavisa Jovanovic's backroom staff, and his Fulham journey has not been plain sailing. Gray is understood to be a defensive specialist and a key individual in developing the strong back line (Fredericks, Targett, Ream and Odoi) that ran 23 games unbeaten in the lead up to our first promotion to the premier league in 2018.
Once promoted, Gray's contract was left to run out, with Scott Parker lined up as a replacement. Fulham fans publicly took this as a bitter mistake to change the formula that had made us so solid at the back and no doubt influenced the defensive catastrophe that followed. For a large part of the 2018/19 season, Fulham were the worst defensive team across Europe's top five leagues, which resulted in two managerial sackings. Given his reappointment when Scott Parker took over Ranieri, I saw this as an excellent opportunity to analyse the defensive results implemented upon his immediate reinstatement.
Embed from Getty Images
Prior to Gray's return, under Claudio Ranieri (where Carlo Cornacchia was the defensive advisor) and Slavisa Jovanovic, Fulham shipped 64 goals in 28 games, an average of 2.2 goals conceded per 90 minutes. By contrast, in the last 10 games with Gray's influence, Fulham conceded 17 goals in 10 games finding an average of 1.7 conceded per 90 minutes. While this data can be open to interpretation, there was no doubt an improvement.
After Silva's appointment, I was certainly holding my breath as to whether Gray would be given a role in Marco's team. Thankfully, the answer was yes. Gray took pre-season training while Silva and his team quarantined in London. Since then, Silva has spoken very highly of Gray's influence on the team, which has no doubt conributed the morale and results that have followed.
Goncalo Pedro – First-team fitness coach
Pedro has worked with Marco Silva for a large proportion of his managerial career – at Estoril, Sporting Lisbon, Olympiakos, Hull, Watford and Everton. He's tasked with ensuring the Whites' fitness levels are high enough to effectively enforce Silva-ball; fast-paced attacking football, built around a back four, front three and dynamically adjusted central trio. And here, the proof is in the pudding; we've got a lot more stamina in games, evidenced chiefly by our ability to score early and see games out comfortably, scoring 50 goals (and counting) in the process.
Luis Boa Morte – First-team coach
Luis is a man who needs no introduction. Boa Morte has already achieved legend status at Fulham, after firing us to the Premier league two decades ago – and helping to establish us as a top flight side. He went on to make 250 appearances for the club scoring 54 goals.
Boa Morte first worked with Silva at Sporting Clube de Portugal, where he led the U19 squad, while Silva oversaw the senior side. More recently, he's worked in the Premier League with Marco and his Everton staff. However, it's his reunited relationship with Fulham that's most intriguing.
Embed from Getty Images
In his first season at Fulham, when he won promotion under Jean Tigana, Boa Morte netted 18 times in 39 appearances. While this says a great deal about his playing ability in a Fulham shirt, I have a firm belief there's more about that campaign that Luis is using advance the culture and mentality of this current Fulham side.
During the 2000/01 season, Fulham spent all but one game weeks at the top of the First Division, ending the season as champions, 10 points clear of second-placed Blackburn Rovers. The only week Fulham didn't end as top was after the opening day, and they were only second on goal diffence. This represents a team with winning and ruthless culture imposed by the manger and absorbed by the rest of the squad.
Embed from Getty Images
It's clear that Boa Morte has attempted to influence this group of players, and evident in an interview with Harrison Reed in the lead up to the Bournemouth clash.  Reed remarked "We've pulled away a little bit from third. We need to pull away from second now". this mentality to push away from Bournemouth and impose a dominant force in the league can be attributed to Boa, who knows what it takes to challenge for the second-tier title.
Antonios Lemonakis – First-team analyst
Lemonakis started as a coach, progressing through the ranks of his home club Rhodes, before securing a role at PAOK. This led to a move to the Greek giants Olympiakos after a few years. He took on the role of analyst when Marco Silva arrived at the club, and he's followed him to all three of his jobs in England.  
It's worth noting there's a particular thread of experience in the second tier of football across this collection of staff, and with Lemonakis this is no different. While its distant, Lemonakis spent time at Super League Greece 2 side Rodos FC at the start of his career, which contributed to his understanding of Fulham's challenge ahead.
Hugo Oliveira – Goalkeeping coach
Oliveira is no doubt the most fascinating aspect of the Silva picture. His blockbuster status within the goalkeeping world has no doubt come from his time at Benfica, where he helped develop some of the best goalkeepers in world including Ederson (now at Manchester City), Jan Oblak (now at Atletico Marid) and the recently retired Julio Cesar.
Embed from Getty Images
Despite not working with Silva until his first job in England at Hull, he's become an integral part of Marco's team due to the traits he likes to see thrive in his goalkeepers, and the philosophy that Silva has endured to impose wherever he goes. Oliveira has also gone onto develop Jordon Pickford at Everton, and England's number one has spoken very highly of his former coach.
All these elite names developed under Oliveira share one key focus in their game: their ability to be reliable on the ball and display a wide range of passing ability, not just to the back four but to other thirds of the pitch. There's no secret that Silva's teams like to build passing movements from the defensive areas of the pitch, hence Oliveira developing these abilities has complemented Silva's style enormously.
Building on this, the presence of Oliveira and his experience has benefited our own Marek Rodak, who after claiming his number one spot back form Paulo Gazzaniga, is looking to take that next step up into the Premier League. I can only hope that given the opportunity of promotion, Silva and Oliveira will collectively decide to give that to Marek.
The verdict
When I first heard of Silva's appointment, I was confused due to the fact so many other proven Championship names had been mentioned. But the more and more I delved into the attributes that Silva has, more specifically the coaching team he would assemble, his appointment made sense in every department, including his style, philosophy – and most importantly coaches.
Overall, I believe that Silva's team has struck the perfect balance across all areas of the pitch. I'd go as far to say that his team is ready-made to get the best out of current Fulham side. From Boa Morte influencing Mitrovic and Kebano, to Oliveria and his work with Rodak, the Fulham talent in this group of players has been given a fantastic platform on an individual basis to kick on and fulfill their potential. And collectively, the experience in the dressing room understands what it takes to gain an elite mentality in a push for promotion and Premier League football.