Positives and negatives: Fulham 4-1 Barnsley
Written by Cameron Ramsey on 21st November 2021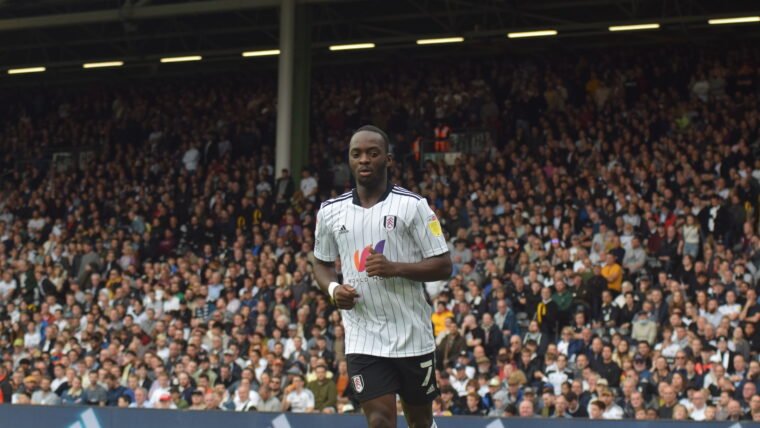 Cam reflects on all the good – and the bad – from our seventh win on the spin.
Jean Tigana's smiling upon us from whatever French chateau he presumably resides in the vineyards. Seven consecutive dubs. That's insane. We are, I believe, within the top four in-form sides in Europe, ahead of the likes of Bayern Munich, and as we're now at the summit of the Championship standings, it's rather befitting.
Barnsley, who are effectively bottom – if it wasn't for Derby County's points deduction – were no match for Marco Silva's fluent, free-scoring Fulham but that comes as no surprise. The Whites are terrifyingly potent, we've successfully hunted down AFC Bournemouth and now, rightfully so, we are the team to chase with pitchforks. It's lonely when you're top, isn't it?
Positives
Embed from Getty Images
Carry on, Mitro
Redemption on the international stage, to butting his 21st strike in 18 league games, and we're still only halfway through November. That's a return worthy of more than simple, commonplace praise, Aleksandar Mitrovic is running his own striking seminar, and everyone, literally you, I, Cauley Woodrow et al, is a novice in his company. Scoring in seven back-to-back league fixtures, Mitro is the first player to do so in a Fulham shirt since Roy Dwight, who originally did so between May and September, 1956.
The 27-year-old nodded the opener, it was a bread and butter finish and there isn't a defender, anywhere, that's equipped to withstand his deadly prowess in the 18-yard box. He could be playing for any side across Europe, and he just so happens to be terrorising centre-halves in SW6 for the Whites, a club which means so much to him, as he revealed midweek.
Incorporating his teammates on the break, prolonging our spells in possession with typically ruthless hold-up play, unlocking the Tykes' back line for Fabio Carvalho's goal, Mitro has developed into a dream for Silva to supervise, and a shuddering nightmare for opposing defences to contain. It's true, he really is too good for this division and it's a pleasure to savour his prolific, no-fucks-given approach. Records are there to be broken, and this man is going to decimate the goal-scoring tally by a long, long way.
Kenny Tete
His first start since Hull City, Kenny Tete wasn't back to his combative self, per se, but the Dutchman certainly reintroduced himself positively and in the process, he rekindled a productive partnership with Mitro, with an in-swinger crafted specifically for the Serb's primed forehead.
Tete's revered for his delicate final product in advanced areas and with Mitro manufacturing space to pounce, the 26-year-old fullback whipped his first assist of the campaign, and there'll certainly be more to follow. In his absence, Denis Odoi stepped in manfully, chipping in with game-changing contributions of his own, however there really isn't a genuine contest between the two defenders. Kenny is incomparable.
Neeksens doesn't stop
Silva's taken a man outcast by those before him and moulded him into an executioner with a non-stop appetite to wreak havoc. For the duration, Kebano retrieved possession and committed his marker, Toby Sibbick, who was shaved and skinned by our winger's relentless intensity.
The 29-year-old notched our third of the encounter in some style, it wasn't a routine opportunity to tuck how whatsoever, however he made light work of a cross from Harry Wilson that sat up awkwardly, just before Neeskens diverted coolly into the top right-hand corner.
This season, Kebano's evolved into an untouchable component. He has redefined himself; a hip-swivelling piss taker, sending full-backs for an early retirement, rendering Sibbick and Dominik Freiser insignificant as he jinked and jerked himself into clear space along the byline. He scores goals, he snaps tendons, he's beloved by all and he's refusing to forfeit his slot in the Championship's best starting XI. He, in this hypnotic version of himself, is invaluable to our chances of prospering.
Embed from Getty Images
Harry Wilson
On the opposite flank, we have a Welshman that repels dispossessors, almost as though he plays within a force field, 10 yards in diameter. Wilson disbursed Kebano's goal with a defence-stretching switch across the penalty area, and he capped off a terrific display with a strike that sealed the victory.
Throughout, Wilson weaved into over-populated pockets and devised cunning patterns to relinquish Barnsley's press. Quicker, slicker than Jordan Williams, the 24-year-old hared along his channel virtually unopposed and when he was cordoned off, he somehow pirouetted out of his marker's flimsy imprisonment. Those in attendance stood as he homed in on the danger zone, transfixed on his lively footwork and sudden turn of pace, he compliments Silva's system flawlessly and he doesn't often garner the credit he richly deserves.
In possession, he'd dynamite, an explosive outlet hardwired to humiliate and he does so, consistently. The visitors simply couldn't subsist, Wilson imposed himself upon their insecurities out wide and took advantage to the fullest. For a man that allegedly cost the club £80m, he's undoubtedly worth every single penny. What a steal.
That Seri assist
Rested after a busy international break, Jean Micheal Seri began proceedings in the dugout but in the 80th minute, he made his entrance and influenced the game immediately. We've a squad riddled with cheat codes, but the Ivorian is an encryption. Opposing midfields attempt to decipher the playmaker's formula but they fail, horrendously.
Fulham required control in the closing stages, the Tykes had breached our back line and were swarming, although as soon as Seri planted himself in the centre, momentum swung towards the Hammersmith End. He deconstructed Barnsley's detectable advancements and encouraged his teammates to kill the game off, once and for all.
Just a minute after replacing Harrison Reed, the 30-year-old did what can only be described as a madness. Scanning for movement ahead of him, JMS locked his sights on Wilson and tickled the naughtiest of strokes into the visitors' 18-yard box, inviting Wilson to spring a redundant offside trap. Feathering an enchanting assist with the outside of his right Nike Phantom, grown adults and children alike melted as it fluttered scrumptiously towards Harry's chest. The guy is an artist that doesn't comply to convention and I am smitten.
Sign da ting
Cupping his ears to Barnsley's following support, applying himself to the occasion, acknowledging the home fans and patting the badge with a gleeful grin, Carvalho was trusted to start, he netted his fourth goal of the campaign and if I'm not mistaken, he embodied a youngster that's more mainstay than wantaway. Sign da damn ting and stop flirting.
Elusive with every touch that filtered through his guidance, Carvalho carried the weight of expectation comfortably, knowing that his performance would be scrutinised acutely and amid uncertainty surrounding his future at the club, he resembled a committed member of the fold, focused on silencing conjecture and obscurity.
After the final whistle, Silva embraced the teen for a prolonged period of time and I don't know about you, but it seemed as though it was more than just a congratulatory fist bump. Silva is aware of Fabio's ability, the circling interest in his burgeoning qualities, and while nobody quite knows what will become of him in the coming weeks, Silva will not tolerate anything less than 100% dedication from the aspirational teenager, and that's a standard for the entire squad, too.
Negatives
Embed from Getty Images
Calm down, Michael
Cracking the post is one thing, hashing simple passes is another, and while this may resound as needlessly nit-picky, I wasn't completely won over by Michael Hector's shady outing beside Tim Ream. Hector will recognise that, in this set-up, he's purely a rotational option, however we all know first-hand what he's capable of at this level and under very little pressure, he was panicked.
Of course, Woodrow squeezed as we dabbed the ball across our defensive third but within a few minutes of the game's commencement, I was scowled at by a dad who didn't appreciate my constructive criticism of his inobservance. Blue phrased or not, Hector had to chill out and listen to the calls.
It is harsh to pinpoint Michael; he wasn't necessarily toilet, but he was a noticeable under-performer and somebody's got to take it on the chin. Tom Cairney warmed to the encounter after a frosty start, as did Wilson, actually, however the Jamaica international didn't exude confidence and assuredness like his peers, and though we've thrived, somewhat, with him deputising in the last three meetings, I honestly can't wait to have Tosin back in contention. That's enough shakiness for one month.
No clean sheet
Only the fans of a club that have won their last seven games by an aggregate score of 25 goals to two conceded will be irked with Barnsley's scrappy consolation. Marek Rodak was a bystander for he majority of the game, however he was helpless as Victor Adeboyejo snapped up Woodrow's header, which rebounded off the left upright from close range.
The Tykes only managed to tally three strikes on target, compared to Fulham's 12, and though the Whites' lead wasn't in jeopardy at 3-1 up, per se, a freak goal such as there's could've sparked the visitors into late-staged revival. Thankfully, that didn't happen, but a blemish on the score sheet, as minor as it may be, is still aggravating to say the very least.
Obviously we're going to ship further goals, of course we're going to fall foul of defensive lapses in concentration, I just feel slightly peeved for Marek, that's all. Blimey, we're really scraping the bottom of the barrel with these negatives, eh?
Embed from Getty Images
Angry adults cry
This may have gone way over many people's heads but from what I've heard, and indeed saw from my seat in the Hammy End, a select few individuals woke up feeling particularly dangerous on their big day out to the capital. Segregated by netting and a smattering of under-prepared stewards, adults, who should really know better, opted to overstep the proverbial mark in the search of confrontation. I shake my head.
Imagine being a fully grown member of society and giving it large because your team's getting spanked with a paddle. By all accounts, Barnsley's fans are actually lovely, as I'm sure they are, but their reputation's taking a hammering because of a handful of morons who wished to resort to being a sausage in public. It's just not what we do down here. We eat artisan cheese and use cardboard to create an atmosphere, we've no time for Carling-fuelled fisticuffs, my word no.
It's beyond me. We've all been subjected to hostility in the past, I'm sure, but never have I actually attempted to clamber over the threshold, frothing at the mouth, to make my point of view known with actions louder than words. Now, I'm not sure whether anybody was actually assaulted, I highly doubt it, but the scenes that ensued after we bagged our third and fourth goals were unsightly and if you were culprit to your inflamed emotions, go to bed.