How Mitro shook 'bad boy' tag to become Fulham icon
Written by Rhys Daly on 5th November 2021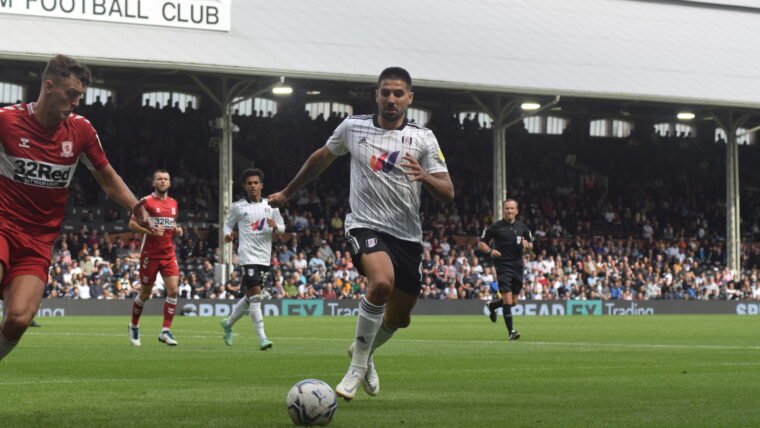 Aleksandar Mitrovic is still considered a disciplinary liability by those who remain misinformed – and Rhys is on hand to abolish that outdated pigeonhole.
Mitro is the hottest striker in the country. Scoring 19 goals across 16 Championship outings gives him a goals-per-minute ratio of 73 – having scored at least seven more than any other professional forward in England this season.
The Serbian icon has fired the club to within two points of top spot with five memorable consecutive victories and, perhaps more importantly, four points clear of West Brom in third.
The complete veneration of Mitrovic has help lift a dark cloud from over Craven Cottage after a dismal culmination to last season's once promising attempt of survival.
The most distressing ingredient of yet another calamitous Premier League campaign was Parker's snubbing of our prized asset, which followed a career best season during 2019/20.
While the plaudits returned concurrently with his relentless flurry of recent goals – the commanding forward still carries a 'bad boy' tag that has not been accurate since his first months in England.
Seeing red
Embed from Getty Images
While the former Anderlecht star did receive two red cards during his penultimate season in Belgium, and another two across his first campaign at St James' Park, that marked the end of his early baths in English football.
Mitrovic has never been sent off across 147 appearances for Fulham, receiving only 26 yellow cards in that period – and only three so far this season.
One caveat might well be the backdated suspension the 27-year-old received after a clash with Ben White during 2019/20 – but that was not in keeping with his combative but controlled attacking attributes of the past five years.
Following his dismissal against Arsenal in the first few weeks after his move to the Premier League, Mitrovic insisted that he would do his best to keep his cool on the pitch.
Bad reputation
Embed from Getty Images
He told the Mirror: "I've learned a lot from this red card. I want to show I can control my aggression and stay calm. I hope I can show everybody in the next few weeks that I am a calm guy."
Six years on and Mitrovic has fulfilled that heartfelt promise, again proving to be the most reliable and consistent striker in the Championship as well as the most prolific in England's top four tiers.
Steve McClaren: "He's so aggressive. The first five games he played, I think he got sent off twice for us.

"He has to calm down, he has to control his emotions."

Mitrovic received one red card in his first 35 appearances for Newcastle, and hasn't been sent off since 2016 #FFC pic.twitter.com/yfEON9wc1D

— Rhys Daly (@RhysDalySport) June 28, 2020
Already looking certain to surpass his previous best tally of 26, with eyes on Ivan Toney's record of 31 since the 2004 rebrand, his form is made all the more impressive by the uncertainty over his future earlier in the year.
As recently as May, reports swirled that Mitrovic would be on his way out of West London following just 13 Premier League starts from a possible 30 under Scott Parker.
Exit wounds
Embed from Getty Images
Mitrovic had fallen in love with Fulham during his loan spell, and first promotion with the club, back in 2017/18, subsequently signing a five-year deal that summer and adding a year extension following relegation.
With Parker opting to alter his system in 2020/21 in a bid to avoid the same outcome he oversaw as caretaker – Mitrovic was earmarked as very much a plan B.
Parker's decision to walk away and join Bournemouth gave Mitrovic the fresh start he was craving, but only the most optimistic of fans could've envisaged just how prolific his opening months to the season would've been.
Back In black (and white)
Embed from Getty Images
Marco Silva's Fulham are not only the highest scoring team in the Championship, but the highest scoring professional team in England as we approach the mid-way stage of the season.
While our Portuguese boss has been keen for focus to remain on the collective rather than the brilliance of an individual – there is no hiding the fact that Mitrovic is in the form of his life.
The man for both the routine triumphs as well as the big occasion, Mitrovic fired home a treble against the best defence in the league – and has now scored game-winning goals in three of our last five victories – not unlike a certain Portuguese forward elsewhere.
With fixtures coming up against 20th placed Peterborough, 22nd placed Barnsley, last-placed Derby and 15th placed Preston before the end of the month – the present and future look very bright for both Fulham and their talisman.