Our biggest ever away wins
Written by Jack Stroudley on 4th November 2021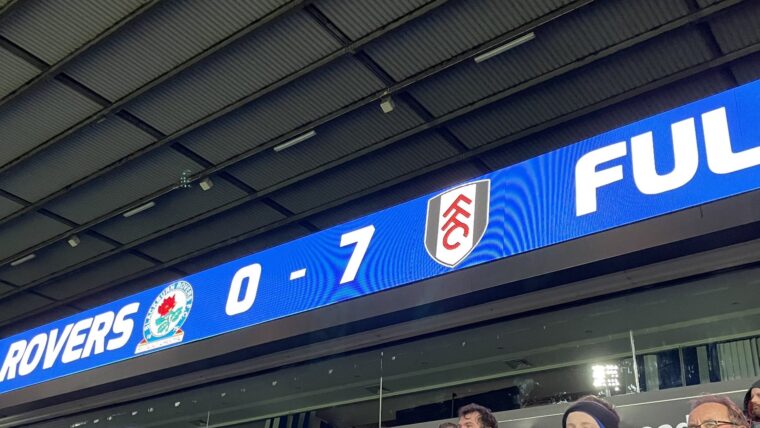 After last night's result, Jack Stroudley looks at other times we destroyed sides on their own patch.
Last night we saw the very best of Fulham. A silky Marco Silva side arrived at Ewood Park with a certain swagger about them, the likes of Neeskens Kebano and Harry Wilson set the cold Lancashire pitch alight as we eased to a remarkable seven (yes seven) nil victory. While we are slowly becoming accustomed to these high-scoring results, the regularity of these affairs have come few and far between in the history of Fulham. Below I am going to look at the times Fulham left home fans grumbling and travelled back to London with a spring in their step.
Early FA Cup triumphs
Embed from Getty Images
In our history we have only ever reached one FA Cup final, resulting in defeat, and the prospect of another cup run seems like a distant dream. But we have seen some fantastic results in our club's history in this great competition, particularly away from the Cottage. Firstly, we're going to travel back to December 1930 when Fulham made the short journey across London to face Wimbledon in a first round replay. A Fulham side whose main talisman was Jimmy Temple turned up to the Isthmian League side and won 6-0 on the night. Fulham (who were in the Division Three South at the time) went on to reach the third round of the cup that season before losing 2-0 at home to Portsmouth.
Going even further back to the 1907/08 season, we saw yet another Fulham demolition job on the road. This time the culprits were Southern League side Luton Town who we defeated 8-3 in the third round of the competition. The Division Two side had a very successful FA Cup run that season, going onto beat Norwich City, Manchester City and Manchester United, before losing 6-0 to eventual runners up Newcastle United in the semi-final of the competition.
1957/58
Embed from Getty Images
While I won't claim to be an expert on the 1957/58 Fulham side, after doing some research, it's evident they were pretty decent. The side managed by Doug Livingstone had the likes of Johnny Haynes, Jimmy Hill, Tosh Chamberlain and George Cohen, just to name a few. This squad of eventual legends managed to accrue some dominant results in the League Division Two, particularly away from home.
These results came at the hands of Bristol City and Doncaster Rovers where we won 6-1 in Yorkshire and managed to win 5-0 in Bristol. Despite these fantastic results and the calibre of players that Fulham had at the time, the club were unable to get promoted that season, finishing fifth behind West Ham United and Blackburn Rovers (the two that got promoted) with Charlton Athletic and Liverpool making up the third and fourth spots.
The Autoglass Trophy
Embed from Getty Images
You'd be forgiven for never hearing of this trophy (believe me I hadn't either!), however after researching, Autoglass were just the sponsor at the time of what is now known as the EFL Trophy where League One and Two sides face Premier League U21 teams. The result in question here comes away to Maidstone United. Fulham turned up in the 1991/92 season and won 6-2!
The side from Kent sat in League Division Four while we sat in Division Three, and the show was ran that day by Gary Brazil who managed to bag a hat-trick. Also, on the day Kelly Haag scored a brace with Martin Pike getting the other goal for Fulham. During that season Fulham beat Gillingham 2-0 on two separate occasions in The Autoglass Trophy before losing to Wrexham at home 2-0 and getting knocked out.
Another 6-2 drubbing
Embed from Getty Images
When you think of Watford away, the memories may be fairly negative. A 4-1 defeat in 2019 which sealed our relegation on top of an away end that doesn't serve alcohol to its inhabitants. However, on 29 September 1928 there would be nowhere better for Fulham fans to be as we came out 6-2 victors in a Division Three South match. Jimmy Temple once again makes another appearance on this article as he was the main man for Joe Bradshaw's Fulham.
Despite this result, Fulham were unable to gain promotion that season with only one team being able to do so from the Division Three South. Bradshaw's side ended up finishing in fifth place with Charlton Athletic getting the promotion place. One thing to note is that two points separated the top six!
8-0 to Fulham!
Embed from Getty Images
Fulham have scored eight goals away from home twice in their history, the first one was mentioned above in an 8-3 victory over Luton Town. The next one came in 1969 where Fulham put Halifax Town to the sword in an 8-0 victory in League Division Three. The man of the moment that day was Stevie Earle who managed to score five goals!
Stevie managed to get 22 that season as Fulham finished 4th during that campaign with Halifax Town finishing in 18th with the two promotion spots that season going to Leyton Orient and Luton Town.
Recent successes
Embed from Getty Images
Even if we ignore the result last night, we have seen major success in recent history from Marco Silva, Scott Parker and Slavisa Jokanovic when it comes to masterminding dominant away performances. This season under Marco we have seen a 5-1 victory at Huddersfield Town, 4-1 victory at Birmingham City and a 4-0 victory at Nottingham Forest.
Scott Parker managed to be at the helm of a 4-1 victory away to Reading, while Slavisa Jokanovic managed to obtain a 4-1 victory away to high flying Huddersfield Town back in 2017.
HMS has set sail?
Embed from Getty Images
While it is nice to look back at the past, I think it's worth getting very excited about the present and future under Marco Silva. Since losing to Coventry City, if you add up all our results, we have won 20-1 on aggregate. Mitrovic has scored 19 goals in 16 games and has scored more championship goals than 11 teams. Marco has found a system that suits him as well as other key players like Neeskens Kebano, Harry Wilson and Jean Michael Seri.
With a monumental 43 goals after 16 games, this Fulham side could very easily continue to turn up away from home and completely decimate oppositions. The record books could be smashed with this Fulham side and I think everyone should be excited.