In defence of Fábio Carvalho
Written by Jack J Collins on 3rd November 2021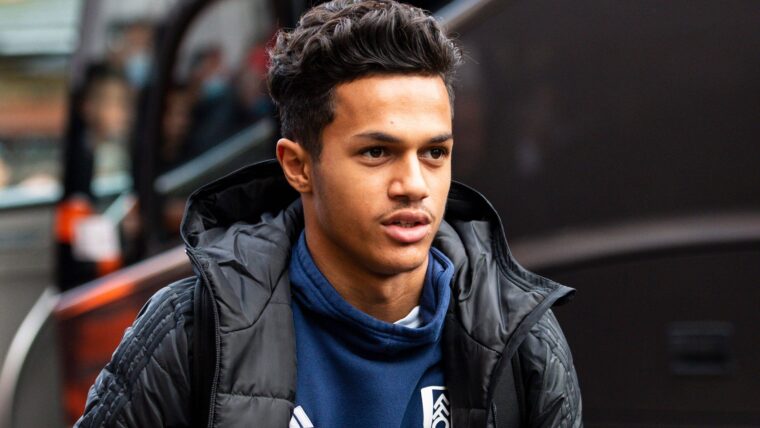 After yesterday's news that Fulham's latest academy jewel had turned down a new contract, and the explosive fallout that followed, Jack J Collins looks at why this keeps happening to young stars at the Cottage.
There was a visceral reaction to the news yesterday that Fábio Carvalho has reportedly turned down a new contract offer from Fulham, which is understandable. Given what the Fulham fanbase has seen happen with Harvey Elliott, Moussa Dembele, Patrick Roberts, Emerson Hyndman, and so on; every youth prospect leaving for pastures new, especially those who walk away for free, feels like a body blow to the fanbase. 
The first point I'd like to make is that we're quick to jump to conclusions. Not so long ago, we were told by people involved in the negotiations that Fábio was changing agents at the end of the year, and that no decisions regarding his contract would be made until that point. We're very much not at that point. This doesn't really mean anything either way, but I would be surprised if any hard guarantees have been given with that all still in the balance, at this point. But enough on the logistics, let's look at the situation in front of us.
Straight out of the blocks
Carvalho has been a revelation since he was given his chance in the first team by Scott Parker towards the back end of last season. He scored his first Premier League goal against Southampton, on his first Premier League start; before taking a leap under Marco Silva and becoming a bona-fide first-team starter at the beginning of the current season. Indeed, the first five games of the season saw him notch three goals and an assist, as he played all but 44 of 450 available minutes. 
Embed from Getty Images
A selection of injuries and illnesses have kept him out since then, but he made his return in the last few minutes against West Brom, where the Hammersmith End belted his name pretty much every time he came into the attacking half of the pitch. There was fervour to that – his contract situation has been up in the air for a little while, and the Fulham faithful wanted him to know that he was much-loved and supported at the club where he has spent the last seven years. 
So the argument is there: Why would you want to move right now when you have a place in the first team, with a coaching staff who clearly want to work with you, who speak your native Portuguese tongue, and you're being offered a serious amount of money, especially for a youngster. Fulham are not a side who refuse to sell players, so if it comes good, then the jump up to a higher level is going to be there for you, right? As controversial as it sounds, I have a bit more sympathy for Fábio's situation here, and I really don't think this is all about money. 
Warning signs
We've got to face facts at some point – Fulham have an awful track record at giving our youth team prospects minutes in the first team, especially in the Premier League. Last season, we gave just 0.3% of our minutes to academy products – Marek Rodák and Carvalho – and it's to Rodák's story that I look to in the reasoning as to why Fábio might be reticent to sign a new deal with the club. 
Roll it back to 2019/20, and Marek Rodák was a Fulham starboy. He'd taken the goalkeeper gloves off Marcus Bettinelli, at just 22 years old, and had made the spot his own – keeping 14 clean sheets as we battled up the table, into the play-offs, and onto promotion. 
Embed from Getty Images
He had earned his spot, and his chance, the fanbase said. So did Scott Parker. And yet, with Alphonse Areola brought in, Rodák had to settle for just two starts in the league – the first and last games of the season. Now, this isn't saying that's the wrong decision – Areola is a world-class goalkeeper who was imperative to pretty much all of the positives that Fulham found last year in the Premier League – but what does it say to Carvalho? Sign the contract, get us promoted, and we'll loan in a replacement who will severely limit your minutes in the league you helped get us to?
Devil in the details
From what I've been able to unearth, one of the sticking points in contract negotiations has been a guarantee of minutes, especially if Fulham were to get promoted. That's a tricky ask – you can't really write into a contract that a player must be given a certain amount of minutes (unless it's a loan deal, in which case you are allowed to up your fee if a certain limit isn't reached), because that hugely undermines the manager's decision making power and also, means that you can't factor form into the equation. But in this case in particular, it's important. 
You can point to the fact that he's playing this season, but Carvalho only has to look at the previous evidence in front of him to see that it's hardly a guarantee that things will continue in the same vein. Rodák aside, you only have to look at the last few promoted seasons to see how quickly things can change at Fulham. 
In 2018/19, the only regular surviving players from the play-off winning final were Mitrovic, Ream, Sessegnon and Cairney; and in 2020/21 were Reed, BDR and Cavaleiro. It's not a great strike rate, and even the most ardent Fulham fan would struggle to tell you that it's not a risk, with your career blooming ahead of you. Stefan Johansen, Norway captain, was cast aside in 18/19. Aleksandar Mitrovic, Championship top scorer, was cast aside in 20/21. There's little room for sentiment here, when you look at who has found themselves looking on from the bench, or beyond.
Even this year, Tyrese François – Carvalho's pal – started the season in the first-team picture, but with the additions of Nathaniel Chalobah and Domingos Quina on deadline day, as well as the return from injury for Tom Cairney and Harrison Reed, his opportunities have been squeezed out. We learned last month that François had turned down a new contract offer from the club, and to be quite frank, it's hard not to think 'fair enough'. 
Embed from Getty Images
There is reason for the turnover of players that makes this tricky – the constant turmoil of promotion and relegation fights are not the most fertile of soil for any manager to plant the seeds of youth in. The pressure to go up, or stay up, means that many turn to experience and to proven players in order to give them the best fighting chance of staying in the job, and you can sympathise. If Marco Silva fails to get this Fulham side promoted, there will be many calling for his head – that's the weight of expectation. But this lack of opportunities for youth prospects, and the fallout that brings, is part of that parcel. 
Finding inspiration elsewhere
For Carvalho, that means one of two things if he does make the decision to leave the Cottage. He can see the route that Harvey Elliott took, and think that training every day with an elite-level club in the mould of Liverpool or Manchester City would do much and more for his development, prior to breaking into any first teams. He will look at the path carved out by Phil Foden, Trent Alexander-Arnold, and now by Cole Palmer or Curtis Jones, and think that shadowing senior players in training and learning from them, might be the best possible route for him to get to the top. Remember, this is a kid who told The Athletic that he foresees himself winning the Ballon d'Or. It might be early, but the confidence and desire to be the very best is clearly visible. 
Or, he can go to a lower-tier club in the Premier League, where their league position is a little bit more stable than Fulham's has been of late. He might look at Patrick Vieira's Crystal Palace and see Ebere Eze, Michael Olise and Tyreek Mitchell in the first team picture. He might see Ben Johnson emerging at West Ham United, or Joe Gelhardt, Jamie Shackleton and Pascal Struijk at Leeds. Or he might look a little bit further afield and see what Noni Madueke is achieving at PSV Eindhoven, or Jude Bellingham at Borussia Dortmund, or Fikayo Tomori at AC Milan. 
Embed from Getty Images
I love Fábio Carvalho. I would love to see him stay at Fulham, develop and get the minutes he desires here at the Cottage, and go on to achieve the greatness he desires within the game – leaving on hero terms, if he has to leave at all. But I can't look at this process, look at the history, look at how things have panned out in the past, and blame him for thinking that the key to unlocking his future might lie elsewhere – and that he might be cast aside if Fulham are (as we hope) to get promoted again. 
It's a tough pill to swallow, but perhaps we have to look inwards at the club processes and structures, the pipelines between academy and first team, and the way our expectations lie in terms of signings, before we look at young players who don't see their future here, and wish them ill for wanting away.