A look at how Forest became our latest victim
Written by Dan Cooke on 25th October 2021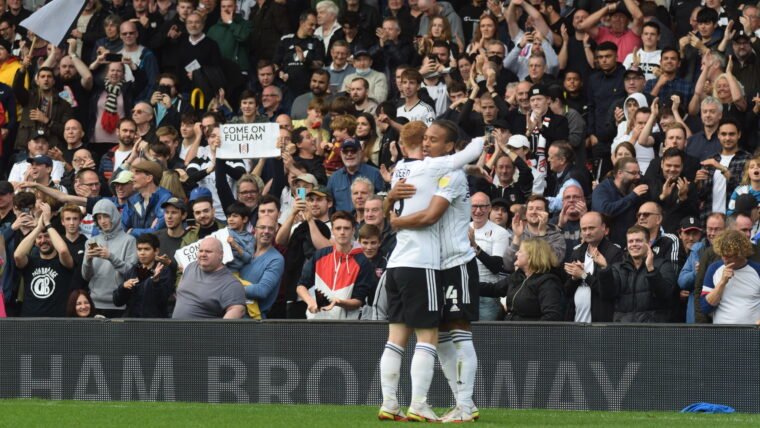 Dan Cooke looks at the developing trend of Fulham scoring goals in clusters – and how we use it to finish off teams.
It's 16:26 on a Sunday and Aleksandar Mitrovic has just deposited a penalty into the bottom left corner. We've scored four, again. It's our third goal in nine minutes. We are lethal killers, playing the villainous role of the Sheriff of Nottingham, there'll be nothing taken off the rich today. Those nine minutes yesterday were Marco's men at their best.
Kick 'em while they're down
Embed from Getty Images
Sunday was the icing on the triple tiered cake that was a nine-point week. 10 goals, one conceded. We are fizzing; our stutter in September now firmly forgotten.
That quick-fire treble was no fluke, rather a continuation of a trend that has guided us to second in the league and has made us such a joy to watch. In six games this season we have scored two or more goals in the space of 12 minutes or less. That's a frankly ludicrous 43% of our games so far.
If we isolate these clusters of goals, we've scored 13 goals in 41 minutes of football (that's a goal every three and a bit minutes). Forest, Cardiff, QPR, Hull, Millwall and Huddersfield have all been mere spectators of our surgical precision. Only able to watch as we steam forward and before they've managed to recover from conceding one, a second one is deposited home.
I'm still a little bit giddy after putting four past another formerly relevant Midlands side, however there's actually a serious point to this article. The ability to kill games in this manner is invaluable. We saw on Sunday, after making it 2-0, Steve Cooper reacted by throwing on an attacking midfielder for a centre-back. Before they even had the chance to attempt to reap the rewards they had hoped for from this change, we'd made it 3-0. 
There's always a combination of fragility and fight in an opposition side when they've just conceded. What we do is capitalise on that. Intent on getting back into the game, the opposition commit more men forward, and that's when we pick them off. 
We're actually very good
Embed from Getty Images
How do we do it? Quite simply, we let our superior quality take control. We're oozing with on-the-ball ability. In these moments, Jean-Michaël Seri is suddenly provided with gaps to pick; Harry Wilson et al. are afforded green space to run into and Mitro… well, he can just be Mitro.
This is where Marco Silva also deserves so much praise. While at this level we probably have the defensive ability and nous to win games 1-0, that's not his modus operandi. He wants to entertain, he wants opposition managers waking up at three in the morning in a cold sweat, having fever dreams about the boys from by the river.
It also means that we are doing our best to make games irretrievable for the opposition. At 2-0 down, all Forest wanted to do was attack, desperate to get themselves back into the game. By continuing to push for more goals, we gave them so much more to think about, and they simply couldn't handle it. The same went for QPR, Cardiff and the others. Sitting back invites pressure, a feeling we all know too well. You are always running a risk at 1-0 up; that's not the case when you're 4-0 up.
Onwards

While we're not going to score four every game, this ruthlessness, and the freedom that Marco is giving the players; is exactly what we all want. Gone are the days of turgid pragmatism wrapped up in a Charles Tyrwhitt cardigan.
This is the Fulham that we want – top scorers in the league with our talisman leading the line. It's wonderfully refreshing to see, as our own Jack Collins said "Give me this madness and the occasional loss any day of the week. We are joyful". I couldn't agree more.