Who should start against QPR?
Written by Colm O'Donnell on 11th October 2021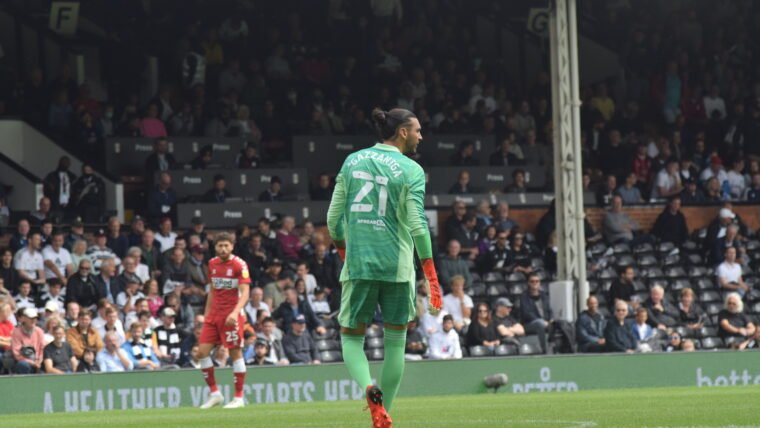 Colm assesses our starting XI as we look to breathe life into our stuttering promotion push against our rivals.
To say this season has been a rollercoaster so far would be an understatement. From the five wins in a row after our opening day draw, to the defeat by Blackpool, to getting back on track against Swansea, to the embarrassment that was the Coventry capitulation, Fulham fans are definitely getting value for their money so far, even if it isn't good for the heart. Our next assignment is a West-London derby against QPR on Saturday, and here's a look at the options we have and what sort of a team we can expect to take the field.
Goalkeeper
Since the first game of the season, I've been one of those people calling for Rodak to get his chance. While Gazzaniga pulls off some world-class saves, his distribution and decision making at times causes panic, and he's cost us goals. Rodak was ever reliable in the Championship two seasons ago and I fully expected him to be given his chance to remind us how good he is this season. I expect Marco Silva will stick with Paulo, but I would love to see him change to Marek.
Verdict: Marek Rodak
Embed from Getty Images
Right-back
While Kenny Tete is injured, Denis Odoi and Cyrus Christie are the only two realistic options. While I like Christie going forward, defensively he can be a bit of a liability and he's been lacking opportunities recently. We have plenty of other attacking options further up the pitch that I'd be opting for the defensive solidity of Denis Odoi at right-back.
Verdict: Denis Odoi
Left-back
Antonee Robinson has flown to Dallas, Texas to report for duty with the USMNT who play three World Cup qualifiers during the break. This includes a game against Costa Rica at midnight Wednesday evening/Thursday morning, which effectively rules him out of a 12.30pm kick off on Saturday in London. I have always believed the difference between Mitrovic for Fulham and Mitrovic for Serbia is Dusan Tadic and the service he provides. In Joe Bryan I believe we have someone who possesses a left peg that can be equally as dangerous as Tadic, and I'm excited to see them paired together again.
Verdict: Joe Bryan
Centre-back
Tim Ream is also in that same US squad who play so late in the week, so he's effectively ruled out of this one too. While I haven't always been the biggest Ream fan, I think he's had an outstanding start to this season, and has led from the back while also helping in the development of Tosin. I, for one, was happy to see Alfie Mawson be given his chance against Coventry. He wasn't directly at fault for any of the goals, but he was part of the back four that fell apart in the second half, which is a worry. However, I think he's the best option we have with Ream unavailable.
Verdict: Alfie Mawson
Embed from Getty Images
Centre-back
It's great to see the development of Tosin having spent last year partnered with Anderson and spending the start of this season with Ream. Every game he's becoming more assured and is ever reliable. The evidence was there Saturday with what happened at the back in the second half while he wasn't present. I expect him to be brought straight back into the side after his rest and bring more of that solidity to the defence.
Verdict: Tosin
Central midfield
Since the day Harrison Reed signed for Fulham, I've thought his name should be the first one on the team sheet every single week. The passion and desire that he plays with is second to none and he covered every blade of grass in the first half on Saturday against Coventry. He keeps that midfield ticking over and is definitely a captain in waiting.
Verdict: Harrison Reed
Central midfield
I think it was evident against Coventry how much we missed Jean Michael Seri in the starting lineup and that Josh Onomah doesn't offer the same work rate when he's sitting deep. While Nathanial Chalobah had a fantastic debut against against Birmingham, he hasn't featured since Bristol City and seems to be carrying a knock, so I wouldn't be throwing him straight back in while there are other viable options. Seri offers hard workrate and a constant option for others on the ball. He has constant black mark for me because the way he disappeared over the past three seasons but his performances this season so far are quickly making me forget the past.
Verdict: Jean Michael Seri
Central attacking midfield
In one of his recent press conferences, Marco Silva indicated that Fabio Carvalho was back in training and should be ready to make his return after the international break. He has been a breath of fresh air whenever he's played and we've missed his creativity and his sparks of life in the games that he's missed. It's essential we get him back in the team as quick as possible and in that advanced role behind Mitrovic where he's so dangerous. Bobby Decordova-Reid, is the other option here, but he has an even later game than the US with Jamaica playing at 1:05am on Thursday morning in Honduras. Again surely this rules him out of Saturday at 12.30.
Verdict: Fabio Carvalho
Left wing
Kebano has started the last two games and has had contrasting performances in those games. His performance against Swansea was full of purpose and he created some really nice chances including Mitrovic's second goal. He looked dangerous every time he touched the ball. However against Coventry, we was very lacklustre and was nowhere near his creative best. With Decordova-Reid essentially ruled out from starting the game there is no real alternatives. Hopefully we see more of the Swansea performance and less of the Coventry.
Verdict: Neeskans Kebano
Embed from Getty Images
Right wing
I'll hold my hands up and admit, I was totally underwhelmed when I heard Harry Wilson was our big signing of the summer. Without knowing enough about him, I totally wrote him off as just another winger to add to the bunch. How wrong was I? The impact he's had since the start of the season speaks for itself and while he's been quiet the last couple of games, the thoughts of himself and Carvalho playing in the same team again has me excited. He works hard, creates magic and has a wand of a left foot. It's a no-brainer for me that he starts.
Verdict: Harry Wilson
Centre forward
Along with Harrison Reed, I think Mitrovic is also one of the first names on the team sheet when he's in the form he's in right now. With 10 goals so far in the league, he is the best striker in the Championship – despite the Bournemouth manager's claims. There are obvious question marks about his Premier League form, but that's next season's problem (hopefully!). You're guaranteed goals with Mitro and with Bryan, Wilson, Carvalho and Kebano feeding him, I'm expecting more against QPR. 
Verdict: Alexander Mitrovic