Why Denis Odoi is the ultimate Fulham cult hero
Written by Charles Jones on 20th September 2021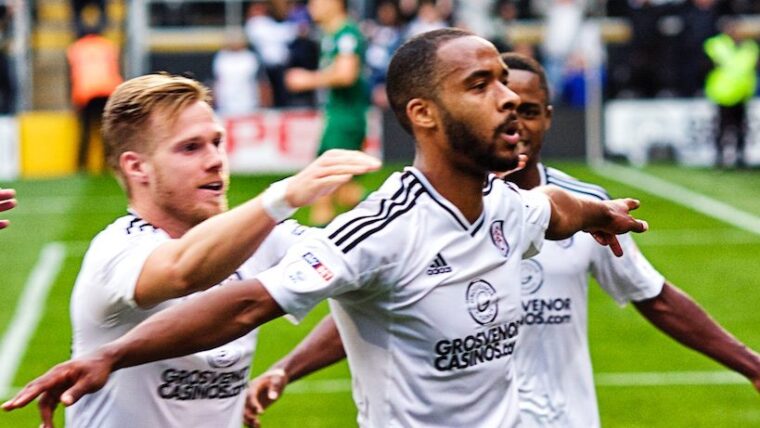 Amid yet another resurgence in a white shirt, Charles tells us why Odoi has to go down as one of our all-time greats.
Saturday's result aside, it really feels like the dawning of a new era at Fulham. There's a new manager, a youthful squad and a sense of optimism and excitement that we haven't had for years.
However, there are still a few of our old favourites playing their part in Silva's side, and it's time to pay tribute to one of the best: Denis Odoi.
Bright start
Embed from Getty Images
From day one you could tell Odoi was going to be a fan favourite.
He was arguably our Man of the Match against Newcastle on his debut, he produced a masterful performance at right-back against the best team in the division, and that touch with his back to turn Paul Dummett inside out remains up there with the greatest pieces of skill we've ever seen at the Cottage.
Fans immediately took to him, and the love has only grown since.
That season was so memorable. Slavisa Jokanovic took us from being relegation battlers to promotion contenders and Odoi had a huge part to play in what was a brilliant debut campaign.
Reinventing himself
Embed from Getty Images
Has any Fulham player in recent memory been as unshakeable as Dennis Odoi?
Like a dog with a bone, the defender just won't give up his place in the squad, no matter how much of an uphill task he seemingly has.
Ryan Fredericks, Tomas Kalas, Cyrus Christie, Steven Sessegnon and Alfie Mawson are just a few names who've tried to take Odoi's spot in the team, but every year he somehow manages to work his way back into the XI.
Odoi's ability to re-invent himself is one of his best attributes. From a marauding right-back to a ball-playing centre-half, The 33-year-old does whatever is asked of him and he does it to an good standard.
No matter how frustrated we, and his managers, have been with him at times, he always seems to work his way back into our hearts and his gaffer's plans.
That header
Embed from Getty Images
We can't speak about Odoi's Fulham legacy without mentioning that goal against Derby County.
For a man who stands at just 5 ft 10, Odoi is unbelievable in the air, and that was never more apparent than in our play-off semi-final back in 2018.
We've all seen the clip hundreds of times, with and without the Titanic music played over it, and it still gives us goosebumps more than three years later.
A tale of two finals
Embed from Getty Images
If anything sums up why Odoi is such a hero at Fulham it's our two play-off final trips to Wembley in recent years.
Perhaps the biggest indicator of how much our fanbase loves Odoi is the fact that he was sent off in a play-off final and nobody seems to hold that against him.
All we remember from Denis on that day is 70 minutes of being a brick wall and then dancing on the crossbar amid the celebrations.
Two years on Odoi was once again climbing the frame of the goal, and he'd done so after one of the most mature performances of his Fulham career. He'd pocketed Said Benrahma and played a huge part in getting us over the line against Brentford.
One of a kind
Embed from Getty Images
Odoi has given so much to Fulham since joining in 2016, and the reality is that we may never see a player like him again.
The thing that makes the Belgian so charming is his uniqueness.
He's an absolute character off the pitch, and a total maverick on it.
On paper, Odoi is a footballer that shouldn't work, He's a long-range shooting centre-back, a 5 ft 10 aerial monster who uses his back to take on full-backs, and on his day, he is impossible to get past.
He has such a unique blend of strengths, and many of them don't suit playing in defence, but somehow, it all comes together to form a beautifully endearing footballer who was always destined to be a cult hero.
Odoi may not be the best player we ever see at Craven Cottage, but he will certainly go down as one of the most memorable.