In Profile: Domingos Quina
Written by Dan Cooke on 2nd September 2021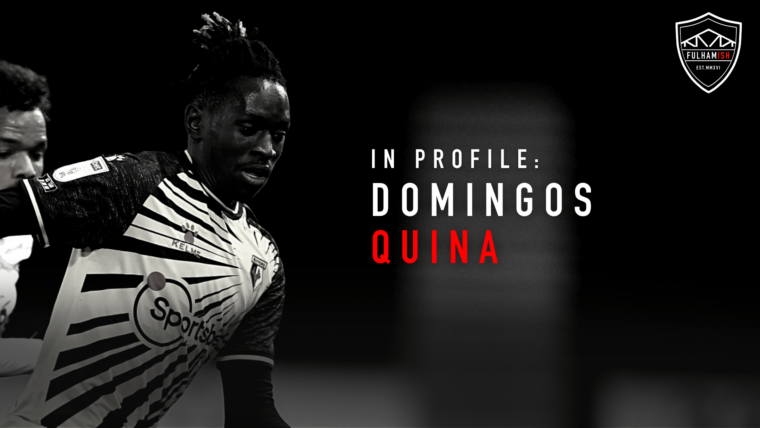 Dan Cooke takes a look at our other deadline day signing and looks at what we can expect from the Portuguese youth international.
After a typically Fulham deadline day, we finally announced the signing of Domingos Quina on loan from Watford, at half-past midnight. The late night was worth it as Domingos signed with fellow Watford midfielder Nathaniel Chalobah, who Ben Jarman has written a profile on.
Who is he?
Embed from Getty Images
Born in Guinea-Bissau, Quina moved to Portugal as a child and entered the youth setup at Benfica, at a similar time to a certain Fabio Carvalho. A year before Fabio, Domingos touched down in London and he joined the Chelsea academy in 2012. A move to West Ham preceded a rumoured seven-figure move to Watford where he has spent the past three years, including a six-month loan spell at Granada in La Liga.
A nifty number 10, who has also shown the ability to play a little bit deeper as an eight, Domingos is exciting to watch. He constantly wants to be on the ball, and drifts about the attacking third searching for opportunities. His low centre of gravity, turn of pace and agility means that he is perfectly suited to play in behind Mitrović in this Fulham team.
Expect to see Domingos dancing down at The Cottage this season and when you add in his propensity for a long-range screamer, we have a tantalising 10 on our hands.
However, his passing range and willingness to get battle for possession, does also provide Marco Silva with the option of playing him a little bit deeper, so don't be surprised if you see him take up the role of an eight in this adventurous Silva side.
Portuguese prizes
Embed from Getty Images
Despite only having 34 senior league appearances to his name, Quina is a player who has been highly regarded throughout his career, particularly by the Portuguese national setup. He has played for each age group from the Under-17s through to the Under-21s.
He played in every game as the Portugal U17s won the 2016 U17 European Championships and then started every game for the U19s as they won the U19 Euros in 2018. This was in an U19s squad that included the likes of Florentino Luis, Francisco Trincão and Thierry Correia – good company to be in.
In that U19s side, he played in a midfield three that had Florentino Luis at the base, with Quina playing as the most advanced of the three. It was a very similar dynamic to that of our midfield this season; a playmaker at the base and two, more adventurous, midfielders playing in front.
His performances in those Euros saw him named in the squad of the tournament, after also being named in the team of the tournament when they won the U17s Championships two years earlier.
Time in England
This is a player that clearly comes with a certain pedigree and whose ceiling is high. Despite this, he's never quite made the breakthrough into the first team at his two senior clubs in England.
I spoke to Mike from The Voices of The Vic, and he like many Watford fans only had good words for the Portuguese midfielder. He describes him as "A player with so much promise" and after what started as a successful loan spell in La Liga, he featured and scored for Watford in pre-season. There is certainly disappointment within their fanbase at the fact that Fulham can make this a permanent deal and Mike finished by saying that, with enough game time, we have a player who "will flourish in your side without a shadow of a doubt".
Disappointment from opposition fans when losing one of their players is always a good sign and certainly bodes well for our Bissau-born baller.
Illustrious company
However, I know the question that you're all really asking is, who else have we had from Guinea-Bissau down at The Cottage? Well, it's a list of two, and if Domingos starts against Blackpool, he will most likely acquire more minutes of league football than our two previous Bissau-Guineans combined.
Embed from Getty Images
He is following in the footsteps of man-mountain Marcelo Djaló, who has just signed for Boavista in Portugal, and Buomesca Tué Na Bangna, affectionately known simply as Mesca, who now plies his trade in the top tier in Cyprus. Mesca, like Domingos, appeared for the Portuguese youth national teams, but never quite managed to make it in SW6. Between them, they managed 30 minutes of league football for the Whites, so not a huge amount of pressure on our latest acquisition.
Verdict
Get excited. This is a player who will get bums off seats, and in full flow, he is very difficult to stop. His two goals in Spain were both rockets and were courtesy of his right and then left foot. His one Premier League goal was a delightful, curled effort with his right from the edge of the box, and his sole league cup goal was an absolute missile from range with his left.
A flair player, joining up with a manager who has unleashed his creative talents and allowed them the freedom to roam, means that we can expect to have some fun watching Domingos dazzle Championship defenders.
Quina is said to mean "wise" in Portuguese, and while Nathaniel Chalobah may be the signing that gets more attention, after a full Championship season in this Fulham team, an option of £5 million at the end of the loan spell may feel like a wise bit of business indeed.