Why Tim Ream still has so much to offer
Written by Sean Guest on 11th August 2021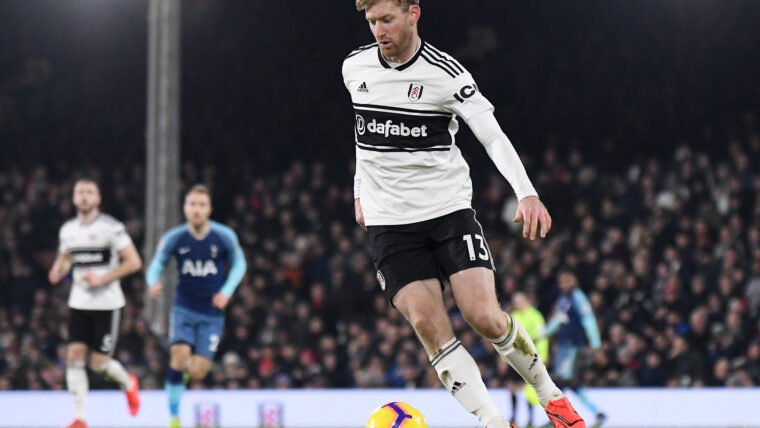 Sean looks at the accuracy of the trope that Ream can't cut it in the top flight, and says he's still so important to the Whites.
Sunday's opener against Middlesbrough saw fans back at Craven Cottage and Tim Ream back in Championship mode. Coming off a season to forget, the American was once again at the heart of Fulham's defence, looking confident and assured as he led a starting XI with an average age of just over 25 into the new campaign as captain.
His performance was far removed from that of the man whose mis-kick gifted Arsenal their opening goal on the opening day of last season. It's prompted the question: why does Ream seem much better in the Championship than he is in the Premier League?
Let's take a closer look.
Small margins
Embed from Getty Images
Of Ream's 10 appearances last term, seven came in the Premier League. He started five of our first six games of the season, during which time we lost five and drew one, while conceding 14 goals.
The eventual arrivals of Tosin Adarabioyo and Joachim Andersen brought much-needed stability that no combination of Ream, Michael Hector and Denis Odoi could provide at the back, condemning all three to the sidelines for much of what remained of the season.
"It was hard. It was difficult. It was unenjoyable," Ream recently told Peter Rutzler of The Athletic. "Listen, any time you are losing and you are not moving up the table, it's unenjoyable. For me, it was doubly unenjoyable because you're not playing, you feel like you're not part of the team. You're sitting on the bench, but you're not really contributing."
As frustrating as it might have been, Ream, like the others, couldn't have been surprised to find himself sitting on the bench. Fulham were, after all, abject defensively out of the blocks, conceding one more goal than we did in the first six games of our catastrophic 2018-19 campaign – and Ream certainly wasn't free of blame. In addition to his error for the Arsenal goal, poor communication between he and Hector allowed Tyrone Mings to undo our zonal marking in the Villa game and he was one of multiple players caught ball-watching as Crystal Palace strolled through our defence not once but twice in our 1-2 defeat at the Cottage.
Shortly after that game, Ream spoke to FFCtv about the difference between the Premier League and the Championship. "You look at the quality at every single position on the pitch of every team and it's head and shoulders above the Championship," he said. "The margins are so small in the Premier League that you can't get away with switching off even for a second, where in the Championship you can take little breathers here and there."
Unfortunately, he himself was guilty of doing just that a few too many times, giving Scott Parker reason enough to leave him out of the starting XI from that point on. Ream didn't start again until our penultimate game, when relegation was already confirmed.
Measuring up
Embed from Getty Images
Ream's disappointing season raised serious questions about his future with the club. Fulham, however, responded by offering him a new contract, securing an old head to lead our relatively inexperienced backline through the long, hard slog of yet another Championship campaign.
While some rolled their eyes at the decision, it seemed like a smart one on Sunday as Ream thrived alongside an uncertain-looking Tosin. Defensively he was solid, leading all players with three interceptions, while also making three clearances and one successful tackle. But it was his passing that really caught the eye, as he drove the team forward in the absence of Harrison Reed, making 24 accurate passes in the Middlesbrough half (for comparison, Kenny Tete, who spent large periods of the game in an advanced position, made just 19).
While Ream may have looked better than he did this time last year, it's important to remember the point he made about the calibre of opposition. Final score aside, Middlesbrough were poor, managing just 34% possession, 392 total touches (Fulham had 613) and one shot on target. As the heatmaps reveal, they spent large periods of the game without the ball, in their own half, trying to keep Fulham at bay, hoping we would make mistakes that would allow them to counter.
It's an approach we know all too well, having spent the bulk of last season in Boro's position; pegged back by superior opponents, forced to withstand long periods of intense pressure as some of the best players in the world looked to breach our backline.
Interestingly, although Andersen and Adarabioyo had a huge impact after arriving on Deadline Day, their overall numbers weren't significantly more impressive than Ream's. Despite appearing in fewer games his per-90 minute stats, courtesy of Squawka, measure up relatively well against Andersen's, who in turn outperformed Tosin, statistically.
While the Dane outmatched his American counterpart in categories like aerial duels won (3.3 to 1.6) and aerial duel success (69.23% to 52.38%), they were tied for ground duels won (with 1.9 apiece), while Ream outperformed Andersen in tackles made (1.8 to 1.1) and blocks (0.8 to 0.5). He also had better passing numbers, leading the way in pass accuracy (90.6% to 81.36%), passes completed in the opponent's half (16.9 to 14.2), and forward passes (24.2 to 24.1). For comparison, Tosin finished behind Andersen and Ream in all categories other than clearances (which he led 5.9 to 5 to 3.3 respectively).
While it's important to remember that Ream played in fewer games, resulting in a smaller sample size, these numbers do suggest that Andersen and Ream could have made an effective pairing and it would have been extremely interesting to see if Andersen could have helped Ream elevate his game had the two played alongside one another.
One more time?
Embed from Getty Images
Regardless of what the data says, Ream simply doesn't always pass the eye test. He regularly gets caught ball watching (watch how he loses track of Oli McBurnie here), his desire to play it out from the back can lead to problems and his ability to track runners often leaves a lot to be desired.
But as the stats above show, he does a lot of things well, something that's amplified in the Championship, where Fulham are more likely to dominate opponents than be dominated by them. And as Peter Rutzler's recent interview with him revealed, he's become a mentor on what is currently one of the youngest teams in the league.
If he can stave off competition from the likes of Terence Kongolo, Michael Hector and Alfie Mawson, Fulham's 2017/18 Player of the Season could yet play a huge part as the Whites look to secure a third-straight promotion. Whether he'll actually play for us in the Premier League again – should we get there – is another matter entirely though.