Scott Parker is a snake. Good riddance.
Written by Mike Forrest on 29th June 2021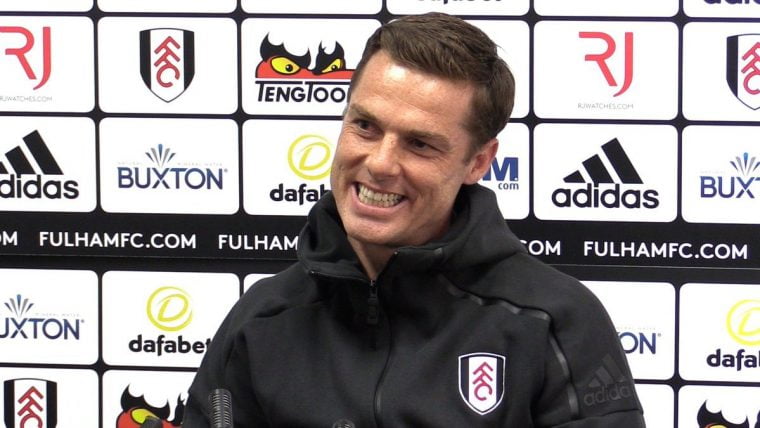 You've heard why Parker could be considered a legend. Now, for the counter argument, courtesy of Mike.
The Fulham and Scott Parker story is finally over. A querulous end was fitting given the relationship between club, fanbase and Parker since his days as a player and then manager. Is this a case of a young manager who has lofty opinions of himself, or of a club not appreciating a young managerial talent? 
Parker the player
Our glorious leader has decamped to pastures new. Knitted cardigans neatly folded, Charles Tyrwhitt shirts and trousers stowed away, Scott Parker has decided that Bournemouth is the place for him. His departure, an acrid one, illustrates the antipathy that many Fulham fans hold toward him.
Fulham signed Parker in 2013.The club probably saw him as an experienced sage that could use his seniority to instil solidity both on the pitch and off it. If he could replicate even half of the success that we had with Danny Murphy then he would have been a good signing. 
Unfortunately, after many injuries throughout his career and at the age of 33, Fulham got a much stilted version of Parker. After playing QPR and Fulham off each other to get a better offer, he eventually opted for Fulham and signed a big three-year deal. It was going to be three years of misery for Fulham.
Embed from Getty Images
Relegation and two subsequent battles to avoid the drop in the Championship were enough for Parker to be associated with some of the poorer times in our recent history. 
Of course the capitulation from stable Premier League team to Championship relegation candidates is not solely Parker's fault. However, he was one of the few senior players who had stayed throughout the three campaigns and was on a big contract. The implication of failure by association would continue to linger over him, carrying on through to his coaching career with us.
Parker's transition
After contributing to Fulham's play off push that saw us lose out to Reading in the semi-finals, Parker finally hung up his boots. The uneasy relationship was finally over – but only for about 12 months. 
Promotion achieved the following season, without Parker, Jokanovic reorganised his backroom staff. Stuart Grey was let go and Parker was poached from his Tottenham under-18 job to become first team assistant. 
Parker by this point had already been using the media to bolster his coaching career prospects with The Guardian already running a positive piece on his future.
It was a car crash of a season with the managerial revolving door finally settling on Parker to see out the campaign. He managed to put a dollop of respectability on a sour season by winning three games on the trot. This earned him the job on a permanent basis but was met with much scepticism. 
The scepticism was directed at both the board for hiring the easy and cheap option, and at Parker for his lack of managerial experience.
Parker the manager: what can Bournemouth expect
Against this backdrop of bemusement within the fanbase, also a holdover from his time as a player, Parker also had to heal a "fragile" dressing room. That's quite a difficult assignment for any manager, let alone one in his debut season. 
If football is a results business, then Parker deserves immense credit for securing an immediate return to the Premier League. However, if you care about how the objective was achieved, then he has much less credit in the bank. 
Dull, insipid, conservative, milksop, benign, safe, and boring are some of the adjectives that could be used to describe his style of play – sardonically known as "Parkerball". Possession for possession's sake. Managing the ball to manage the game. This type of tactic was seen throughout the season – he was rarely willing to take risks.
Embed from Getty Images
In the Premier League he tried implementing the same type of tactic at the start of the season, but that was quickly abandoned for a more pragmatic approach after a few resounding defeats. This new style focused on shoring up the defence and counter attacking. 
For a manager that tries to look as refined as possible on the touchline he might need to redirect his refinement to on-pitch matters. If Bournemouth are getting the "Parkerball"' version, they should be hoping he can tweak the tactic to attack more on the front foot as he will not have a 26-goal Mitrovic to bail him out.
The final word
Despite finishing 11 points from safety, winning only two home games all season, and not winning any game from the last 10 matches, Parker has come under little scrutiny. 
He's cleverly shielded himself from any blame by pointing the finger at our director of football. 
Happy to take the job knowing our odd recruitment structure, he was happy to use it as an excuse when he failed to deliver. After promotion he said, "You can't build teams with drastic changes… This team has been around myself now for the best part of 15 months and they have improved and improved and improved. I'm happy with where we are."
After a desperate start to the season he was quick to change his tune and happily used the powers-that-be as scapegoats.
Embed from Getty Images
For promotion, he was rewarded with a reported £5 million a year contract. If the reported compensation is true, this would see Parker earn more than the likes of David Moyes, Sean Dyche and Ralph Hasenhüttl. Fulham received less than value for money.
Yet Fulham were happy to keep him. Not once during the Premier League season did Fulham waiver in their loyalty to Parker. They trusted him to find a passage to survival. Recruitment issues aside, he was backed off the pitch with his new contract and Fulham also poached Nathan Gardiner from Tottenham to bolster his backroom staff. 
It is Parker that has angled for a move away, but demanding compensation to do so. He wanted to be compensated for wanting to resign to take over a rival. This ensured that no quick action could be taken, reminiscent of Parker's time at Fulham, and has now seen Fulham without a manager at the start of preseason.
Parker has finally got his wish and is free of Fulham. Free of the club that gave him his last big contract as a player. Free of the club that gave him his first opportunity as a manager.
For a man who prides himself on commitment and loyalty, he has shown precious little to Fulham. Happy to blame recruitment for relegation, but whose fault is it that Parker was unable to eke out any bit of form from Mitrovic or Loftus-Cheek? 
He is a decent manager and could do well at Bournemouth, but his exit has left a sour taste. It's not a case of feeling jilted, more of a case of disrespect from someone who the club has rewarded handsomely over the years.
Buyer beware, Bournemouth, Buyer beware.