Scott Parker is a Fulham legend. Here's why.
Written by Drew Heatley on 28th June 2021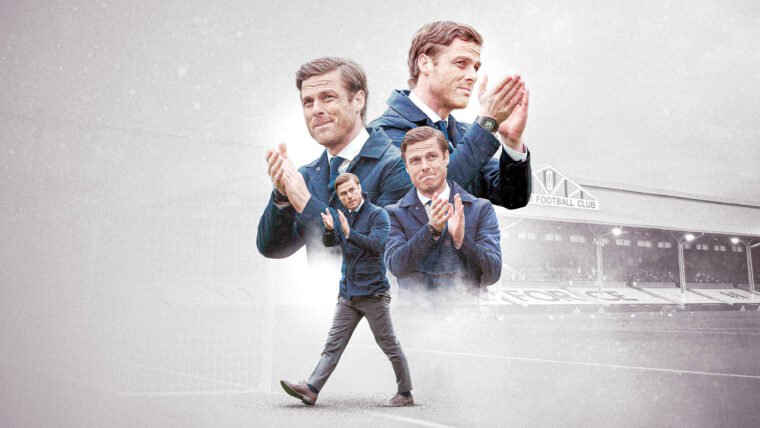 As our manager heads off for pastures new, Drew looks back at his two-year reign and argues for his place in Fulham folklore.
Whichever way you slice it, Scott Parker is a Fulham legend. He's up there with Clint Dempsey, Louis Saha and Brian McBride. He's not at statue level, fair enough, but he's due a Forever Fulham award from David Daly in five years' time, at half-time during a midweek league match against Lincoln City.
Premier League Parker
When Parker arrived in SW6 in 2013, it felt like a bit of a coup. Sure, he was nearly 33 years old and in the autumn of his career, but he was an established international, starting all four matches in England's (albeit ill-fated) Euro 2012 campaign. He'd also won the Football Writers' Association player of the season in 2011.
On paper, Parker was exactly what we needed. But there were far too many other jigsaw pieces missing for him to have an impact for us in the Premier League. We, of course, went down in May 2014. What was interesting, though, was that Scotty stayed. Speaking to the BBC in 2014, you could already hear shades of Parker the manager.
"I am a firm believer in continuity," he said, reflecting on the circus that was 2013/14. "I understand there is a time when things need to change but certainly last year it was not easy. When you do make so many changes it becomes very difficult. Different styles, ideas and philosophies is not helpful."
Embed from Getty Images
Racking up Championship miles
Parker played 90 games for us in the Championship, until he hung up his boots in 2017. And boy, did we need him. Assuming the captain's armband, he was a solid rod of quality in a disjointed side that was floundering in England's second tier. Who knows what might've happened without him.
His time was mostly spent down the bottom of the league, but he did help us mount one play-off push, in his final season as a player. What a redemption story it could've been, were it not for the world's most pointless football club™, Reading FC.
Embed from Getty Images
The return
Parker then went off to earn his stripes coaching – a route few would've bet against in his playing days. He'd start at Spurs, and their under-18s. Slavisa Jokanovic was building something at Fulham, and while Parker left with our best wishes, there were few asking him to stay in any capacity.
Then came Wembley. Then came the white wall. Then came our return to the Premier League. And with all that came the return of Parker, who linked up with his old gaffer as a first-team coach. It was a somewhat surprising, if not welcome, move. "I have first-hand knowledge of the quality and ambition at the Club since I was a player here," he beamed upon his appointment.
Our return Premier League voyage was as disastrous as our last, and Parker ended the campaign alone in the dugout, as our permanent manager. His three wins in his 10 games in charge lightened the mood somewhat at the end of a torrid campaign, but some sections of the fanbase were labelling Parker a sort of grim reaper; always present during our darkest hours.
Embed from Getty Images
His finest hour
A little more than a year later came Scott's finest hour. Another trip to Wembley (playing and coaching staff only, of course) saw another win and another return to the Premier League. Let's not mess around here: this game was huge. Whether you think Parker should've taken us up automatically or not (and I do), just remember how you felt when Brentford won promotion last month. Now imagine how you'd have felt if you watched them beat us at Wembley. For helping us avoid that heartache alone, Parker's alright by me.
Scenes of Scott's emotional Chinese takeaway-inspired post-match comments endeared him to us like never before. Stories of his off-the-cuff tactical message to Joe Bryan regarding David Raya's positioning made him feel like prime Pep Guardiola, and there was no way weren't surviving in the Prem this time around.
Embed from Getty Images
His darkest hour
Except we didn't. We don't need to go over the season again, but frustrating tactical rigidity and a lack of a plan B did little to strengthen the bond between manager and fans (not that there were any around). There's a completely separate argument regarding recruitment and support from the top – believe me, I'm not forgetting that – but the evidence provided from the tools available was disappointing.
We went down once again, and the grim reaper label grew stronger. Except it's an unfair one. Scott Parker wasn't solely to blame for our relegation in 2014. He wasn't at all to blame for it in 2019. Parker has helped Fulham Football Club during more than a few difficult periods. On the pitch and off it. We don't have to be threatened with extinction to endure tough times. And endure some we have; highs and lows aplenty.
Though I wasn't there, I liken Parker's contribution to the club to Ray Lewington's in the 1980s. Lew was brought in as the Football League's youngest manager amid instability at the top of the club and steered us to the play-offs against all odds. He did it because he loved Fulham. And you can see that affection remains to this day.
If you want a more contemporary example, then I give you Kit Symons. He was having a great time coaching the academy, when the first team came calling. He could never – and would never – turn it down. But Kit was dealt a stinker of a hand in a post-Magath world – and he couldn't win with it, no matter how well he might be able to bluff.
Embed from Getty Images
Parker was dealt a terrible hand when he arrived as a player. He was hardly handed a pair of aces when he took on the role of manager, either. But he made a good fist of both. And, for me, over the course of his seven-or-eight years at the club, he's up there with FFC legends.
Thank you, Scott.