What exactly is our new Director of Scouting role?
Written by Louis Wishlade on 14th June 2021
Louis Wishlade lays out the responsibilities of our currently vacant role, as well as how the newcomer will fit into the club's hierarchy.
Last month, The Athletic's, Peter Rutzler divulged Fulham's plans to recruit a Director of Scouting – a new role working alongside Tony Khan on talent identification and recruitment. This caused some confusion among the fanbase, purely because few other football clubs employ such a role. However, it wasn't long before confusion became ridicule, as fans promptly spotted the publicly-posted job advertisement on the club's website.
So, with the application process drawing to a close today, we thought to untangle your bewilderment and undertake a little headhunting of our own.
Warning: A lot of Football Manager was used during the creation of this article.
What is a Director of Scouting?
Fulham's operational structure seems somewhat murky on the surface. Currently, it appears that the club doesn't have the traditional 'Head Scout' role. Thus, the Director of Scouting will act as an all-powerful Chief Scout, overseeing both Senior Scouts and the Head of Opposition Scouting.
Peter states that the Director of Scouting role will effectively replace Javier Periera's previous position as Assistant Director of Football Operations by adding a new role, as part of a reshuffle rather than restructure. Therefore, it is seen as an "integral" role that will ensure that there's a "dedicated position focusing on the scouting side of recruitment".
Embed from Getty Images
This suggests that the role will be underneath Tony Khan, acting as a funnel for the scouting information to simplify the co-owner's 'two-boxes-ticked system', as Khan focuses on the statistical and analytical side of the process. Khan does this partly because of his love for playing Moneyball, however, also because the role of Head of Recruitment Analysis hasn't been occupied since the departure of controversial figure, Craig Kline.
However, an excerpt from the job advertisement on the Fulham website contradicts this, stating that one of the key responsibilities of the role is "liaising with the Director of Football Operations, Assistant Director of Football Operations, Head Coach, Head of Football Development and Chief Executive Officer to deliver the First Team recruitment strategy". Therefore, the door is left open for a future appointment of an Assistant Director of Football Operations, with whom the incoming director will have to work alongside, although this could easily be an admin error.
Therefore, it appears that the club's organisational structure will look like this: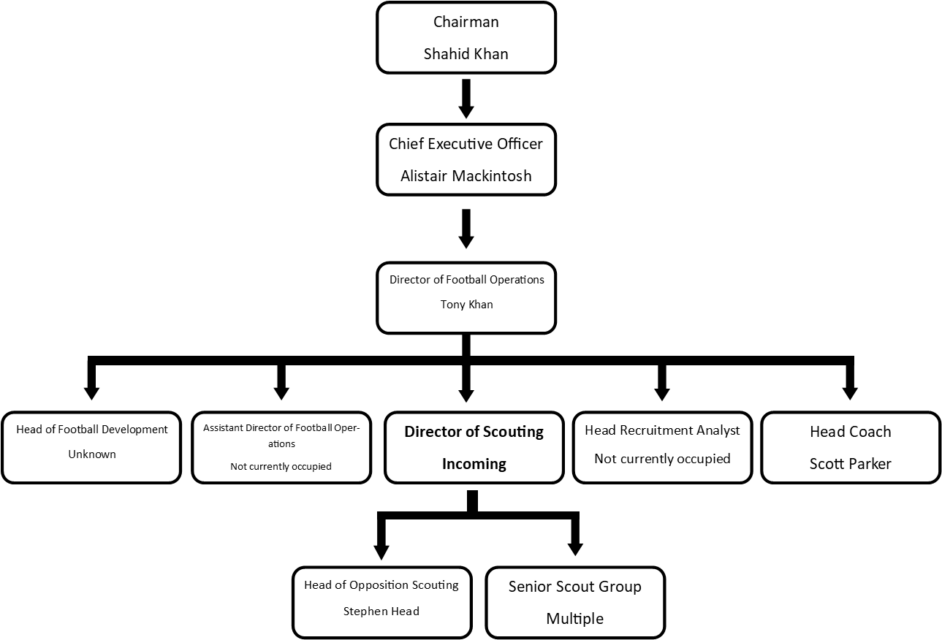 Why publicly post an advert?
Javier Periera left Motspur Park in September 2020, leaving to manage Chinese Super League club Henan Jianye, having only rejoined Fulham (after his spell as Slavisa Jokanovic's assistant from 2015-2018) as Assistant Director of Football Operations in January of 2020.
It's understood that filling this Periera-shaped void is of paramount importance for the club's hierarchy, with Rutzler reporting that Fulham have been searching for his replacement since his departure in September. Therefore, a publicly-posted advert eight months later suggests a failed headhunt, with no one meeting the require standards, no one wanting to come, or simply that the powers that be wish to cast a wider net.
What will they do and what skills will they need?
In layman's terms, it seems as though the role encompasses responsibilities usually associated with a Head Scout, and that the distinction lies with effective communication a greater sense of power, rather than simply being at the disposal of the Director of Football.
Therefore, Fulham state that the key responsibilities of the Director of Scouting include: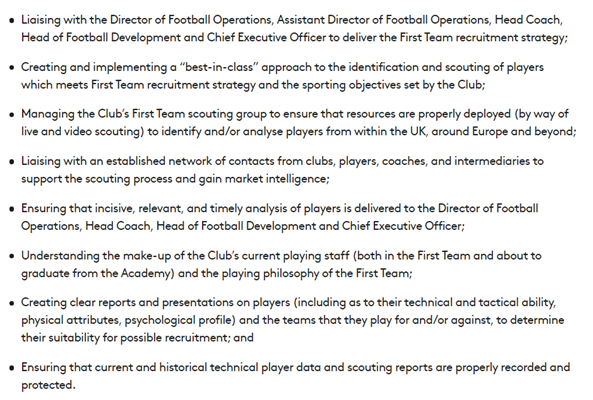 However, unfortunately for the majority of Fulham fans, this job requires experience, skills and qualifications which few can lay claim to; with the website stating that the following is necessary for the role: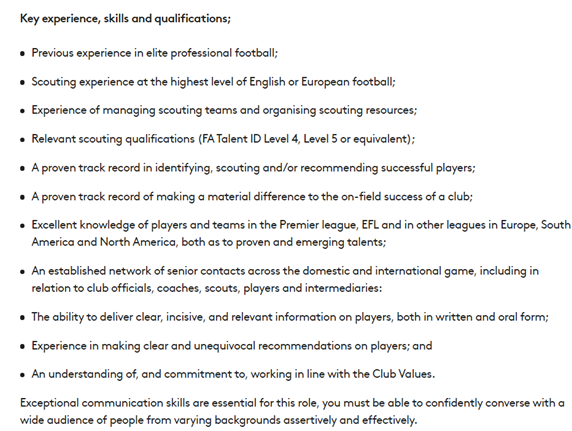 So, who could fill this crucial hole in our club's hierarchy. Stay tuned for part two, where I list five potential candidates.