The 2020/21 season: Fulhamish roundtable
26th May 2021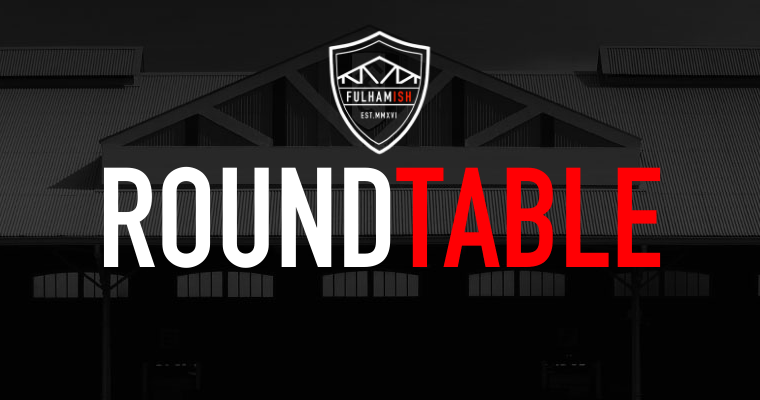 Now the dust has settled, the team look back on what's been a difficult campaign.
Sammy James
When this season started, we all agreed that it would take a miracle for us to stay up, so it's weird to come out of it still feeling immense disappointment. Most likely because after that Liverpool win, I think we all thought survival was completely within reach.
Going into it, defence was our top concern, but we tipped that balance so much that we turned into one of the most toothless Fulham sides I've ever seen. There were a few high-points, but for the most part 20/21 will be remembered for endless hours of behind-closed-doors turgidness. Hopefully it's a legacy that Scott Parker can try to turn around next year.
Embed from Getty Images
Jack Collins
"At the end of the tunnel there is always light. It just might be a train." So said Mike Skinner on The Streets' Going Through Hell – and it feels oddly fitting for this season. A diabolical start left Fulham looking like we might be cast adrift into the abyss, only for the reinforcements to change the direction of the season. And just when it looked like we had reached consistency and a peak from which to kick on from, we went careering downhill again.
There are plenty of places you can direct your anger if you so choose – the lateness of recruitment and lack of alternative attacking options; the overly defensive tactics from the gaffer and his maligning of star striker Aleksander Mitrovic; or a combination of the two, which is where I'm at. There is a serious overhaul needed this summer and a lot of tough decisions to make – but we will be back next year, hopeful again on the opening day. Only those who suffer, truly learn to love.
Embed from Getty Images
Dom Betts
When going into this season, avoiding the drop was always going to be a struggle, with the turnover between the final against Brentford and our opening day fixture against Arsenal, I always believed we'd just miss out on survival but remain a lot more competitive than 18/19.
However what has made this season so much worse than that season is the sheer sense of false optimism multiple times throughout the season. That win at Liverpool at the beginning of March looked like the start of us clawing ourselves out of it and to pick up two points out of the next 30, which were somehow at the Emirates and Old Trafford is a pure embarrassment.
The fact we've not been able to go week in week out, and the fact that we'll most likely never see these great loan players again has only made things worse.
However, this summer is such a crucial one for the club, as the football since the March international break has been utterly diabolical. There are so many things that need to change on and off the pitch, let's just hope next season we can all go again and watch a Fulham side that we all love to go and see again.
Enjoy the summer and hopefully England being triumphant in the Euros, and appreciate a few months away from Fulham for now.
Embed from Getty Images
Ben Jarman
After the delirium of Wembley subsided, everyone agreed that it would take a minor miracle for Fulham to survive. Time was against them from the very start. A season filled with false hope amid a backdrop of empty stadiums and, largely, empty performances. The win against Liverpool will be a highlight, but also signalled the beginning of the end. To use a dating phrase, Fulham were a "catfish" and for weeks, we fooled everyone including ourselves.
Coming out of this season I get the impression that a quick promotion papered over some very large cracks in the foundations. Going out on a whimper feels like the end of an era for large parts of the club, as a new dawn awaits us back in the Championship. It's going to be a summer of change, but who fires the first bullet: Parker or Khan, very much remains to be seen.
Embed from Getty Images
Farrell Monk
The records will tell its own story. Fewer home goals than VAR controversies, and more nearly moments than our average attendance. What the statistics cannot show is the feeling of the fans. Two years on from the last time around and there is a real sense of déjà vu. The Director of Football's relationship with the fans was damaged further, a summer of rebuilding the squad ahead and ticket pricing putting fans off. What was that about learning lessons?
Records will also never show that Fulham are still a club punching well above their weight in competing with the best this country has to offer. Seeing Craven Cottage on live TV is a giddy thrill that will never leave me, (though it's as irrational as Cavaleiro's decision making). The fact that we were largely able to compete is down to Scott Parker despite all the unique challenges he's had to face. There were countless nearly moments, but the biggest was the missed opportunity to see Premier League football at my club with family and friends. Championship away days are irreplaceable, but the opportunity to silence 40,000 muppets at the Bridge is favourable.
Embed from Getty Images
Adam Farquaharson
Supporting this football club is the epitome of the phrase "It's the hope that kills you". Our mid-season resurgence gave the entirely false impression to us fans that we were good enough to not only survive, but do it comfortably if those performances continued. But it was not to be, as we passed up opportunity after opportunity like Ivan Cavaleiro in front of the proverbial barn door. This season has been a monumental waste of everybody's time, on reflection. If we don't learn from the mistakes in recruitment, timing and naivety – this will be a repeating pattern. I used to love a decent yo-yo as a kid, but now the popular toy is entirely tainted.
Drew Heatley
Was it all the loan stars? Was it the lack of goals? Was it the fact we watched it all (mostly) alone, in front of our TVs? Whatever the reason, the 20/21 season was always on a hiding to nothing – and so it proved. I struggle to remember a season I just wanted to end so much. Whatever happens in the Championship next season, I hope we can enjoy it, and take it all in, the way we used to – together. You Whites.
Embed from Getty Images
George Singer
Sometimes I wonder what it would be like supporting a "normal" club. What would it be like to know with confidence you'll be in the Premier League in 10 years' time? What would it be like to not have two promotions, and two relegations, in four seasons? What would it be like to have a Director of Football whose priority isn't organising wrestling matches?
The answer: it would be boring, and we would have a lot less to talk about.
While there's plenty to be disappointed about, this is yet another bizarre chapter from a quirky little club from West London – a book I will never put down.
Embed from Getty Images
Cam Ramsey
The Whites weren't prepared for a return to the Premier League. Beating Brentford at Wembley warped our vision and last-minute recruitments, misleading tactics and misfiring target men smacks of our last doomed top-flight venture. Lessons have not been learnt, a power struggle's bubbling over, and now – more than ever – we need answers to why we surrendered so gutlessly.
Embed from Getty Images
Rhys Daly
Is false hope worse than no hope? Fulham reverting to type after three wins in seven matches across February and March arguably made our inventible failure all the more painful.
In saying that, the manner in which Scott Parker's side slipped away does feel less embarrassing that the shambles that was 2018/19, and I certainly feel more positive now than I did after that campaign.
While the obvious issues remain at boardroom level, I have every confidence that come August there will be steady footing for the club to progress, hopefully with eyes on our thriving academy.
Embed from Getty Images
Jack Kelly
This was very much a season of mauled by false hope. It seemed we may have had the right ingredients to be successful. We knew there were going to be bumps, but ultimately we live in a world where the DoF, Parker and our game management let us down.
Embed from Getty Images
Isabelle Barker
Relegation has been such a bitter pill to swallow this season because safety was dangling like a carrot in front of us for so long, but we blew it simply for not being able to convert chances and score goals. I loved our exciting new recruits like Andersen, Aina and Lemina, and the togetherness of the group, which also made it harder to watch our slow demise. I also found it frustrating to watch the disrespect shown to Mitro from Scott, who I feel could have at least got a little better from last season's Championship top scorer.
Embed from Getty Images
Joe Samson
Third time lucky? Nope. An abysmal start and an embarrassing end to the season mean we will sadly be going back at the Cottage as if nothing ever changed; Hector at the back, AK47 in attack. Record-shattering levels of poor finishing, scattergun transfer business, unusual tactics and bizarre team selections have culminated in us being back where we started…again.
Lydia Campbell
What a season for Fulham…but for all the wrong reasons. The odd glimmer of hope sprinkled on top of complete and utter chaos, and to make it worse, we have had to watch from behind our TV screens. We have problems at Fulham on and off the pitch and will have a huge task on our hands to stop the rot in the next few seasons. But while the whole thing sucks, the fact that we will get to watch from the stands next season will be wonderful, no matter what league we play in. Bring on the smell of burger vans in the air and the sound of thousands of people shouting daft things at the referee. It will be wonderful. COYW.
Embed from Getty Images
Mike Forrest
The survival battle was lost, but Parker has won the PR war. Andy Dufresne, from The Shaw shank Redemption, crawled to freedom through 500 yards of shit-smelling foulness. Fulham drowned in a season of manure, but Parker has come out of it smelling like roses. A season worthy of an aspiring "yo-yo club".
Colm O'Donnell
We didn't win any of the games that we needed to win this season. We went out and played superb against the big teams and picked up points but got practically zero results against the teams in and around us while Burnley, Newcastle and Brighton did. That for me, is the main reason we're heading back to the Championship
Embed from Getty Images
Charles Jones
This season has been awful. We've been relegated three times from the Premier League now, and this one has been arguably the worst of the bunch. At times we looked as though we would escape, but a torrid end to the season has left us with fewer wins than we managed in 2018/19.
Perhaps it's the lack of fans, perhaps it's the behind the scenes issues at the moment, or maybe it's the lack of attacking intent we've seen, but there's a real sense of apathy around the fanbase right now that didn't seem to be present after either of our last two relegations.
Embed from Getty Images
Jack Stroudley
A team with promise and potential who were on the cusp of achieving what we were all after – a stable premier league side – let us down with a lack of quality in both boxes. It's a shame. Roll on another miserable season of Preston at home!
Embed from Getty Images
Dan Cooke
We weren't there in person, so let's just pretend it didn't happen. HMS Piss the League returns with the fans in August, COYW.