Right or wrong, Parker's vision may cost him his job
Written by Sean Guest on 20th May 2021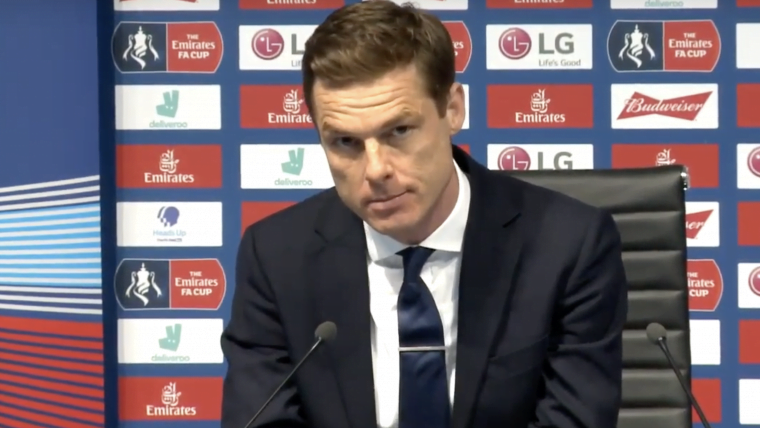 Sean asks: is Parker's vision of sustainability at odds with our owners?
With relegation confirmed, it didn't take long for Fulham's all too familiar brand of internal dysfunction to rear its ugly head once more. Having played a starring role in our latest Premier League demise, Scott Parker upset the applecart by publicly stating that he hadn't spoken to the club's decision-makers in the aftermath of our humiliating defeat at the hands of Burnley.
As reported by Peter Rutzler of The Athletic, this petty war of (no) words spawned from the fact that those who sit above Parker were said to be "'furious' that the team had gone out with a whimper after putting themselves in a position to secure survival".
The manager made matters worse by suggesting that the club needs to get off the promotion-relegation "rollercoaster" they're currently on. "I want to develop a culture at the football club and to do that there needs to be consistency, and loans don't give you that," he said last Thursday, all but calling out Director of Football operations Tony Khan, in the process.
Big decisions
While the bulk of our seven loan players have delivered this season, they'll soon depart for pasture's new, while Parker – or whoever's manager next season – is left to pick up the pieces. That unenviable task involves welcoming back the players deemed unfit to fight for Premier League survival, re-indoctrinating them and hoping they're able to help mount a third-straight promotion push.
Embed from Getty Images
The problem, of course, is that most of those players simply aren't good enough play in the top flight, meaning that even if they succeed, they get shipped out again at the end of next season and the rollercoaster keeps on rolling.
Refresh needed
What Parker's proposing has the potential to halt it, but such an approach would likely require Fulham to forego fighting for an immediate return to the Premier League next year in order to rework the nucleus of the squad. While the likes of Tim Ream, Denis Odoi and Stefan Johansen could all play a part in helping the club chase yet another promotion, none are better than the league they're trying to escape from. And that problem isn't just limited to a handful of our current crop. At least 11 members of the squad as constructed fall into this category while 11 of the current crop are over the age of 28.
Put simply: our squad needs to get better and it needs to get younger if we want to make the leap back and make it stick.
The permanent additions of Tosin Adarabioyo, Antonee Robinson, Kenny Tete and Harrison Reed last summer went some way to helping us do that. Throw in Marek Rodák and Josh Onomah, and you have the makings of a solid young core that has the potential to be able to compete for promotion this season and make a valuable contribution in the Premier League next.
Parker knows that it isn't enough though. If we're to shed our yo-yo club status we need to spend the summer, adding to this group while also shipping out some of the old guard for good, something the impending addition of a director of scouting could have a huge hand in. But that appointment needs to be made – and fast.
Embed from Getty Images
Assuming someone is eventually appointed to that long-vacant role, they should take a look at the blueprints used by Wolves and Leeds, who won the league when Fulham finished third in 2017-18 and fourth in 2019-20. When Wolves were crowned champions, their squad featured just two players over the age of 28, neither of whom made the jump with them, while Leeds, meanwhile, had just six players who were 28 or older. Both squads dominated the Championship and were good enough that they required only minor fortification in order to not just survive but hold their own in the Premier League.
Survival stats
According to The Stats Zone, teams promoted automatically have just a 31% chance of getting relegated, while those promoted by the play-offs have a significantly higher 61% chance. This doesn't always work out, of course. Cardiff and West Brom both finished second during our promotion campaigns and Norwich, who won the league in 2018-19, ended up coming straight back down while Aston Villa, who were promoted via the playoffs, survived by the finest of margins.
Regardless, we need to put ourselves in a position to secure automatic promotion in the near future and Parker's point is that bringing in a bunch of Anthony Knockaerts for a one-and-done campaign isn't going to be enough. We need to scour the market for players who can help the club over the next three to four years, regardless of which division we're in, while also using the opportunity presented by the second tier to integrate some homegrown talent.
Embed from Getty Images
We didn't really do this last time around. Marek Rodák and Josh Onomah, who were both 22 at the time, made significant contributions before getting largely overlooked in the top flight. Steven Sessegnon was afforded 14 appearances before falling out of favour and Matt O'Riley and Luca de la Torre, who were the also on the fringes at the time, made just three appearances between them before seeking out regular football elsewhere last summer.
We can't keep letting its young talent go to waste, and Peter Rutzler's already written about Parker's desire to rely more heavily on academy talent next season, while the two starts and a bench appearance he's given Fabio Carvalho in Fulham's last three games has gone some way to reinforcing that intent.
The big question now though is whether Parker's afforded the opportunity to put his vision into action.
Putting his competency as a manager to one side, if what he's said in the past week or so is any indication, he wants to help the club implement a sustainable structure, founded on consistency and stability, that will help Fulham get back to and remain in the big time for years to come. Unfortunately, that philosophy doesn't quite align with that of the Khans, who hope to reach the same destination albeit via a different means.
If the two sides are unable to find a suitable compromise, it seems highly likely that, for better or worse, Parker will be plying his trade elsewhere next season while Fulham remain on the rollercoaster.