Five Thoughts: Fulham 0-2 Burnley
Written by Cameron Ramsey on 11th May 2021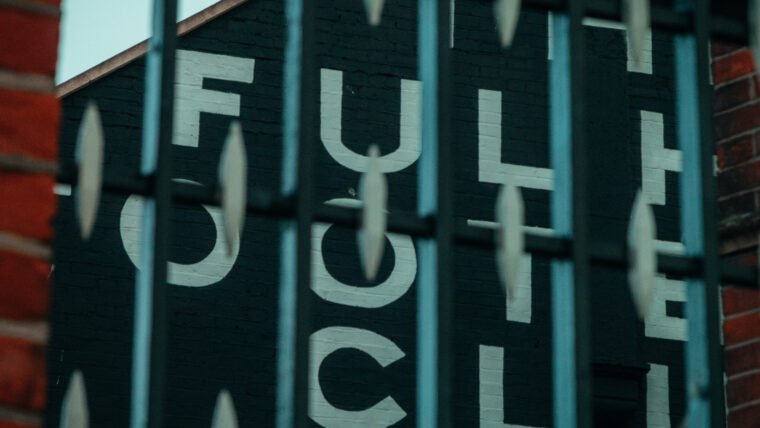 That relegation-defining nail's dangled ominously for a lifetime and Sean Dyche's Burnley drove it into Fulham's Premier League coffin, reading our last rites with a foreseeable 2-0 victory. Bowing out without a whimper, Scott Parker summarised this condemning defeat with loaded statements, dressed dismissively, holding his hand up to our demise whilst inadvertently accusing unnamed affiliates. Protests won't relieve us of Tony Khan but I genuinely hope that as our distracted, unqualified excuse of a DoF – who's presumably maturing – he'll also own a hefty, deserving slice of accountability.

Alas, there's still two more games to stomach before we face Steve Bruce's Newcastle United, in front of 10,000 allocated spectators (if anyone's even arsed), and if it's any shallow consolation, at least we're top of the bottom feeders. What's more, ladies and gentlemen, is that from next season in the Championship, unofficially the planet's greatest division, we'll see the back of VAR, empty franchises and Peter fucking Walton. That's the real prize here, folks. Up and down the leagues like the yo-yo club we are, we are still the shaggin' Whites and we will be back, make no mistake about it.
Shyness Seals Fate
Embed from Getty Images
Context, perspective, when facts are laid bare, clarity comes into its own and there's no escaping Fulham's crippling shyness and appalling quality in front of the target. In goal-scoring scenarios, not just against Burnley, but throughout the campaign, Fulham have been disgraceful. The Whites fired 21 shots, 7 more than the Clarets, although the visitors made their opportunities pay, devastatingly. Of the chances the hosts created, 3 registered on target, however Nick Pope, with his gangly limbs and overbite, was unmoved. There are distinct levels to this game. 25 goals to date, the second lowest conversion rate in the division, and only 9 of which have come at home. In the final third, Parker's men implode, they're confused, motionless, and on Monday night, an underwhelming D-Day, the Whites' final product was identical to the botched offerings of months gone by.
In 2021, which is now 5-months old, the Whites have only netted 3 goals in 11 games at Craven Cottage and Burnley, on two visits, have struck 5. If you don't laugh ironically, you'll definitely cry uncontrollably. How were we meant to sustain top-flight football with such a mortifying statistic? We had Aleksandar Mitrovic, our leading scorer Bobby Decordova-Reid, Josh Maja, Ademola Lookman, Ivan Cavaleiro, even Ruben bloody Loftus-Cheek on the same pitch at one juncture of the game and not one of them could do what they're paid extortionate amounts to accomplish: create and score. Defending was the area we had to address, at the start of the campaign, the Whites were porously disorganised and we gradually relinquished those poisonous hindrances at the back but moving forward, with a sturdier spine to support our developments, Fulham have not adapted or evolved under the changing weight of expectation. We attempted to remedy our lacklustre strike force with Maja, by playing RLC as the sport's most ineffective false 9, reinstating Mitro' after an age in the shadows and the fruitless harvest, despite bountiful opportunities, remained to impoverish our deceased push for salvation.
Bringing Intensity? Bollocks
Embed from Getty Images
Prior to kick-off, Parker talked-up a courageous battle, a do-or-die investment laden with desire, energy, and though Fulham began proceedings with a brisk spring in the step, the first half was utter dross, and the Whites' plodding lack of urgency bled into the remainder. Bringing the intensity? Bollocks. Effectively, the Whites really had nothing to lose, relegation's eyeballed us for months on end and if we didn't establish and practice an on-field mentality that craved redemption, a vigorous fight-back, we would fall short of the mark anyway. Ensuring we didn't lose was not strictly primary, guaranteeing a win was, and for all the possession, the 520 undisguised passes, Fulham disregarded the importance of a lung-busting, stamina-sapping 90 minutes.
The Whites have been without invention, an overbearing onus on solidity and fortitude muted the want for a gung-ho, all hands on deck offensive display and when we did advance out wide, through the middle, our tempo was containable and our vision was linear, rather than expansive. Fulham dabbed possession across the turf routinely, yes, although our phases were deprived of eruptive inspiration, as the ball trickled from one custodian to the next, Burnley regrouped and resisted systematically, and as we have done for what feels like an eternity, the Whites set themselves up for failure, simply because boundaries, in terms of graft and exertion, were not tested. Parker claims he cannot fault the effort and endeavour within his team, but it's purposeless. Fulham weren't eager enough to venture all possible avenues, to exert and persist expediently in an encounter that proved to be our curtain-closer and that, agree or disapprove, is solely down to the gaffer's insincerity. Parker promised a team that would leave it all on the pitch but the Whites, predictive and expectedly, masqueraded as the underachieving imposters they've always been, since their return to the big time.
Mitrovic's Fraying Patience
Embed from Getty Images
Perceive his post-match interview as you will, Mitrovic's tether is clearly fraying. Unable to truly impose himself upon James Tarkowski and Ben Mee, two physically sound protectors at the base of Burnley's traditional 4-4-2, Mitro' cut a greatly dejected, derailed version of his former self and his demons this season, both domestically and on the international stage, have seemingly ravaged the striker's patience. He was visibly exhausted, bereft of avidity, and as an earnest first-team mouthpiece, one can only detect the fallen attacker's palpable discontent. Balls flung into Burnley's 18 from the touchlines, Mitro' brushed the side netting and butted into the 'keeper's clasp from a corner but in the company he kept, central defenders that base their existence on aerial duels, the Serb was neutralised comprehensively.
Paraphrasing loosely, Mitro' expressed to the media, following the final whistle, that the Whites "cracked under pressure" and that they were "punished today and this season", and no truer statements have been made by the No.9, who's also flattered to deceive throughout the entirety. Mitro' has been a monumental disappointment this season, 3 goals in 27 outings is a deplorable record for a striker that ended last season as the Championship's top scorer with 26 to his exalted name, so he's one founding member of a very long list of representatives that has to bear a portion of the inescapable brunt. I accept Mitro's unrest, we are all one with it, however in a game where his presence was banked on from the off, in an environment he's specifically designed for, amid hoisted crosses and shoulder-to-shoulder confrontation, he was significantly subordinate and this, might I add, is not an abnormality by today's shockingly deficient standards. The Athletic's very own Peter Rutzler disclosed in an article on the morning after that Mitro' may not stick around if Parker's in charge next term, so if that's intended to be a reliable revelation, which it certainly should be, who would you rather hang on to?
Mario's Inner StefJo
Embed from Getty Images
Never has a player split opinions more than the mercurial personality of Mario Lemina and I'm committedly pitched in the camp that appreciates his versatility and ever-present enthusiasm. He often flies off the handle, hurling himself into ordinary challenges, although I recognise and commend his devotion, an application that, on the night, hindered Burnley's progression through the centre combatively. We've a host of loanees, other than Ruben Loftus-Cheek, that have given everything, as much as their relatively limited capacities could summon and Lemina, whenever and however he's been called upon, has aspired to defy defeatism. Without Harrison Reed tearing around those central quadrants, the Whites entrusted Lemina to rough the visitors up, to distress their cool distributors in Ashley Westwood and Jack Cork and the 27-year-old competed forcibly, intercepting passing lanes and charging positively in possession.
Andre-Frank Zambo Anguissa's viewed to be the catalyst, he muddied Pope's gloves in the first half and assaulted the crossbar in the second, although Lemina carried an extra element in the middle, an unrestrained, in-your-face aptitude that's essential in any midfield department. Zambo was marked out of the game for lengthy spells, Burnley acknowledged the unique threat he posed and that enabled Mario to inhabit a preservative position, whilst being a secondary spark on the break. Parker threw multiple offensive options into the mix late on, Tosin Adarabioyo made way for RLC so in order to counteract an unbalanced system, Lemina shuffled into a makeshift back three for the closing 15 minutes or so. Consisting of Joachim Andersen, Antonee Robinson and the Gabon international, Fulham were evidently fixated on salvaging survival at the opposite end and that goaded further turmoil. What I really admire about Lemina is his understanding of the dark arts, and as Chris Wood galloped on the counter, with acres to siege, Lemina scythed the New Zealander professionally, the game was already effectively lost but for the sake of a caution, Mario channelled his inner StefJo, a hallmark of sacrificial prestige, expertly timed to stem the visitors.
It's Been Coming
Embed from Getty Images
Wrap it up however you fancy, dangle bells on those lingering 'what ifs' and 'maybes', Fulham have not met the required standard this season, not by a long chalk, and our loss against Burnley poignantly epitomises the 2020/2021 campaign. Chances were fashioned, possession was comfortably in our favour, as it has been in the vast majority of our top-flight fixtures and yet, we're submissive, substandard and markedly ill-equipped. This has been coming for months, we've pissed it on the walls ourselves, the Whites are finally and deservedly down and now, while there's still a handful of games to play, planning and preparing for next season, as well as the wholly necessary, condemning conversations in between, is crucial to the immediate future of our unstable, unidentifiable club.
We'll definitely investigate our flaws and dissect the season over the coming weeks, however it's obvious that our club's been led astray by certain members of the hierarchy, not just Parker's suspect game management skills. Temporary quick-fix personnel was introduced late into the summer transfer window, again, and though the Whites seemingly evolved during the turn of the year with pragmatic defensive displays, the wheels unceremoniously fell off after defeating Liverpool at Anfield and we never recovered. Burnley also started the campaign disastrously, but Dyche doesn't panic, he knows the capabilities of his set-up and they have the correct methodology to survive, whereas Fulham entered each game with a stark tentativeness, and the Clarets exploited our broadcast desperation. We've only picked up one solitary point from the last 21 available, we'd allowed prospective victories at Villa Park and the Emirates to dissipate, Adama Traore to rattle home his first league goal in 16 months and against Burnley, a side with nothing to prove in particular, Fulham embodied a side that'd already accepted inferiority.