Five Thoughts: Arsenal 1-1 Fulham
Written by Cameron Ramsey on 19th April 2021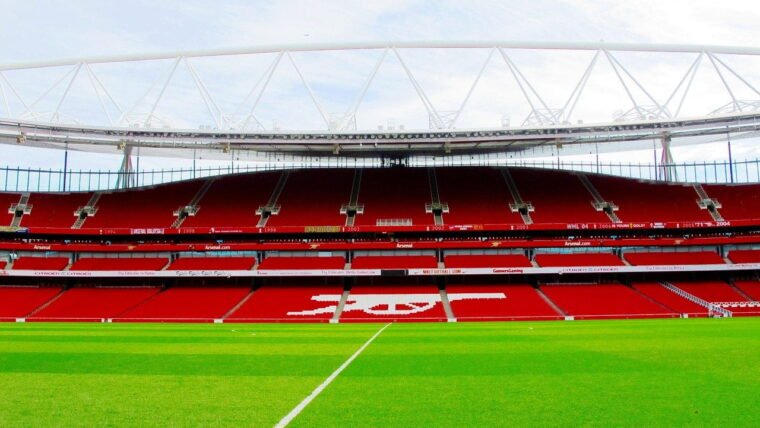 There was no celebratory slice of Cuthbert the Caterpillar on Scott Parker's 100th game in charge of Fulham. The Whites held their breath, Mikel Arteta's party-crashing Arsenal blew out the candles. No Premier League triumph in the capital in 23 attempts, no victory at either the Emirates or Highbury in the league, ever, and as we digest a draw that stings like another deflating defeat, we're now pondering the possibility of a null and void season, safe for another year in the top-flight, thanks to the timely, albeit despicable announcement of the European Super League.

Who knows what the next few weeks will hold for the game. We could be spared as the so-called "Big Six" defect to the continent, or our eventual relegation to the Championship could go ahead as planned, either way, football's soul has been sold. Concentrating on Sunday's share of the spoils against a franchise that obviously takes the English game for granted hasn't been my idea of fun, partly because I'm still hanging out my arse, but also because I'm exhausted by Fulham's discouraging despondency. It's been a shit season, and all I want is an away day, somewhere up north, with actual clubs of tradition and prestige. I'm a cynical "legacy fan", however I'll never stop loving our inferior little patch of land in SW6 so survive or sink, we are incredibly privileged.
Last-Gasp Agony
Embed from Getty Images
Come on, lads, throw us a fucking bone here, will you? Fulham were 30 seconds from recording another historic victory on the road, an unexpected lifeline in our fading fight for survival but the agony of being markedly second-rate, that cold, over-familiar stabbing sensation shook through our nervous system as Eddie Nketiah prodded home Arsenal's last-gasp equaliser. Within an instance, all hope, optimism and patience disbanded. That's it, folks, Fulham are down, deservedly, and no matter how you dress it up with all this staying up because of this European Super League shite, we haven't the mettle or resolve to prevent relegation and nothing can convince me otherwise. We can't hold on, we're incapable of trusting ourselves in winning positions and in two games, we've allowed 4 crucial points to slip through our fingers, clumsily, and crocodilian tears of woe won't cut it this time, either.
That is unforgivable in any given circumstance, when we're scrounging for reasons to be chipper, languishing at the lowest point of the campaign, our incertitude with honours even, our ineptitude in the ascendency, it's downright disgraceful and we are not learning from our mistakes, we're replicating them. Joachim Andersen put it perfectly post-match. Fulham defended admirably although one lapse in concentration proved to be costly, folding under tension is not a staple trait of a top-flight outfit. We drew a football match at the Emirates, a ground we never prosper at and we're mourning, as though it was a condemnatory defeat that sealed our fate for good. There's 15 points up for grabs, mathematically, of course, we can still survive, but it's a tall, highly unlikely ask for our rabble of chokers and shirkers. We're 6 points off Burnley, having played one more game than the Clarets, Brighton & Hove Albion have a two game cushion and are level on points with Sean Dyche's boys and Newcastle United are just jammy as fuck. I'm not really pissed off with a draw against the Gunners, in reality, a point is neither here nor there in our predicament and beggars really can't be choosers, I'm irked by our reluctance to truly capitalise and that typifies the sorry state of our doomed, all-but concluded season.
Announce Ruben's Departure
Embed from Getty Images
Don't be fooled by the picture above, Ruben Loftus-Cheek replaced Josh Maja in the 77th minute and in 20 minutes or so, he single-handedly fucked our entire afternoon up. Some call him a scapegoat for unnecessary criticism, others label him a victim of poor strategic methodology, we're apparently not utilising his skill set correctly but in a range of differing positions, with varying roles and responsibilities, the 25-year-old has been a bungling atrocity, and that is his only consistency. Fresh legged, RLC trudged across the turf like a man who'd completely checked out. He fell into overt traps, his defensive deeds were redundant and his game management, as he allowed a requisite clearance to trundle into touch, rather than hemming the hosts back into their own half, was incriminating. There was space to surge into, the corner flag was summoning him over and with territory to manipulate from the resulting throw in, Arsenal forced two corners, invited an extra body into the equation with Mat Ryan joining the cluster and under self-inflicted pressure, thoughtlessly amplified by Loftus-Cheek's impassiveness, the Whites dropped their bottle, again.
I'm adamant about this, Loftus-Cheek's been sent by Chelsea to completely wreck our campaign and true to form, he's done precisely that. How many opportunities has he thrashed at? How often has he even remotely impressed for longer than 45 seconds? With 1 goal in 28 appearances, with zero assists, Ruben's inclusions have been hideously unmerited. Tom Cairney's been out of action for an eternity, Aleksandar Mitrovic's form's fluctuated and as an established figure within the fold, a player we should be able to trust to make an impact, he has been meekly unassertive. Upon his arrival, I was smitten with the midfielder, I dubbed him 'the most naturally-gifted playmaker of a generation' and now, I hate myself for falling for his deception. I couldn't believe our luck, we'd secured an exciting, multi-faceted powerhouse with a point to prove and just a matter of months later, following a season riddled with detestably repellent performances, I retract every ameliorative paragraph, phrase, summarisation where RLC's concerned. The bloke's a whacking-great catfish, the most underwhelming fraud to have ever worn a Fulham shirt, even more so than Andre fucking Schurrle and as he's an incompetent freeloader, I want him and his blatant disinterest out of our club immediately.
Miffed by Maja
Embed from Getty Images
His penalty assaulted the roof of the net and I applaud him for smashing his third of the campaign, however I'm still dubiously doubtful of Josh Maja's impact, I mean, what does he actually contribute towards our attack, which is already grossly immobile and predictable? I can't put my finger on the young Nigerian, he's not useless or unequipped, he just seems like a bit of a passenger, an irrelevant shadow, isolated. Service was at a premium, our final product, as it so often is anyway, was pathetic and being a lone striker, what more could the deserted attacker do? Well, with an opportunity to flex his credentials in Mitro's absence from the starting XI, he hasn't, by definition, set the world alight. I'd implored the fan base to give the lad some time to settle, although that was back at the beginning of March and we haven't seen anything of note from the FC Girondins de Bordeaux man to suggest that he's developing or improving. If he is, his growth is undetectable to the naked eye and in the coming fixtures, all I want from Josh is more hunger and animation.
Our fortunes in the final third are scattered, scarce, and moving forward against the Gunners we were disjointed, motionless and Maja's athleticism, if we can call it so, is virtually non-existent. He is such a strange striker, a character that sort of flew under the radar, although he was on the end of both of our big opportunities. His deflected first-half effort trickled wide of the mark by a whisker and his penalty assaulted the roof of the net. As takeaway points of interest, that's all we have to work with and that's profound, because it just goes to show how toothless we are in the final third. His style is juxtaposed, behind Bobby Decordova-Reid, he's our joint top scorer, tied with Aleksandar Mitrovic on 3 goals apiece and yet, I'm totally unsold on the prospect of the 23-year-old leading our strike force. Having said that, Mitro's out of favour and out of sorts at club level, Ivan Cavaleiro is, well, purposeless and BDR isn't physically capable of spearheading a front three, so in all due respect, Maja is our only credible, capable alternative.
Sharing Areola's Pain
Embed from Getty Images
I can't speak highly enough of this man and it hurt, deep in the feelings, to see Alphonse Areola's clean sheet dissipate so cruelly. The Frenchman is undoubtedly the best 'keeper outside of the top six, and even then he could walk into any table-topping outfit and he manned the sticks at the Emirates outrageously, as per. Areola, before Arsenal finally lodged their equaliser, engineered two massive, quality-defining saves and his first, to deny Nicolas Pepe in the 71st minute, was arguably his personal save of the season. No cap, Arsenal's Ivorian winger butted Martinelli's dink from 2 yards out, on the cusp of drawing level and somehow, magnificently, the 28-year-old diverted danger with a brisk brush of the boot on the goal line. Mate, it was bloody Bisto. Martinelli tampered with our back line persistently, the 19-year-old glided into advantageous positions and was Arsenal's brightest influence.
Weaving his way into a clear striking position, Martinelli unleashed a driven strike at the target but yet again, a master of the angles, Areola was poised to thwart at the front post. Areola's presence behind our defensive line is superlative, he alleviated pressure from set-pieces with a command in congested areas, he hurried to initiate counter attacks – which fizzled out instantaneously – with studied distribution and as a temporary club representative, simply because he genuinely cares for the Fulham's welfare, he's easily my favourite ever loan player. There was no shut out for the agile stopper, his and our anguish is synonymous, we share the same sickening pain, and though he's worthy and deserving of much, much better, Areola is a model professional that appreciates the severity of our plight and his gallant matchday efforts are emulative of his dedication to a depleting cause. Our league standing is far from desirably but blimey, our goal difference would be triple figured without Alphonse's conscious, reactionary input.
99.6% Solid Shape
Embed from Getty Images
It really is a crying shame that we weren't capable of accrediting a stubborn, organised defensive display with an all-important victory. Fulham resisted Arsenal's pressure and intent, each department cooperated cohesively to maintain a rigidity that stunted the hosts' advancements, Martinelli may have gotten in behind Ola Aina one too many times but the young Brazilian, who was the predominant source of inspiration for the Gunners, and his supporting teammates were contained systematically until, of course, we bottled it royally. Withstanding Arsenal's offensive charges, especially after they swept Slavia Prague aside midweek with a comprehensive 4-0 drubbing, would prove to be all too much, as we've already covered, although I was, and still am, relatively impressed by the Whites' insistence to rebuff various attacking phases pledged by Arteta's men, Dani Ceballos' influence was cancelled out by a patrolling Mario Lemina, Andre-Frank Zambo Anguissa screened across the breadth of the surface and from the bench, Harrison Reed cranked up the intensity, closing gaps rapidly, brandishing an ignorance to social distancing. The connection between our middle third and our defensive department, particularly through the centre, was pragmatic, we hesitated on the break, we couldn't improvise momentum but under examination at the back, against a side that could've run amok if it weren't for VAR, our shape held firm and our discipline was exemplary.
Obviously, I say this through gritted teeth, as we were eventually found out, however foundationally, as a side that wasn't dominant on the ball or cutthroat in the final third, Fulham were still great value for a win throughout proceedings, but a draw was probably the fairest outcome for both teams, and that's a cop out, basic bitch statement, I hold my hands up, that is my inner Steve McManaman talking. Arsenal knocked persistently, Fulham jammed the lock and we stood our ground for 99.6% of the 97 minutes played. That has to be commended to an extent, just hear me out. The Whites' record at The Emirates and indeed Highbury is miserable, we never really prosper in north London and I appreciated the manner in which we absorbed frustrated and counteracted. Tosin Adarabioyo restored his reputation with a solid outing, laden with well-timed interceptions, Joachim Andersen safeguarded alongside his partner observantly, protecting his penalty area judgementally and that shared understanding established a collective obstinacy that was hardwearing and functional for the majority. Sitting back and upholding a sturdy structure doesn't necessarily promise enticement, we refuse to approach games positively, on the front foot, and whilst Arsenal aren't the earth-trembling force they used to be, way back in 2004, admittedly, they're still vastly superior in every aspect and we had to adapt, prepare and exhibit a brand that lessened the looming likelihood of being exploited and humiliated.