Would we really bounce straight back up?
Written by Tim Clarke on 13th April 2021
Tim looks at where we go next season if we fall through the dreaded Premier League trapdoor.
The thing about a yo-yo is, it has to come back up. Otherwise (slightly misappropriating the immortal words of Bernard Black) "it's just a yo!" Fulham have yo-ed back up in the last two attempts, so you could be forgiven for being optimistic for 2022. However, it might not be that simple, and perhaps being "just a yo" club might not be the end of the world for a little while…
In 2018, we simply had a fun team. "Swashbuckling football… the entertainers…" and so on. When that failed to eventuate in the top flight, we generally fell back on the same faces to help us get promoted again last year. But the reality is, we got up fairly unconvincingly last season, and we can't rely on those same group of players to pull it off a third time.
Midfield
Embed from Getty Images
Consider the midfield three: In 2018, there were games where they couldn't put a foot wrong, and together they chipped in a handy 17 goals. Now, Cairney hasn't played in almost four months, KMac is focusing on his health (Godspeed, Kevin!) and StefJo is perennially shipped off the moment we sniff any success. Having moved into his 30s, it would be difficult to begrudge him the chance to find somewhere that won't push him out the back door after he does what's asked of him. Granted, Harrison Reed is a wonderful addition to that three. But it's slim pickings for more progressive midfielders. Onomah has shown flashes, but he doesn't leap off the page as someone who will boss the second tier. It pains me to say it, but a rebuild will be necessary, otherwise the year will be 2031 and Fulham will still be banking on TC and StefJo, both in their 40s, to do a job in the Championship. Again.
Defence
Embed from Getty Images
Lots of competition here. Sadly, the only thing Mawson and Kongolo are competing for is who can most significantly injure themselves before morning tea. And sadder again; they're both bloody competitive.
Much like our midfield, there are many wonderful servants of the club, who (in their 30s) might struggle to stay fit as the amount of games ramps up – except Denis Odoi who slays no matter what. If in the unlikely scenario that we were able to hold onto Robinson, Tete and Tosin, we might find ourselves with a fairly decent backline. However, Financial Fair Play might necessitate the sale of one or more of these valuable players, and we don't know how much the club hedged their bets on this season financially. Perhaps the heady heights of the Khans spending is at an end, and Mawson and Kongolo might just have to stand out there to make up numbers.
Forwards
Embed from Getty Images
Let's face it, Mitro could have left when we were relegated last time out. There was no shortage of admirers for a man who managed 11 goals in a pretty awful side. Yet he stayed and fired us straight back up on first asking. But could he feasibly be expected to stay through two relegations? After his international goal spree, there would certainly be Premier League clubs who would find space for him. And that would leave Fulham relying on the likes of Cav, Knockaert and Kamara (the man once described as "a speedboat without a driver"). Have a look below for what this might look like.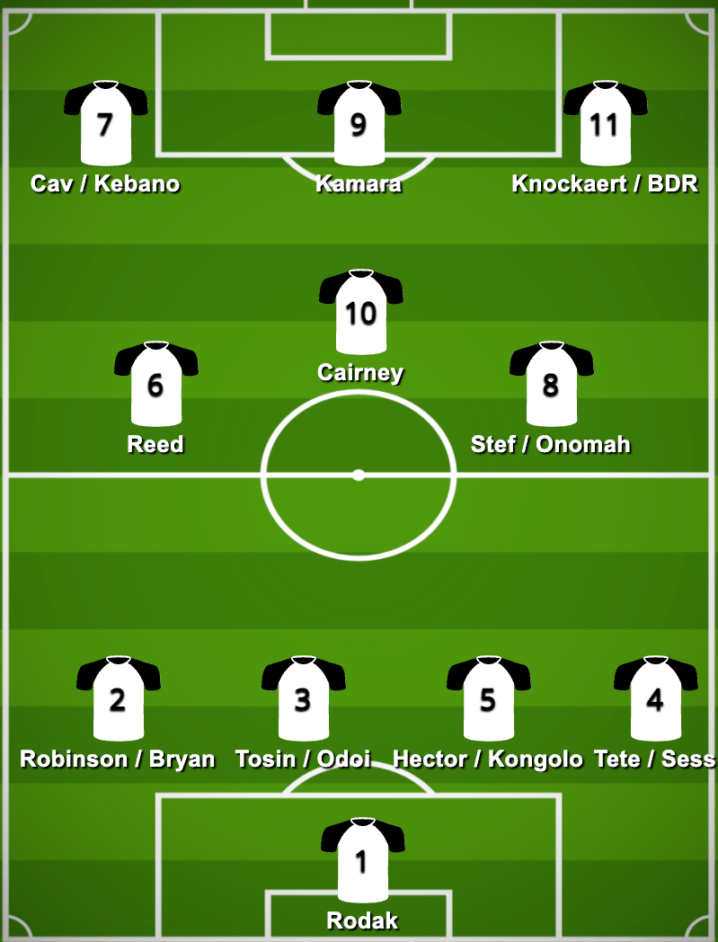 Not an overly pleasant prospect. And yes, we will buy players, but if they're of the Cav and Knockaert mold – high earners who become weights once promoted – our long term success starts to feel like Sisyphus pushing a rock up the hill only to have it roll back down and having to do the same thing for eternity. And that, as they say, is the definition of insanity; doing the same thing and expecting a different result.
So, where to from here?
Maybe it's time to invoke the old cliché: throw the kids in! Often it's a last-ditch roll of the dice. But we're in an interesting position where the U18s and U23s actually boasts a wealth of talent. And that isn't to say we field these players prematurely or in a cavalier manner – throwing kids in the deep end is a bad idea literally and figuratively. Instead, it is a slow process of integrating them in carefully and thoughtfully. And if that means a season or two finishing mid-table in the Championship, that might actually be better than another premature promotion with the same possibilities of success as a daylight charge across a mine field. But it remains to be seen whether Fulham fans can accept this without calling for Tony Khan's head, Scott Parker's head, the groundsman's head, FFCBuilderboy's head… et cetera and so forth.
A rebuild will be painful, and slow. But we have to believe it'll be worthwhile in the long run.
(PS: Having said that, if Joe Bryan scores a brace at Wembley next year, I'm here for that too.)