Ivan Cavaleiro: the definitive breakdown
Written by George Singer on 6th April 2021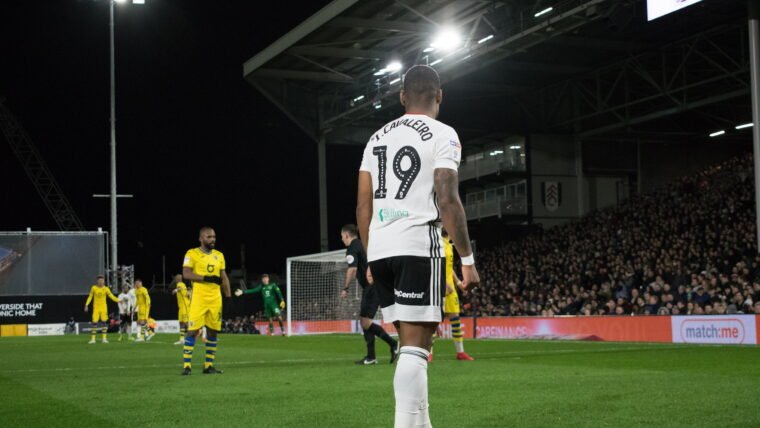 Once the wizard of worldies, now a man of paltry performances – we've seen a radical decline in the output of Ivan Cavaleiro. What exactly has happened to a winger who seemed to have the world at his feet? Our data analyst SW6Stats crunches the numbers.
While at the time I felt lukewarm about our transfer business in the summer of 2019, there was one player who I was more than delighted to see join the Whites. The loan of Ivan Cavaleiro from Wolves seemed to make a lot of sense to me. He had terrified Championship defenses just two years earlier, and (what felt like) a harsh drop from the Wolves's first XI meant he was available at a very reasonable price.
Things started fantastically too for the Portuguese speedster. He rapidly endeared himself to the Fulham faithful with some killer performances, including a brace against Millwall and a last-minute peach of a winner at Huddersfield.
However, in the second half of the 2019/20 season, Ivan's performances have seemed to slowly decline. Once the first name on the team sheet, he slowly fell down the pecking order and spent more and more time on the bench. Both goals and assists dried up, and fans were wondering what on earth happened to the player who started the season so brightly.
After last year's decline in performances, I for one have been particularly perplexed as to why Scott has invested so much time in Cav in the Premier League. So I decided to dive into the data to see what's happening. Why has Scotty stuck with Cavaleiro this year, and what's been the cause of his general downturn in form?
So, how good has Cav been this season?
In short – mediocre at best.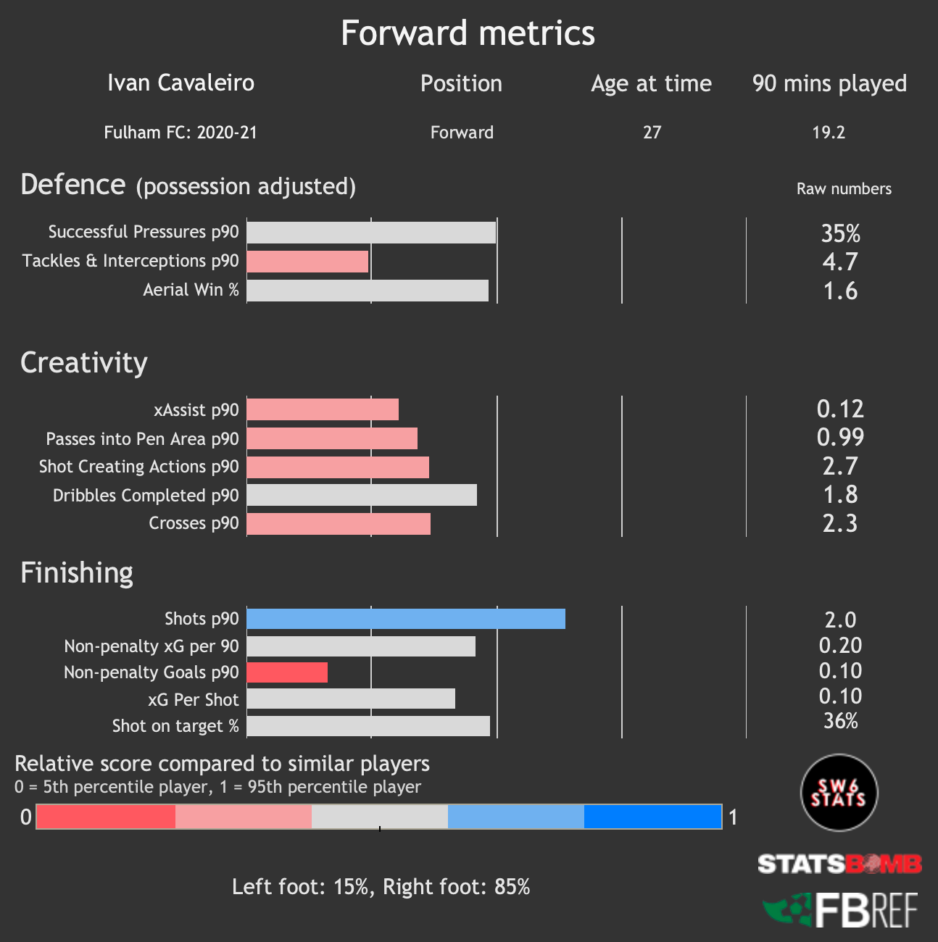 There's never one perfect metric to define how good a player is, but if we review a variety of metrics against similar players we can understand relatively how good a player is in different areas.
So, what does the graphic tell us? You're welcome to interpret is as you wish, but for me there are three key findings:
Cavaleiro doesn't shun his defensive responsibilities, which likely one of the main reasons Scott has persisted with him.
His chance creation has been seriously disappointing.
He's taken a decent amount of shots, but his finishing has really let him down.
For me, the priority area of concern within this is his lack of chance creation. As an attacking winger, the creation of chances against defenses is your bread and butter – and indeed this has been classically where Cavaleiro has offered the most value for his team.
How far has Cav's creativity declined?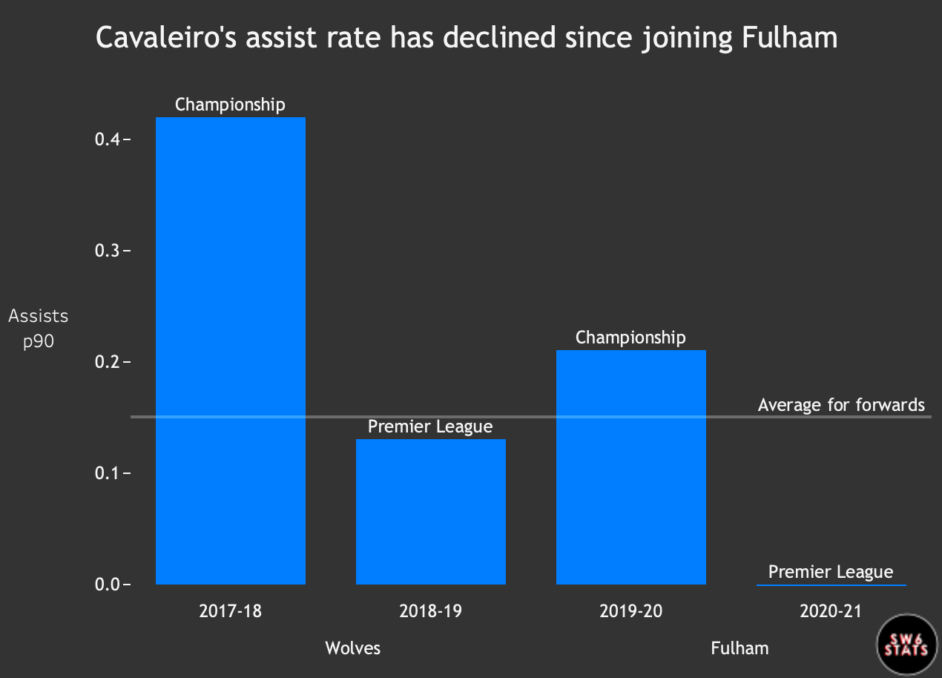 Well, it really doesn't look great, does it? While it makes intuitive sense that a player will struggle to create chances in a higher league, the general decline over time shows a story of a player who hasn't been able to continue on the strong trajectory he started at Wolves.
I'm a firm believer that a player, especially a young, Premier League professional, doesn't regress overnight. So, if the player hasn't changed too much, perhaps a switch in team tactics may have had an impact?
Has a change of system impacted him?
When moving from the Black Country to South-West London, Ivan moved between teams that have very different footballing philosophies.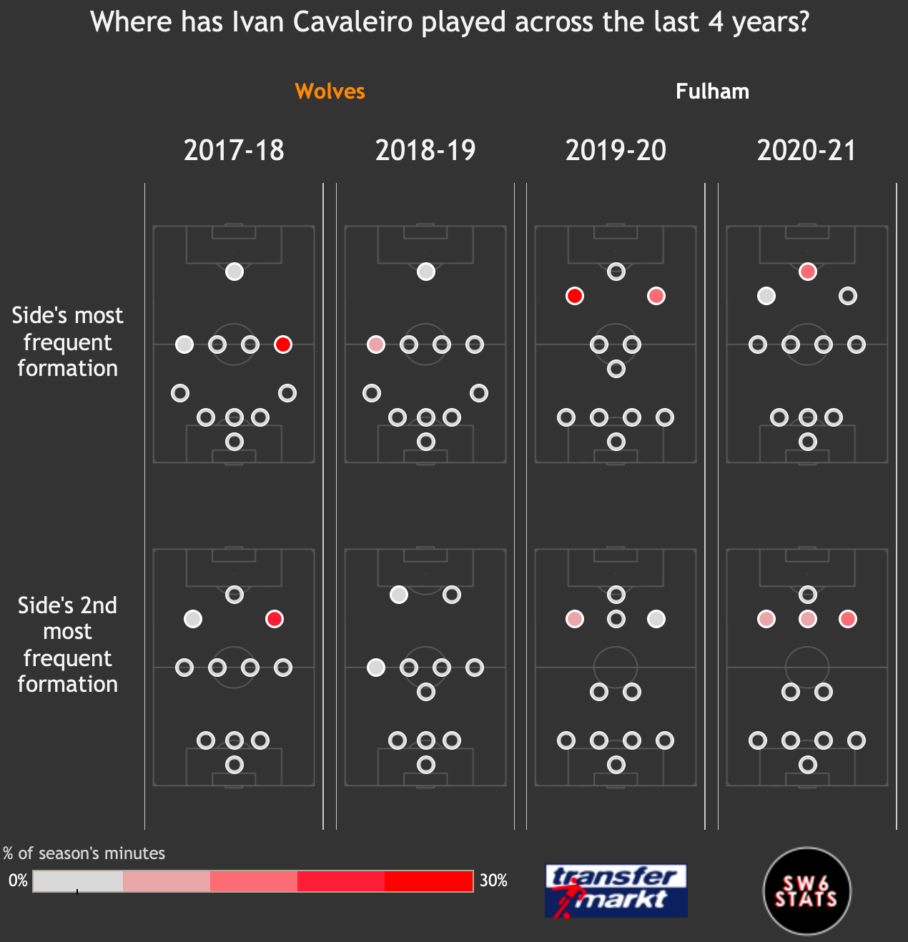 Wolves often played in a 3-4-3, or a 5-4-1, meaning Cavaleiro was continually supported with full-backs who pushed high up the pitch to support him. When playing in Fulham's preferred four-at-the-back system, he's had far less support from overlapping wing-backs to support wide play. His passes have often come back inside to more central midfield, providing less chance to penetrate defenses from wider areas.

While professional footballers should be able to adapt to team styles, there is a very intuitive argument that Cavaleiro would be more effective in a side that focuses more on wing-play than a side that creates chances through central midfield domination.
One of the benefits of combining a winger with a flying full-back is the ability to put more pressure on opposition full-backs. A full-back who has to be mindful of two attacking runners is likely to defend a marker less tightly, which provides more space for the attacking player. This may well be one of the reasons why Cavaleiro has been far less effective on the ball in a Fulham shirt compared to a Wolves one.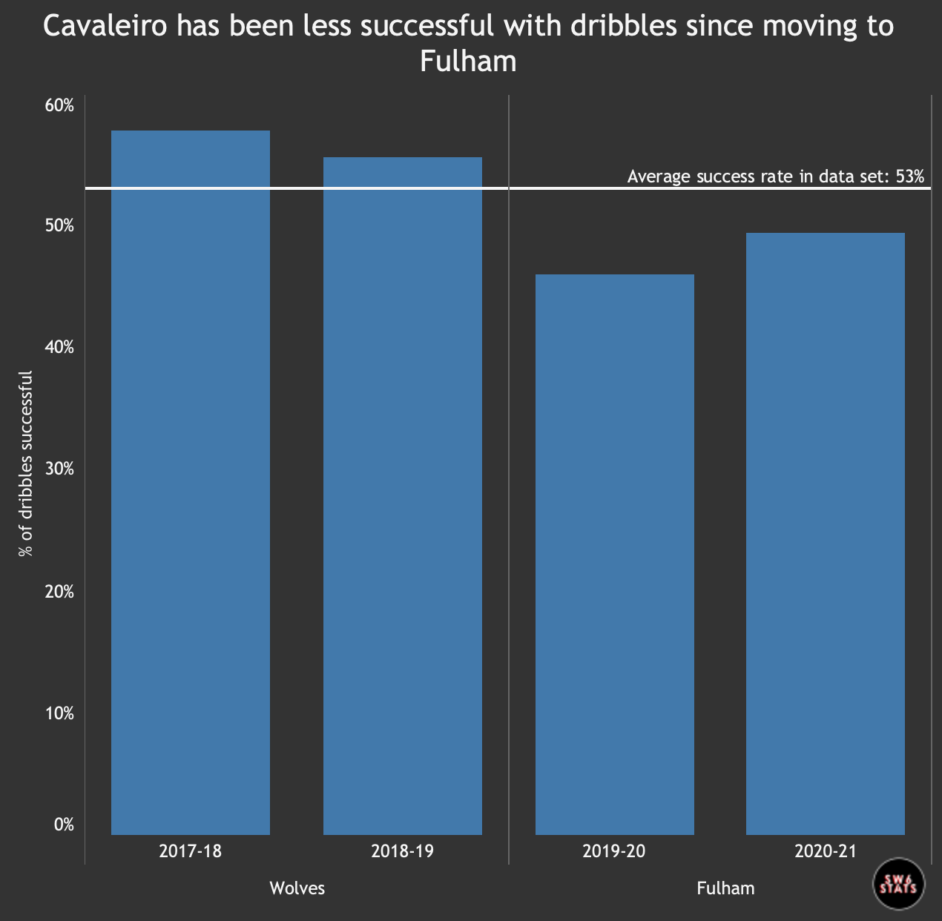 Do we use Cav in his best position?
You may have noticed in the formation graphic above that Scott has relied more often on Ivan's natural versatility than Nuno Espírito Santo, with the winger spreading minutes across the front line rather than sticking solidly to the right-wing area. While versatility is a huge asset and provides many more options for the team to work with, there is some evidence to suggest that this may be harming Cav's individual output.
One of Cavaleiro's core skills is his ability to create chances from out wide. Across his career, the majority of his chances created have come from moving the ball into the box from wide positions. Therefore, by moving him more centrally, as Scott has done frequently this season, Cavaleiro's own output has suffered. It's a role that Ivan has picked up for the good of the team, rather than his own performances.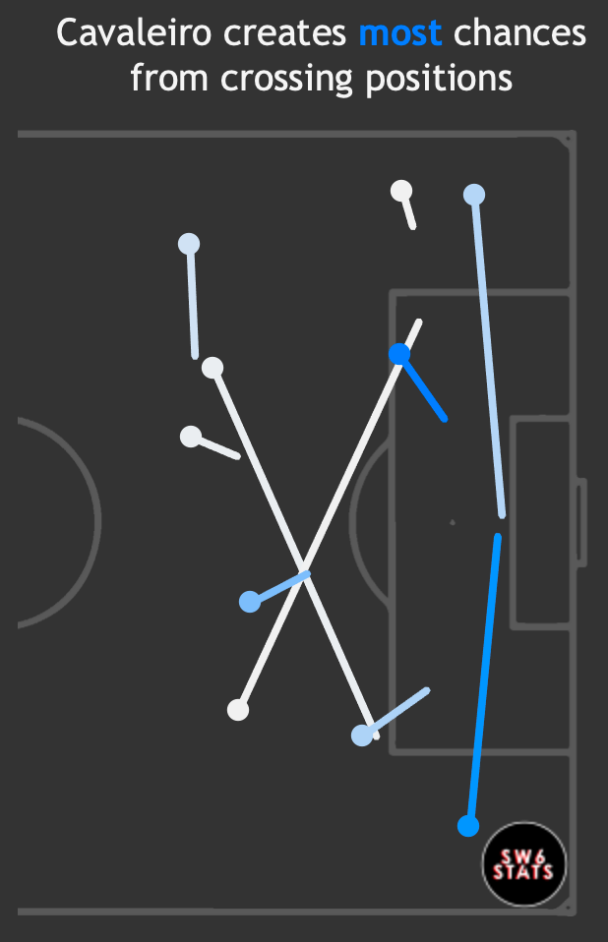 When playing in a more natural wide role, Cavaleiro has found more success with his output when on the right compared to the left. He's been more successful with his crosses from the right flank, which makes sense for a predominantly right-footed player. Therefore by playing him out on the left-wing in an inverted role for most of the Championship seasons we were further nullifying one of his core skills.

There's therefore a suggestion that Cav's natural versatility may actually be harming his ability to put his best performances in – whereas if he selfishly stuck more closely to his favoured right-wing role he may have been more successful.
Here's my theory
Phew. That was a lot of numbers. So how do we actually interpret this?
Firstly, I'd like to believe that we've learned some lessons from this signing. With any data analysis, context is king. Yes, Cavaleiro's numbers were very strong in Wolves' promotion season and were likely a core reason for us being interested in him. But how much of this output was inflated by Wolves playing a wing-heavy formation, which inflated his output? Can we better account for how a player may suit our team's style in the future?
On top of playing in a sub-optimal team style, Cavaleiro has also often played in roles that help the team more than they help himself. While he's not had a great output, he's sacrificed his best role for the good of the team – and we should be more appreciative of him as a fanbase than we currently are.
However, even with this selflessness in mind, I honestly don't think he's got the quality we need to push higher up the table. The evidence suggests that he succeeds in a team that focuses heavily on wing play, however in a side that plays more centrally like ours things are unlikely to really click for him. There's a reason why a forward-thinking club like Wolves ditched him as soon as they shifted towards a more central-focussed 3-5-2 system, a red flag we perhaps should have been more aware of at the time.
If we're to stay up, an upgrade in this area should be one of the top priorities for Scott and Tony this summer.