Five Thoughts: Fulham 1-2 Leeds United
Written by Cameron Ramsey on 21st March 2021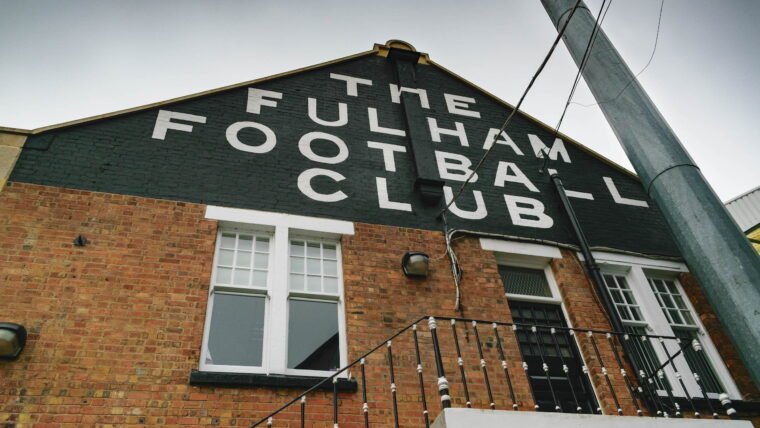 The better team won and that's basically all there is to it. Standing with Scott Parker's post-match presser, Fulham were vastly disappointing, discouraging and we deserved absolutely nothing from Friday evening's 2-1 defeat against Marcelo Bielsa's Leeds United. Whenever the Peacocks play, they're accompanied by a media wank fest but in SW6, as they registered their first victory in the capital in 17 attempts, the plaudits were fully merited.

Man bun FC have gotten the better of us twice this season and we really can't complain. They've adapted to the ever-changing strains of the Premier League and, as much as it kills me to admit, they're well and truly back where they belong. With 8 games left, 24 points to bid for, Fulham are cutting it fine. Newcastle United are two points ahead, with a game in-hand and catching Brighton & Hove Albion's out of the question. Next up is Aston Villa, at Villa Park, on my birthday, April 3rd. Leeds are more or less Villa 2.0, so we can expect a similar slog in Birmingham and if I'm crying tears of despair into my 13th pint as my life enters its 27th year, I will riot with flailing limbs. 3 points and a slice of Victoria, don't balls it up, Scott.
Abortive Midfield Absorbed
Embed from Getty Images
The battle would be won, or ultimately lost, within the midfield third and Fulham had no answer to Leeds' enduring intensity. Before kick-off, Fulham's midfield trio – consisting of Harrison Reed, Mario Lemina and Andre-Frank Zambo Anguissa – was enticing, a blend of power, invention and adventure but with the visitors' robust system to circumnavigate, the task, from the offset, was trialling and taxing. Leeds exhibited a press, an animation that suffocated and absorbed the Whites' hastened plan of action, as soon as possession trundled into central zones, Kalvin Phillips, Stuart Dallas and Tyler Roberts besieged Fulham's escape, forming a pragmatic trio that restrained and rotated systematically. Lemina was culpable, dawdling whilst being closed rapidly, Anguissa strayed into ineffectiveness, stumbling as Leeds broke purposefully and Reed, though he's capable of extinguishing flare-ups single-handedly, couldn't operate across our back four alone. out wide, Ademola Lookman was impounded, Ivan Cavaleiro jinked his way down blind alleys and centrally, laterally, the Whites were outfoxed, outrun and overawed.
Leeds were exceptional in every contributing aspect, the Whites mounted a momentary fight-back as the first-half came to a close but condemningly, the hosts were second-rate. We may have shaded the possession stats, we may have completed a few more passes but Leeds housed a lethal sting in the tail, we can't discount the fact that if it wasn't for VAR, they would've been at least 3-1 up at the break and when you chop the game down into segments, we got precisely what we bargained for. Leeds pounced choreographically, Phillips subdued, Dallas pursued and danger ensued. I've no lingering doubt that our triangle's forceful and aggressive but when it came to creation, an outlet to potentially alleviate grief, we were destitute. Zambo hacked at basic passes on the parameter, design and originality's wasted where Ruben Loftus-Cheek's concerned and with Tom Cairney still nowhere to be seen, we're grossly abortive and that showed, harrowingly, against Bielsa's contrasting production factory.
Ola Ain't Right
Embed from Getty Images
Marking 10-yards of open space, Ola Aina was murked, comprehensively, by Jack Harrison. Harrison rinsed Fulham's stand-in right-back, consistently, the first time was fine, we let it slide but the 145th time syphoned the steaming piss out of our 'solid' defensive compliment. Harrison retrieved possession, waggled a rudimentary step-over and darted towards the byline and Ola, for all his individual athleticism, was powerless to prevent the winger's influence. On the opposite flank, Luke Ayling, with his straggly Top of the Pops hairstyle and premature celebration, was virtually unmarked and caused unceasing problems but for me, Aina was the sitting duck, the target, the weak line and it's been a while since his defensive ineptitudes have been exploited in such a deprecating fashion. He couldn't get anywhere near the former New York City man, Harrison had the edge on Ola and he subjected the Nigeria international to 72-minutes of perpetual hell.
As an auxiliary centre-half within a back three, Aina's worthwhile, serviceable, and even as a wingback, his enterprise is balanced but functioning as a traditional fullback seemingly his foible. Strangely, Aina, for me, could still oust Antonee Robinson from the starting XI on the left, his profitable relationship with Lookman' came to fruition at Goodison Park but at the moment, seeing as we're deploying a straight back four opposed to a back three with wingbacks, he's kind of an empty entity. Kenny Tete relieved Aina of further torture with 20 minutes of play left and instantly, the Dutchman's impact and understanding was felt. Fresh-legged, Tete equalled Harrison for pace, he screened space diligently and if we're to choose between the Torino FC loanee and Kenny, you'd back the latter, hands down, to retain his rightful position for the foreseeable. Aina's offensive flair's so much more alluring than his defensive grey areas, he has two goals to his name this season but we haven't even factored in Bobby Decordova-Reid into the equation. The right side's covered by Tete and BDR, and as Aina's familiarity lies along the left, perhaps a change of scene and competition's necessary and contesting Robinson for a starting spot's realistic and achievable.
Scott's Insubstantial Subs
Embed from Getty Images
Substitutes are ideally made with the intention of making an impact upon proceedings, to alter fortunes and reinvigorate, although Parker elected switches did absolutely fuck all to convince us otherwise. Well, Tete installed a much needed punch and persistence along the right for Aina, of course, but with Aleksandar Mitrovic entering the fray at half time for Josh Maja and Reed bafflingly making way for Loftus-Cheek in the 63rd minute, the Whites' containable strategy remained exactly that. Mitrovic was handed a full half of football to reintroduce himself into the gaffer's plans, he's disposable, cast aside and I barely recognised he was on the pitch for just over 45 minutes, the Serb was motionless. We can bang on about how Mitro only functions if he's supplied but that is no excuse, really, he netted two at Elland Road, his only goals this entire campaign and when he made his entrance, I genuinely thought this was going to be his moment for redemption. It wasn't. We can't be scared of digging these fallen mainstays out, Mitro' deserves to know he's a shoddy addition to this set-up, zest and enthusiasm's wanting and he's completely forgotten what a penalty area looks like. His severe nose dive in form and relevance is mortifying, once he was regarded as one of Europe's deadliest, now he's a muted nuisance, predictable and harmless.
I wanted a week where I didn't have to take aim and fire at RLC, too, but here we are, again, berating the Chelsea loanee's nothingness. Stella was spat, expletives projected, as the "Putney Pirlo's" squad number flashed up in red on the 4th official's digital board with Loftus-Cheek's illuminated in green next to it. Just fuck off. We're dying for inspiration, ingenuity, and Parker has the boldness to hook the linchpin behind our scarce top-flight existence for a man that's quite literally stealing a living, free-loading as games wistfully pass him by. Reed grabbed the occasion by the scruff, we've already touched on this in some depth, however Anguissa was cruising for an early ejection as Lemina was relatively good value, so why pull the V8 from the chassis? RLC interlinked with Mitro, once, and then evaporated into the ether, there is no comparison between Reed and the England international has-been and I'm struggling to comprehend Parker's determining decisional process. I suppose that in an alternate universe, subbing on Mitro' and Ruben would have mouths watering, a duo of proficiency and substance, however this isn't bloody Balamory, it's not all gumdrop smiles and buttery slices of toast on a sunny Saturday morning, we're dining on rancid tripe and everyone in the neighbourhood, given half the chance, will tell you to get fucked. Mitro, down and out, RLC, waiting idly in the lobby. Our bench had 6 defenders perched upon it and offensively, our attacking reserves have checked out without a trace.
Joa Scores Low
Embed from Getty Images
He may have crashed home our first league goal at the Cottage since December but for a player that's just earned a call-up to Denmark's international fold, Joachim Andersen blew hot, and chillingly cold as Leeds' constrictive offense wreaked havoc. Joa's set a shimmering standard at the heart of our defence and anything less than an 8/10 performance is perceived to be abject but on this occasion, the Nordic skipper dropped a lowly 4/10 in my estimation and that's completely legitimate. Andersen couldn't settle his troops under duress, organisationally, whilst Leeds advanced menacingly, the Whites were dismembered, shapeless and the 23-year-old's appalling compulsions allowed the visitors to express and exact their offensive synchronisation. The Whites were rattled at the back, we weren't granted the time or space to steady the tempo and nobody wanted the ball, that's a recipe for disaster. Joa's a terrific distributor, he can play through the eye of a needle and ping diags on a sixpence but the Dane's decision making was mediocre, neither he or Tosin Adarabioyo could temper our fortitude and Leeds prayed upon the pairing's irresponsibility.
We count on Andersen to intervene when the going gets tough, to guide and lead by example but he was caught out of position persistently, and once he'd compromised our safety by charging into areas he'd no right to venture, the Whites were done for. For Leeds' second, Joa lunged recklessly into Patrick Bamford's path, the in-form hitman skipped through and slid Raphinha into a striking position. Tosin could've dealt with the situation better, Robinson maybe should've gone to ground to blockade the Brazilian's route but that series of calamitous events arose purely because of the captain's abandonment. For the first time, the Olympique Lyonnais loanee cast a shadow shaped like Tim Ream, a shivering pretender in the heat of the moment with his panicked distress laid bare. Every player, occupationally, will underperform, it isn't feasible to expect excellence consistently, it isn't possible, but Friday night's encounter demanded focus, it urged composure and Andersen, a component of measure and competence, was missing in action.
Missed Opportunities Matter
Embed from Getty Images
You just can't miss those opportunities, not when you're creating plenty of key chances against a side with a defensive record as flaky as Goldmember. Fulham and Leeds shared the same amount of shots, 13 apiece, although 6 were on target for the Whites, whereas the visitors wielded two less. The reason we're not scoring more than one goals isn't down to a lack of invention, we're failing to convert simply because our attackers are deprived of conviction when it truly matters and this this set-up, when we require an alternative solution, we're impoverished. In the fabled 'Great Escape' foray, Fulham could depend on Erik Nevland's impactful services, we could rely on Diomansy Kamara's impulsiveness and Brian McBride's clinical nature wasn't intermittent. Parker's current crop haven't been able to shake the stigma, there's definite goals within our ranks and we're not tapping into that promise and potential. In front of the target, Fulham were rushed, frenetic, swiping and snatching when calm and composure was essential and in reality, this side doesn't have a get out of jail free card – just when we think we're getting somewhere, we roll one too many doubles and end up in the same self-inflicted predicament as our rivals rack up games in hand.
It really doesn't help that we encountered an inspired Illan Meslier, though. The gangly Frenchman channelled his inner Alphonse Areola to claw Josh Maja's swivelled strike to marginal safety, he dropped to the deck to palm Zambo's drive from the edge of the 18 and he fielded his penalty area observantly. We used to love Friday nights under the lights at the Cottage, evening kick-offs usually pledged a flurry of goals, action dictated by our methodical grip but that was then, in the Championship, and this is now, in the big time. Standing firm and resisting Premier League opposition, week after week during the run-in to May 23rd, is not advisable. The energy and effort it will sap from the legs and mind will be detrimental, so we have to remedy this by stretching games ourselves and compounding momentum with a cushion to fall back on, once proceedings inevitably shift. Chasing points is counterintuitive, we're more than capable of establishing comfortable leads and if we're physically able to stick our chances away, I trust that this team will manage a winning situation manfully however, rationalising this point is difficult when you've Lookman swinging air shots and strikers that only muster one prime scoring instance per outing.