Five Thoughts: Liverpool 0-1 Fulham
Written by Cameron Ramsey on 7th March 2021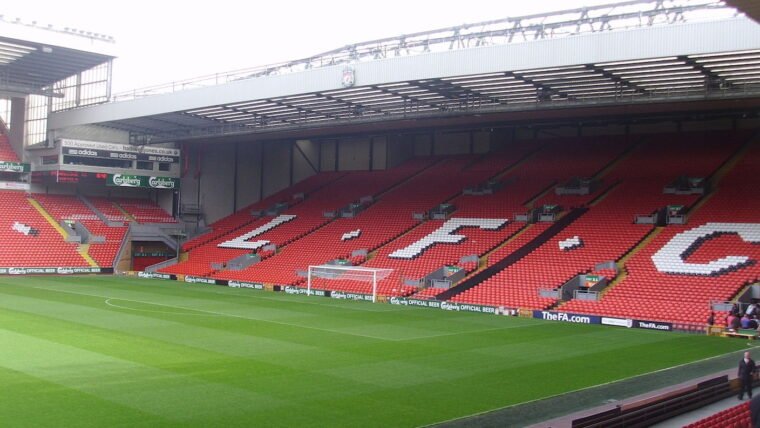 Ordinarily, being gracious in victory is the done thing. Not you, or I, really likes a gloater but in this instance, seeing as Fulham recorded their first win at Anfield since 2013, and our 8th unbeaten away game on the bounce this season, instructing Jurgen Klopp and all the world's insufferable Kopites to kindly stick a 6th-consecutive home loss in a zoot feels so, so appropriate.

Scott Parker, adorning a special edition DFS overcoat, uncovered Liverpool's lingering inadequacies, it's the weakest the Merseysiders have been since their leering, veneered hypocrite began his reign and now, robbed from both sides of Stanley Park, the Whites have six redefining points in the bank and boy, does it feel good. Manchester City, Saturday 13th, 8pm, get the beers in and ready that sofa for another scintillating session!
Scalping For Survival
Embed from Getty Images
We're going to bloody well do it, aren't we? The Whites, doomed and downcast, are level on points with Brighton and Hove Albion, we're 1 point behind Newcastle United, and though they've both got a game in hand, we are well within the conversation for survival. Nobody saw this coming, winning, even scoring a Premier League goal at Anfield was inconceivable, it doesn't happen to ill-fated teams like Fulham but in a collaborative show of defiance, we achieved the incredible. Jamie Carragher squeaking shrilly from the gantry, Graeme Souness grumbling incongruously in the studio, lowly, already relegated Fulham caused a major upset on Super Sunday and this team performance, this do-or-die audacity was befittingly exacted against a bungling superpower that completely underestimated our competitive competence.
Depleted or not, Liverpool left out notable first-team mainstays in Sadio Mane, Trent Alexander-Arnold and Fabinho, and that's not because of their Champions League meeting with Red Bull Leipzig on Wednesday, don't let Klopp's post-match rhetoric fool you, the Reds were complacent in their ruinous predicament, they failed to recognise the magnitude of the matter at hand and with a wildly inexperienced back four, with a heavily broadcast plan of action, they were ambushed by Parker's resurgent, ultra-antagonistic militia. To a man, in circumstances enriched with adrenaline, the Whites prospered in individual battles and as a collective, an irrepressible unit, they conquered, holding the fallen champions' scalp aloft. Win, draw or lose, Fulham express a belligerence that makes them durable, they practice a purpose that's unfazed by an opposition's rank and though our football may not be particularly proficient or admissibly convincing, Liverpool rightfully bore the brunt of a squad that's learning to cope with crippling expectations.
Lemina's Historic Fizzer
Embed from Getty Images
His midweek, transatlantic, kitchen window potter of an effort's just booked into an all-inclusive on the shores of an undisclosed Caribbean island, via Ben Jarman's bonce, and in a bid to redeem his reputation, and to bag his first goal in a Fulham shirt, Mario Lemina dispatched a scorcher. We can laud the midfielder's work-rate in central areas, we can marvel his pragmatic distribution and dogmatic attitude but as he leathered a historic winner on the stroke of half-time, I'd rather do the right thing and wank, furiously, over the Gabonese instigator's meticulous technique. Robbing Salah on the edge of the 18, Lemina adjusted himself to presumably assault a steward's face in row JJ, although you could sense something spectacular was on the cusp of conception.
The ball sat up perfectly, goading and begging for a swift spanking. Posture poised, knee over the ball, Lemina's execution was gorgeous, fizzing a strike of such precision across the target is usually reserved for certified bagsmen only but with one flash of compulsion, the 27-year-old etched his name into Fulham folklore, inaugurating an exclusive group where he is the founder, and the soul solitary member. Lemina's turf sizzler screeched into Alisson Becker's bottom right corner and instantaneously, my neighbours probably thought my Mrs was subject to domestic abuse. With veins popping, fists clenched, an almighty 'oh my fucking life, get the fuck out of here' erupted from my foaming gob and I've Super Mario to thank for that minor cardiac arrest. Cheers for securing the dub, mate, but next time, please ensure you do the ruddy business in a way that doesn't warrant a frantic knock on the door from concerned strangers, please and thanks.
Andersen's Orderly Leadership
Embed from Getty Images
In Joachim Andersen's orderly rearguard, you stand up straight, you keep your nose clean and you are counted for. The Danish commander doesn't do half measures, anything other than perfection is defective and at Anfield, tasked with the daunting challenge of counteracting Salah's slippery movement, Joa pocketed the simulation expert and kept his house in order, spick and span until the death. No bullshit. A natural-born leader, Andersen enacted Parker's proposals to an authoritative standard, no occasion is too great or too worthless and with the captain's armband, he is our go-to guy, our source of resilience, our primary governing figurehead, sanctioning an on-field mentality that enabled us to withstand Liverpool's late onslaught as a dedicated, organised unit.
The closing 15 minutes dragged on for an eternity, the Reds slung perilous projectiles into a congested danger zone but before the hosts inevitably upped the ante, Andersen rallied the troops, holding a stiff defensive line that nullified Liverpool's flawed offensive procedures. Unopposed in the air, Andersen, alongside Tosin Adarabioyo, deflected the Reds' detectable long-ball game plan, functioning in tandem to uphold the Whites' unmovable shape at the back and in a moment of genuine injury-time terror, Andersen blockaded Andy Robertson's driven six-yard splitter courageously, expelling an imminent equaliser as Mane prowled ominously. This man was deemed surplus to requirement at his parent club Olympique Lyonnais, but why? The bloke exists only for clean sheets, he bangs the drum for a cause that's temporary and in distress, as Fulham languished 10 points adrift, Joa believed the impossible was attainable.
Lookman Snaps Ankles
Embed from Getty Images
The hips on the kid sent Neco Williams back to the reserves and along the left channel, the side in which Fulham found joy in abundance, Ademola Lookman went on a murking spree. As Liverpool advanced, Ade' sidled into vacant pockets in the final third and waited on those ridiculous switches of Andersen's to reach his soleplate. Sizing up the Reds' young Welshman, Lookman jinked, he dipped inside and in the blink an eye, the 23-year-old shattered ankles and had arses on the floor like it was story time at infant school. With the byline to hit, you ain't catching the zippy winger, he'll draw you in and pull your cacks down and until the 83rd minute, when he was replaced by Antonee Robinson, he mocked it, disgustingly.
He supports, he impacts and most of all, he attacks. Lookman never ceases to amaze and moving forward, he's the sharpest of outlets we have to appropriate. A player of Ade's ability scarcely exerts the effort he does, most of a similar calibre uses their initiative sparingly, saving their energy for sporadic bursts whilst drifting idly in the meantime but the Nigeria international's labour was sustained, he bustled into shoulder-to-shoulder duels, he contested aerial instances and each singular inch of his respective touchline was trampled expediently. Lookman was aware of his defensive responsibilities, he covered and intervened judiciously and when play was overturned, the afterburners ignited and he was gone, out of sight in a flash. The Reds were not prepared for Ade's smoke, the Red Bull Leipzig loanee imposed perseverance and patience upon his return to the city of Liverpool and his liveliness sapped the zap out of the hosts' unsound protective plan.
Areola's the MVP
Embed from Getty Images
Read whatever you like about Ederson, we all know the Manchester City stopper literally gets paid to stand still for 90 minutes each week without muddying his strip, the Premier League's MVP between the sticks does bits, consistently, for Fulham and his name is Alphonse Francis Areola. With Gorilla Glue gloves, Areola beat away Diogo Jota's sizzling volley, he plucked swirling crosses out of orbit and under pressure, whilst being harassed at set pieces, the safest hands in this division slammed the shutters down on his target. We always liken top performers to condiments, the sauce factor's real in this stopper and he's fucking Dijon. Conducting from his 18-yard box, the Frenchman reassures his defence, drilling, prompting, praising, and when he's called upon to prove his invaluable worth, he responds with big, big actions.
Our defence has been outrageously stubborn of late and Areola's contributions shouldn't be overlooked. In our 7 previous outings, the Whites have only shipped 2 goals, we've accumulated 12 points and to merit the Paris Saint-Germain loanee's exploits, 5 clean sheets have also been tallied. Areola's significance and importance, portrayed in numbers, is extraordinary because he isn't throwing his body on the line for a Ligue 1 title, a triumph in the Champions League round-of-16, he's devoting his top-drawer services at the foot of the English top-flight for a side that really has no right to even be remotely associated with his expertise and he's thriving. At 28-years-old, Areola, as a 'keeper, hasn't reached his potential, there's easily another 10 years in the tank for the World Cup winner but I'd hazard to say that during his career so far, this has been his most successful, fulfilling campaign yet. He's denying elite finishers, every penalty area across the country is stamped by his trusted seal of approval and at Anfield, Areola excelled against a familiar foe on the European stage and he, with Alisson at the opposite end, was distinguishably superior.