Five Thoughts: Fulham 1-0 Sheffield United
Written by Cameron Ramsey on 21st February 2021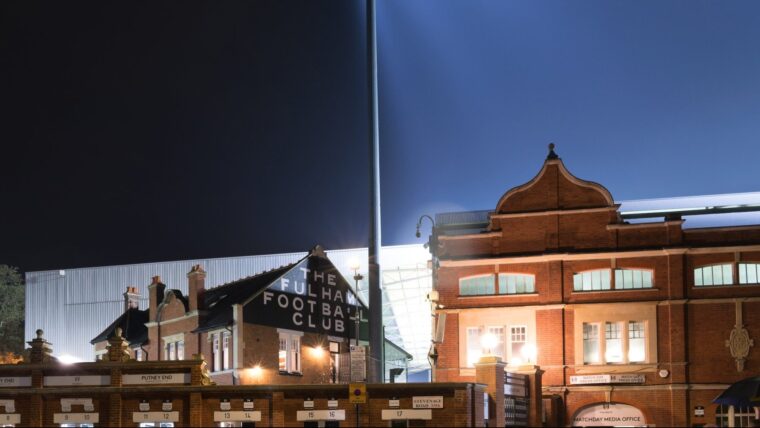 Spring's in sight and so is 17th spot in the standings. What a difference a week makes, eh? Fulham, before our trip to Goodison Park, were frozen out of survival conversations as mid-February's stormy snap rudely announced itself and as the climate slowly warmed heading into Saturday evening's crunch clash with Sheffield United, brighter skies were and are indeed imminent for the Whites. We'll let the sunshine in with a 1-0 dub, because we're now only three points behind Newcastle United and who would've though that?

Chris Wilder's men are already preparing for life in the Sky Bet but to their credit, the visitors jabbed Scott Parker's lads to the brink, although we'll never truly stoop to their abortive level. With Crystal Palace up next before three consecutive meetings against superpowers in and around the European places, kicking on from this triumph will be easier said than done. Today, however, we have to celebrate our 4th win of the campaign, our second at home, and with an 8-point safety net segregating us and West Bromwich Albion, we've also got to take solace in the fact we are the only side in the bottom three that still have a plausible fighting chance. You Whites!
Pulling Piggish Points
Embed from Getty Images
There comes a time where a team as methodical as Fulham has to scrap the system in order to win ugly, which is precisely like pulling the pig in, I dunno, McCluskies. Sheffield are without a single doubt the worst footballing side in the Premier League but one predominant factor they do possess is grit, and the Whites had to restrain the visitors with an undying fortitude of their own. Under Parker, performance is seemingly more important than the end result, sticking to the script is paramount and subsequently, our fortunes have suffered in the fear of becoming unstuck in high-pressure scenarios such as Saturday night. Anything less than a victory would be condemning but we acknowledged the Blades' brand as hazardous and we exacted our game plan idealistically in circumstances which were undesirably demanding. For the most part, proceedings were dull, insipid, although it wasn't about how we claimed three points, we had to adapt our system to neutralise and nullify Sheffield's labouring long-ball bombardment and every player in action appreciated the magnitude of the occasion.
As ever, Fulham completely monopolised possession, shuffling 597 benign passes from flank to flank without testing or probing the visitors' aged back line but holding more that the lion's share was wholly necessary. Sheffield pounce on mistakes, they're not equipped, by any means, to dictate narratives themselves so the more we held them at an arm's length, the greater chance we had of succeeding once we'd ground them down. It wasn't plain sailing, the final 15 minutes were arduously taxing on both the mind and body, however Fulham refused to deviate, standing firm as the Blades retaliated. We adopted unattractive methods at Turf Moor and as our credentials were meticulously examined at home, we embraced a disfigured approach, laden with banal passing sequences, muted offensive charges and do-or-die defensive deeds, saving face and dignity in the process. Fulham have discovered a competitiveness, an aggression which is requisite of a team attempting to stave off the drop and our case for survival is completely pertinent.
Areola's Devout Commitment
Embed from Getty Images
The unity within this squad is tangible, but if you're searching for a man that really gives a fuck about Fulham, look no further than Alphonse Areola. Areola didn't really have a terrible amount to do but when he was called upon he was alive to Enda Stevens' effort, among other outrageous preventions, enacting his duties with bollocks larger than relegation. The Whites are not safe yet, although with the Frenchman between the sticks, we are wholeheartedly relevant. Areola's importance can't be understated, we are eternally lucky to have a stopper of his calibre on our books because he has stopped the rot almost singlehandedly and his mentality, in an environment he's never had to experience before, is admirable to say the very least. His angles were covered, his distribution in gale-force conditions was constructive and in those last-ditch, one-on-one instances, Areola's commitment was titanic. His reward was a well-earned clean sheet, his 7th of the season, a statistic that proves his significance in tribulation.
Wilder's the human equivalent of salty gammon, or rancid spam, and his sharp-tongued disquisition of Areola's point-blank blockade, to deny a certain goal, was baseless and unattested. That is a goalkeeper, two yards off his line, who's protecting his target as any devout stopper should. Studs up, Jayden Bogle's momentum carried him into Areola's outstretched frame and following the contact with the Paris Saint-Germian loanee's shin pad, after clearing the ball, the former Derby County right-back proceeded to twist his own ankle. No malicious intent, no need for VAR to intervene. Wilder was also fervently backed up by Graeme Souness and the Jurassic fossil of a pundit clearly needs a lie down if he's comparing an innocuous coming together to grievous bodily harm. I mean, what a ridiculous statement to announce on live television. Somebody at the nursing home's clearly muddled his meds with LSD, because granddad's seeing some crazy shit and shouting at clouds, again.
Double Hard Andersen
Embed from Getty Images
I say Areola's a trend setter when it comes to devotion to the cause, although Joachim Andersen's also a solid fan favourite and his performances, week in, week out, are just as invaluable as our diligent stopper's. Just to put things into perspective: Andersen – alongside 5 loanee's in Fulham starting XI – is determined to expend absolutely everything to ensure our club retains its Premier League status. That's remarkable. These temporary representatives don't have to care, they genuinely owe nothing, and we've a team blessed with sworn leaders that have bought into the club's ambitions. Andersen's vocal on social media, he wants this side to prosper and on the pitch, he puts his impassioned words into practice. He talks like a double hard bastard, he reacts like a double hard bastard because he is, undeniably, a double hard bastard. A central defensive tag team of Andersen and Tosin Adarabioyo comprises the perfect composition of measure and mettle. Oli McBurnie's a poser, he loves to think he's a top boy but when it came down to it, the Stone Island enthusiast melted under Andersen's cumbersome authority.
Sheffield's hoisted clearances were systematically gobbled up by the Dane, he was unrivalled in the air and in the challenge, the 24-year-old was assertively assured. Andersen's tidy on the ball, a credit to the modern-day central defensive model and his studied acumen helped our sequences expand. Switching on a sixpence, Andersen spotted darting runs from his offensive counterparts and in the 61st minute, his sculpted intuition assisted Ademola Lookman's explosive match winner. Andersen's an asset, a resourceful commander that relishes responsibility and I've no qualms or reservations, if we live to fight another season in the top-flight, we have to secure his signature for the long haul. Our man, Rhys Daly, disclosed on the bird app that in 19 Premier League outings, Andersen's contributed to 7 clean sheets with a tackle success rate of 76%. In that period, he's also pinged 88 accurate long passes, one of which came to prominence against the Blades, and the Whites have only conceded 17 goals. There are levels to this game and Joa's taking the piss.
Lookman's Ferocious Conviction
Embed from Getty Images
The game was delicately poised on the hour mark, with Sheffield threatening to heist the initiative in Fulham's offensive hesitancy but all this encounter needed was one flash of brilliance. Ademola Lookman's developed into a sparkling gem within our offensive vault, a transformation from an unpolished, relatively unknown quantity that's testament to the young winger's temperament and aspiration. Dispatched by Andersen's pinpoint projectile, the 23-year-old took the ball in his stride from the left, off his chest, and sized up Ethan Ampadu. Jinking into the penalty area, Ampadu tracked Lookman's footwork but couldn't halt the attacker's progress, an opportunity to let rip emerged and Ade' rifled ferociously through Aaron Ramsdale's legs. Pick the vaporised bones out of that finish.
Lookman's strike smacked of conviction, that is how you stick clear-cut opportunities away and with a crucial victory at stake, that is all we expect from a gifted, fully capable expert that's had to overcome and relinquish his demons in SW6. Ade' made way for Bobby Decordova-Reid during injury time and his retraction from proceedings was merited. The Red Bull Leipzig loanee's expeditionary dynamism startled Ampadu, George Baldock resorted to late, spiteful collisions in order to stunt the flourishing Nigerian but his exertions, along the length of the left touchline both progressively and protectively, were sustained and engaging. Lookman put a shift in, he still needs to learn how to trust his own searing ability in areas where he genuinely has the beating of his marker but as an impressionable figure that's studying his trade and exploring his adaptability, he is excelling to an influential degree.
Parker's Passion Emporium
Embed from Getty Images
Give Parker the mic and he will spit the truth, honestly and earnestly. Who wouldn't want to sacrifice blood, sweat and tears for this man? Unmoved by inspectional media circuses and grumbling noises from the outside, Parker's passion and belief in his squad is concrete, he's the realest gaffer in the game and Fulham's application against the Blades bled with dedication, synonymous to his. Parker's unified a camp that realises its potential, whilst comprehending its limitations and the emotionally-charged manager was correct in saying his men offered a convincing blend of guts and guile, a stable harmony that will warrant further profitability. The Whites are distinctive, we're no longer a lost cause or sentenced to an immediate return to the Championship, Parker's establishment is adjustable, its core principles irrepressible and safety, as he's stressed all along, is achievable.
This team differs immensely to the class of 2018/19, something about it is persuasively enchanting. I'm compelled by its spirit, the atmosphere, and with 13 games left to play, I can't help but feel that this set-up's just getting started with a renewed purpose and direction. Fulham channelled their energy consummately down by the river, drubbing Sheffield was not mandatory, although expelling a vitality that eclipsed the visitors' animation was compulsory. The division's bottom feeders brought a negative, futile game plan but they weren't willing to submit. Unfortunately for our guests, though, Parker's Fulham also declined to surrender, they showcased a fibrous endurance that the Blades couldn't whittle down and our identity, which has digressed in years gone by, is as prevalent as it's ever been. There's a winding, uncertain road ahead but with Scotty at the wheel, with his upbeat playlist blasting out, Fulham will find their way to their rightful destination knowing they've enjoyed every stretch and chicane.