Five Thoughts: Fulham 0-0 West Ham United
Written by Cameron Ramsey on 7th February 2021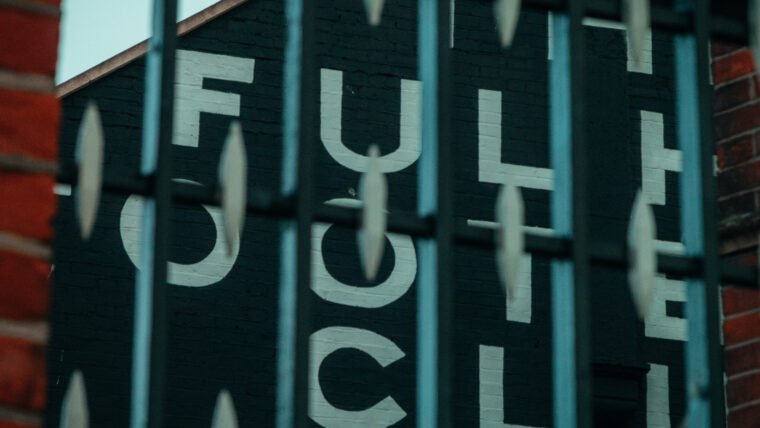 Read it and weep, Fulham still haven't won a top-flight 'London Derby' since 2014, 19 capital meetings and counting, and Saturday's bore score draw against West Ham United was arguably the closest we've come to exiling that embarrassing record, a statistic we just can't shake for love, money or survival.

Ironically, our last derby day triumph was at the Hammers' expense, although Scott Parker's plateaued Whites weren't up to the task, David Moyes' men weathered a muted storm in dismal conditions and now, one point better off than we were before, two away days at Goodison Park and Turf Moor awaits. 8 points from salvation, teams around us picking up the pace, this uphill battle's only getting bleaker, steeper and slipperier.
Shapely Defensive Pluses
Embed from Getty Images
Well, one massive plus we have to take stock of his the solidity of our defence, no matter how we shape up. A back three, a straight line of four, whatever or however, Fulham are still a tiringly stubborn entity to deconstruct, and even against a "Champions League-chasing" side in West Ham, Tosin Adarabioyo, Joachim Andersen, Kenny Tete and Anthony Robinson cooperated superbly to withstand and suppress the visitors' inhuman attacking power, pledged by a vamped up Sunday League swashbuckler in Michael Antonio. There is a compelling element of discipline within our defensive ranks, a regulation that's abided by, painstakingly, and for all of our offensive inadequacies, those that battened down the hatches have to be credited.
With 34 goals, the Hammers aren't the most prolific outfit in the division, although their attack, also a makeshift body following Sebastien Haller's departure, does pack a punch, and we fervently held our guard to limit them to just 1 registered shot on target. The Whites played out from the back considerately, Andersen and Tosin were strict with their standards and out wide, through Tete and Robinson, neither Said Benrahma or Jarrod Bowen could practice their usual dark arts. They've been hard to come by this season, but another clean sheet is a supportive takeaway and our defensive representatives, alive to the grossly unfavourable position we inhabit, are certainly worth their collective weight in salt.
I-Maja-ning Mitro's Partner
Embed from Getty Images
Who would've thought it, Ivan Cavaleiro is ahead of Aleksandar Mitrovic in Parker's pecking order and none of us, not even the Portuguese choker himself, can understand why. Fulham, moving forward, functioned off the faintest of pulses with Cav' up top, and even with an energised Ademola Lookman by his side, clear-cut, convincing opportunities were few and far between. The Whites were broadcast, predictable, a nonsensical free-for-all without a purpose and though the Hammers carried very little in the final third themselves, this has been an unwelcome conundrum all season for the Whites, and Parker has to recognise the difference between the pairing that started the game up top, and the duo that ended it, an overlooked Serbian and Josh Maja.
Both Mitro and Maja entered proceedings in the 79th minute, far too late if you ask me and, in fairness, we didn't actually get a very clear idea of what the Bordeaux loanee can really offer, although we do know exactly what last season's top-scorer's capable of, and with a focal point, Fulham's initiative was purposeful. Mitro's blown hot and cold and on Saturday, we witnessed a warming variation, one that snapped a half-volley inches wide, and one that introduced his teammates with deft lay-ups and practical offloads. There's no contest or debate, Mitro has to start and whoever partners him, Maja, Cav', 'Mola or even our leading marksman Bobby Decordova Reid, for that matter, has to feed off the discarded striker's incorporative fabrication. We're cursed offensively, we've only 17 goals to our name, but with a slight change of shape and impetus, the Whites will vanquish the long-standing hoodoo that's blighted their progressive prosperity.
Safely Secure Spine
Embed from Getty Images
Honestly, in all transparency, the sitting midfield coalition of Harrison Reed and Mario Lemina operated with a coefficient balance and, dare I say it, made me totally forget about the Covid-stricken Andre-Frank Zambo Anguissa, who's been a shadow of his former self since 'recovering' from the virus. I've no reservations where the spine of our set-up's concerned, it's powerfully reinforced, and with Declan Rice, Tomas Soucek and Jesse Lingard threatening to run riot, Reed and Lemina shared an understanding that suppressed the Hammers' multifaceted trio. For the first time in an ice age, the Whites won the midfield battle, a third that could've rendered our weaknesses if we weren't readily equipped and prepared. Lemina pressed, Reed patrolled and Ruben Loftus-Cheek, though he laboured to trudge out of a comatose state, probed.
Our midfield triple alliance was balanced, assured, and whilst it isn't particularly flamboyant, staple signs of competitive moderation are present. We were safe and secure with Reed and Lemina in cahoots, and as Zambo's currently crashing at 47% of his optimum capacity, I'd continue with their complimentary relationship. The base of the triangle's reliable, but what of the tip? One of these days, RLC is going to retrieve possession and he's actually going do something worthwhile with it, because barring one focused foray in a forward trajectory that won a free-kick, the vastly underperforming Chelsea loanee subdued Fulham's rhythm. Tom Cairney's back in training, we don't want to rush him back too soon, however he's the playmaker our flummoxed attack's been feening for, and I'd have to guilt in omitting Loftus-Cheek, if it meant we could comfortably accommodate the crocked skipper's ingenuity.
Mike Dean's VARcissism
Embed from Getty Images
A narcissist and a conman, Mike Dean has to be handed marching orders of his own following his diabolical adjudication of an incident that doesn't even deserve to be labelled as such. The game is softer than freshly coiled shit, and Dean is the sphincter that dispenses endless controversy from a standing of corrupt authority. Of all the weak calls this week, Soucek's 97th-minute dismissal was ill-advised and hideously deplorable. Mitro made a meal of the Czech's accidental brush of the elbow, I won't condone or pardon his play-acting, but once the affair had been escalated further, he was adamant that Soucek's part in the melodrama was completely coincidental, and didn't need additional punishment. Dean, however, was determined to rewrite headlines and sully a perfectly equitable game, and as a so-called professional sponsor of the law, he should admit his misdemeanours.
In real time, the occurrence is barely noticeable, but on the flipside, for argument's sake, there's no need for his elbow to be above head height, at all, and that's a hill that some fans, pundits and experts will ultimately die on. Soucek was reprimanded for owning limbs, and to even deliberate his intentions is absurd. There's no malice or spite involved, but sadly for Soucek, much like David Luiz's hilarious dismissal earlier in the week, accredited VAR specialists deemed him dangerous and I can only hope in hindsight and retrospect, his red card will be abolished. The only man that's worthy of sentencing is Dean, a regular culprit of controversy, and as long as this clown proceeds take charge of meetings on the grandest of scales, disputable moments of dishonourable significance will continue to plague our screens and muddy the English game's reputation.
Passing Up Victories
Embed from Getty Images
Drawing, drawing, drawing. It was fairly obvious that the Hammers didn't want three points and we refused to capitalise on their reluctance. We're never really outplayed, outclassed or drubbed to kingdom come, we just make an absolute hash of being in the ascendency, and as I'd alluded to in our previous edition, we've forgotten how to express ourselves and we're going to cough up a hefty debt if we can't cash in on our opponent's hesitancy. Vladimir Coufal cracked a header off the crossbar, that was it for the visitors, whereas the Whites skied sitters, skewed certified strikes and mistimed vital passes in advantageous areas.
With a monopolising 61% of possession, 550 passes administered, Fulham still couldn't take ownership of a game that dangled three points on a string, a carrot that was in sight, but just out of reach. We were 9 points off safety before kick-off, the importance of a victory was pronounced and consequential, and against an over-achieving side enduring an off day, we simply didn't invest enough to compound what should have been the Irons' 7th defeat of the campaign. Asserting ourselves, stamping our credentials and whittling down the deficit is, and has been for some time now, top of the club's agenda but, on the pitch, we're making a mockery of our unsound objectives. The incentives are there, we've 16 games to play, a total of 48 points up for grabs and gaining two extra against the Hammers could've sparked a revival. Instead, we're back to our old tricks of spurning and squandering, and though there's a very long way to go yet, our self-inflicted plight's as ominous as ever.