Five Thoughts: Fulham 0-2 Leicester City
Written by Cameron Ramsey on 3rd February 2021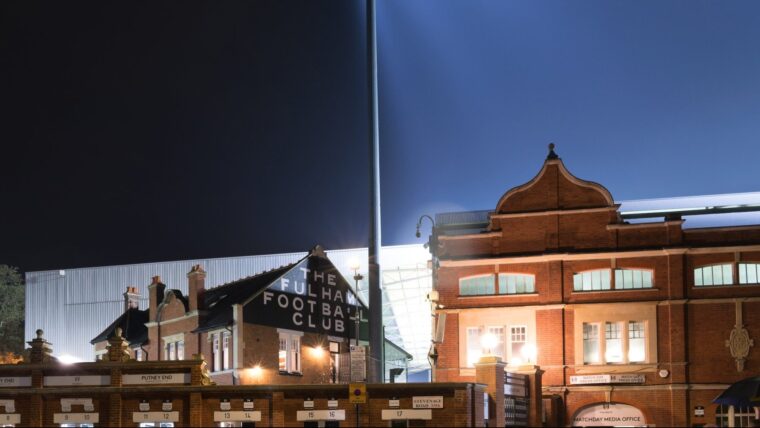 Ladies and gentlemen, that was Leicester City's first win at Craven Cottage in nearly 38 years and without Jamie Vardy, Kelechi Iheanacho, who hadn't scored in 15 outings, throttled his duck to open the scoring for the Foxes, leaving Fulham treading in deep, deep water at the foot of the table.

That gap's widening, the plot's thickening and in the aftermath of the Whites' 11th defeat, we're scraping the bottom of the barrel for reasons to be cheerful. We're 8 points off safety, deprived of a lifeline and up next, we've West Ham United, a side that's flying high in a European spot. On paper, we're as good as gone, but as there's 18 games left to play, I'll fantasise about 'Great Escapes' and otherworldly unbeaten runs.
Choking On Chances
Embed from Getty Images
Because Leicester can comfortably convert their chances, and Fulham physically can't no matter what, this game was done and dusted by the time your half-time cuppa had even brewed. For clarity, the Whites actually manufactured relatively convincing opportunities but when it mattered, they tripped melodramatically over self-made obstacles. The Foxes chiselled their way through our unsettled defensive line which, to be fair, tightened up after the interval, however that result, ladies and gentlemen, is ultimately what you deserve when your strike force is shy of doing its fucking job.
Overall, Fulham recorded 9 shots, with just one testing the target. Tosin Adarabioyo's stooping header was the only instance where Kasper Schmeichel muddied his palms, Ivan Cavaleiro dragged wide from a range where he should've worked the frame and our creativity, an absent quality factor we'll dissect further, was cataclysmically predictable, as per. This, I'm sad to admit, is exactly what we've come to expect from Parker's set-up. Wielding idle threats, the Ronnie Pickering of the footballing world, floundering on a viral scale, the deadest chat with the baggiest boot-cut trousers. There is no razor-sharp edge, there is no productivity, it's utterly pathetic that with momentum and impetus, our flaccid offensive faculties exist only to disappoint.
Exposing Phony Mitro
Embed from Getty Images
If I saw things correctly, Aleksandar Mitrovic pulled on his shiniest dancing shoes and forgot all the necessary steps. This is a striker that finished last season on 26 domestic goals, a bully that shook shitloads of change from lesser individual's pockets and this season, in a higher set, he's just a glorified gym enthusiast that owns a pair of Trusoxs. His weak spots have been unsympathetically exposed far too often this term and now, stripped of purpose, he's crestfallen with the phony he's become. Shanked sitters, inappropriate flicks, a dejected demeanour, Mitro's clapped out and running on empty, and that sounds like a him kind of problem to me.
We've whinged after a target man, a dominant focal point we can utilise in central areas and his over-eagerness to be involved in every waking phase diluted his influence, dramatically. He gravitated to the flanks, needlessly, just so he could give the ball straight back to a cornered Ruben Lostus-Cheek and in the air, even against Daniel Amartey, he was secondary, out jumped and outfought. Tiptoeing coyly on the edge of the 18, the 26-year-old shirked his duties, quivering on the trigger, and his thwarted effort in the first half summarises his outing, and year, perfectly. Sapped of form and confidence, a foiled force shoehorned into a system that doesn't suit him, we're merely making do because we've nobody else to turn to. Josh Maja should leap at the prospect of ousting Mitro, it won't take much doing off the back of that tractable performance.
Brainwashed and Stranded
Embed from Getty Images
It's times like these where I really, really miss the creaky knees of Tom Cairney. Innovation is a term that's alien to Fulham's mono-dimensional mode of attack and we're really clutching at straws if we think RLC, a bloke with cinder blocks for feet, is going to magic up a single bean of originality anytime soon. The way we surged on the break, pilotless Red Arrows. The manner in which we docilely shuffled possession left to right in front of a the Foxes' settled departments, scathingly predictable, pedestrian and anticipated. We are completely stranded in the final third, a barren entity and our rigidness, while it's required defensively, has no place, whatsoever, in advanced areas.
Parker's bestowed an organisational onus which has unintentionally suppressed our imagination. I fear that we're witnessing this squad at its true potential, an over-methodical drone, brainwashed into a mindset where risks hold no credible advantages. Nothing suggests that we're scheming, strategizing, even dreaming of a reality where our defence is stubborn and our attack is prolific, we've placed an emphasis on shape and structure and subsequently, we've forgotten how to express ourselves. Punchy sequences and prolonged spells of possession are derisory, smoke and mirror illusions fabricated to deceive and delude. Strap TC's shins in bamboo, fasten a timer to his left peg and tether him to the edge of the 'D', that is surely our only remaining hope.
Mola's a Trier
Embed from Getty Images
God loves a trier, so they say, and if we're to applaud a Fulham representative, amid the drudgery, it's got to be Ademola Lookman. Without being particularly spectacular, Mola laboured at a rate that surpassed his teammates' exertions, hounding Ricardo Pereira persistently and flexing muscles we, and even he, didn't know he had. If anything, Lookman's a victim of our insipidness in the final third and yet, he never quits, he never relents and he will always dart into unseen pockets, wishing his colleagues would jab the ball into his general direction so he could hotfoot his marker.
His intricacy in possession isn't overcooked, the 23-year-old was the only present member that aspired to play between the lines, to mesh routine sequences persuasively and though his exploits came to no avail, he's a consistent live wire that rarely has an off day, regardless to whether others around him decide to show up or not. We didn't get the absolute best out of Lookman because he's continually ignored, he always seems to be one step ahead of the player in custody of the ball and if this flawed, plodding offensive policy's to work, we have to incorporate the Red Bull Leipzig loanee as often as possible. He'll invariably do all the necessary leg work, and his tenacious streak means he'll stop at nothing until he's satisfied his appetite.
Reality Check, Noted
Embed from Getty Images
Assuaging the angst isn't going to be easy, this loss is a very tough pill to swallow, but I'll try to sooth the burns with a lashing of cold, hard candour. Before we get ahead of ourselves, before we descend into a whirlpool of crippling self-pity, a reality check's in order: Leicester are third in the standings, 5 points off table-topping Manchester City and despite a less than savoury first-half showing, the Whites salvaged some dignity with a hardened display in the second. It wasn't sexy, alluring or even remotely inspiring, but Parker's side will refocus and I think it would be unfair to say we're totally surplus.
Rodgers has a formula for beating Fulham, it may have been shelved in November, but he always gets the rub of the green at our expense and in football, those trends are hard to break. A loss, like it or not, was coming. We can say the same about a win, which has avoided us since our previous meeting against the visitors, although the better team won and we simply have to suck it up. The clichés, the "fine margins" are all relevant, we aren't going to scrape draws every single week and if we haven't got the tools to dig out three points, we deserve our plight. We cannot rely on the teams around us to bail us out, that ship sailed after Burnley's 1-0 victory over Liverpool, so if we're already at that listless stage of the campaign where vapid phrases such as "play for pride" are on the tip of the tongue, we should embrace the carnage and enjoy the rest of the ride, whatever comes our way.