Why we need to make room for Mitro
Written by Tim Clarke on 19th January 2021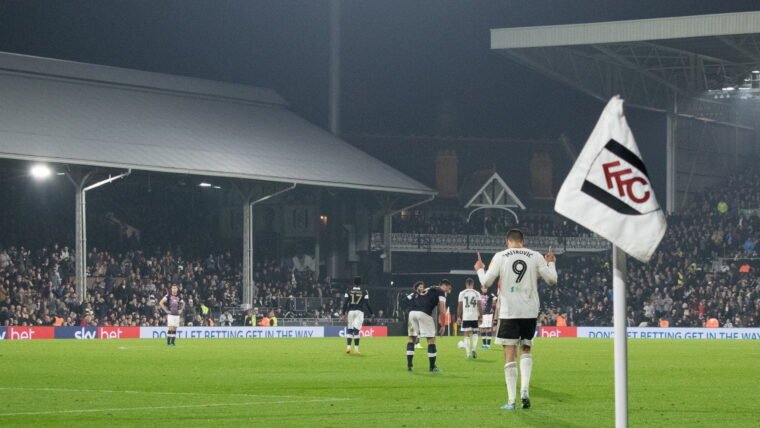 He's been out of favour of late, but we need to consider making room for our Serbian stirker, says Tim.
Despite Parker insisting that Mitro has a role to play this season, there's still so much speculation that the big Serb simply doesn't fit into the counter-attacking style that we've adopted over the past few months.
Some fans have been vocal about their desire to sell the Mitrovic in January (perhaps as a knee jerk reaction to his highly inclusive Christmas parties, and the less said on that, the better). But before we come to any rash conclusions, it's worth considering how he might fit into Scott's current system, and what he brings to this Fulham squad.
He can keep up with the counter
Granted, Mitro's pace is not electric. But it's also not fair to characterise him as a one trick pony. Consider that cathartic goal against Huddersfield in 2018: Cairney picks it up just outside of his own box, and eight seconds later Mitrovic has scored. Eight seconds! You probably spent more time reading this sentence than it took for Fulham to move from defending inside their own box, to Mitrovic scoring on the break. It's worth noting as well that he ran in behind a defensive line, finishing with his first touch after a lovely through ball from Sess. In short, he did the exact thing that he is criticised for not being able to do.
Embed from Getty Images
It's very easy to caricature a player and decide that their game is about X and not Y. But it's often reductive. Mitrovic is primarily a hold-up player, and a target man for crosses into the box. But that doesn't negate his other attributes. Go back and watch his goals from previous seasons. He doesn't only score headers from inside the six-yard line (though he does this very well. Don't get me started on the prospect of Tete delivering balls in to -Mitro). He's got many strings to his bow and that includes the capacity to counter quickly.
He can hold up play
Given the pace of our wide players, Mitrovic's hold-up play should actually help a rapid counter-attacking approach. Against Chelsea, Cav surrendered the ball cheaply when tasked to relieve pressure. A team can't counter if every time they clear the ball from their box, the striker fails to hold onto it.
With his strength, Mitro should be able to buy time for the likes of Lookman, BDR or (Heaven help me) Kamara to break either side of him. He might not score the goals himself, but he could be the key to unleashing others in a quick break.
He's a leader
Consider what else is lost if you sell Mitro. While he has worn the armband in an official capacity, his natural leadership on the pitch can't be overlooked.
He's vocal, helps in defence, rallies the team. When you lose someone like that, the team loses resilience, is less likely to bounce back from a deflating goal, and fans begin to bemoan the lack of natural leaders on the pitch. It's difficult to quantify this impact. But you can see it when it is not there. Let's face it, our actual club captain isn't exactly dripping with on-field leadership, are we really that willing to lose someone who is?
Embed from Getty Images
He's a legend
Part of what makes football so beautiful are the figures from history who have become heroes of your club. But to be blunt, you don't get those legendary figures if a fanbase becomes overly fickle. We laud loyalty in a player (which has Mitrovic has already demonstrated by staying through a relegation), but it's not always reciprocated from the fans if they're ready to sell a player the moment they become less potent.
Last season's Golden Boot hasn't become bad at football overnight. Granted, the pragmatism of modern football means it might be more difficult to cultivate these heroes, but in Mitro, you can't argue that we the makings of one.
Embed from Getty Images
He'd be a huge loss
We need another striker. You can't rely on one, and Cav is not going to cut the mustard (Mitro buries that chance against Chelsea everyday of the week). Given that Mitro is not a guaranteed starter at the moment, it may well be that quality strikers will be more inclined to join Fulham, knowing that spot is up for grabs (A small part of me wonders if that is tactical in the run up to January?). But the idea that we sell Mitro? We would be losing a lot more than we could ever hope to gain.
If none of this has convinced by this point, surely we can all agree he's worth keeping just so we can keep singing Freed from Desire?!