Five Thoughts: Fulham 0-1 Chelsea
Written by Cameron Ramsey on 17th January 2021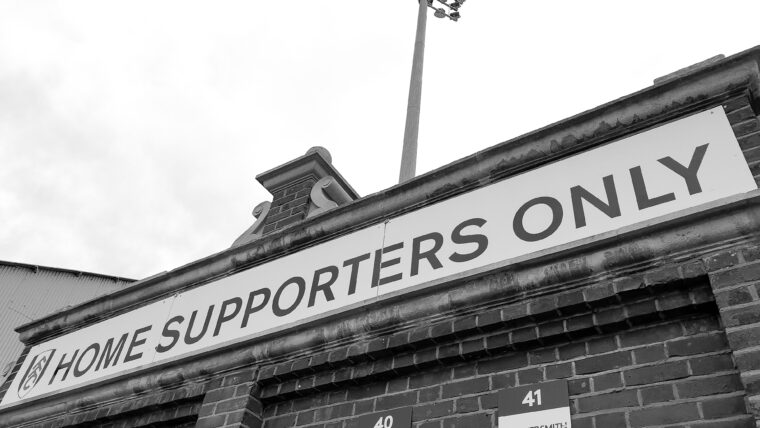 Fat Frank Lampard will be pleased that those viral memes of his inflated face have stopped circulating, for now, as Chelsea's visit to the river promised a derby day victory against Scott Parker's depleted single point enthusiasts. Straying from Stamford Bridge, the Blues flaunted the local bragging rights, which they've held for some time now, and returned to the dog track, safe in the knowledge that their strikers are nearly as shite as ours.

The lodgers may have come out on top this time, as they always seemingly do, although SW6 still rightfully belongs to us and we won't be demeaned or belittled, not after that performance. Ultimately for the Whites, the unbeaten run had to come to an end, and whilst it came at the hands of our residential rivals, we should be proud of what this club has accomplished in the last month or two, because improvements have arisen.
We've learnt a great deal about our current crop of players, however the journey is nowhere near done with, so we'll dust ourselves down, regroup as we always do, and look ahead to the battles we have before us. With a game in hand, there's no reason to be disheartened, and we'll move on with the same competitive intent and attitude.
Robinson's Blood Rush
Embed from Getty Images
Sigh, Antonee Robinson's sudden rush of blood to the head muddled his self-control, deeply, although if you're going to spoil a perfectly competitive game with a premature trip to the showers, you could have at least snapped a shinbone, so the victim's theatrics actually meant something. Just before the break, as we well know, Robinson bombed into David Azpilicueta vicinity, strongly, and clipped the Spaniard's shin pad with his trailing limb. Barrel rolling on the deck, excruciated by his amateur dramatics, "Dave" milked the contact and got the over-animated left-back dismissed, and I am not entirely sure why.
Opinions will be split, we'll all beg to differ, but from a traditionalist's perspective, as I'm a patron of the pure form of the game, Robinson's lunge was meaty, but not malicious. He caught his man, it was late, however his studs weren't raised and the harmful intent, in that respect, was not distinct, so that is nothing more than a caution in my legislation. Could it be viewed as irrational? Of course, there really was no need to commit himself, although I'd rather focus on the footage we all saw, and there simply wasn't enough in it, for me, to warrant a red.
I can't be arsed to debate and discuss VAR, it's all a farce, but what I will agree on, just this once, is that in real time, it did seem as though Robinson clamped Azpilicueta royally, so was it clear and obvious? On the surface, yes, but with a closer, indiscriminate look, it's harsh. There's certainly a fine line between lawful and unlawful conduct in the modern game, and perhaps I'm simply not cut out for this protective, soft variation.
Cav's Cock Up
Embed from Getty Images
We were really kidding ourselves, weren't we? I'm not turning curdled on Ivan Cavaleiro but come on, for a man that netted a stupendous header just days before, how can you cock up a simple finish so catastrophically? Our only gilt-edged, major scoring opportunity of the game and he shanks it off his standing leg? Pull the other one. Nope, my house plant could have stuck that away, and with 11 men in action at that stage of the game, just after Mason Mount clattered the crossbar, the narrative would have swayed in Fulham's favour indefinitely.
Unlike against Tottenham Hotspur, there was nothing deadly about Cav's outing against the Blues, but as he's not a recognised centre forward, could you blame him when his direct opponent is Thiago Silva? A mismatch, a contradiction, that's what it was, and the proof was in the pudding when his own personal cloud nine evaporated from 10 yards. Like his teammates, though, the 27-year-old was consummately cancelled out by Chelsea's well equipped back four, and against opposition of the visitors' primary qualities, cut and thrust, instead of swing and miss, is mandatory, and we won't find it on a regular basis in the deputising winger.
It's almost an insult to our top-flight status that we have to chop, change and improvise with our striking options, and we'll come to cover this later on, but it's pretty fucking obvious that a new, established bagsman is top of the agenda, and until we eventually end up signing another Gohi Bi Zoro Cyriac Sede, nothing else matters whatsoever. Cav', he's not a villain, but he is a fraudulent excuse of a goal getter, because his success rate is as frequent and plentiful as South West Railway's bank holiday timetable. Josh King, Dwight Gayle, or Troy bloody Deeney, go out and get somebody, Tony.
Average Anguissa Overshadowed
Embed from Getty Images
This'll set the cat amongst the pigeons, but in our last two matches, Andre-Frank Zambo Anguissa's been a mere shadow of his usual self and, frankly, has been bang average. It isn't a cause for urgent concern, every player's entitled to periods where their form may take a back seat, although as he's so integral to the way we move out of difficult situations, it is a tiny, tiny inconvenience, and it's one that has to be rectified by Wednesday. With the fixture schedule, it's commonplace for a player to run out of steam, so maybe the matchday onslaught, which has been condensed this season, is gradually catching up with him, even with virtually two weeks off.
In north London, Zambo was marginally off the pace in certain aspects of his game and on Saturday evening, his effect lagged as Mount, Mateo Kovacic and Jorginho pitched their tents and made base camp in the middle. There were instances where the Cameroonian would collect possession and amble aimlessly into trouble, where he'd pirouette one too many times on the parameter of our penalty area and as a driving force, as he so readily is, he was noticeably inactive, as well as thriftless with options at his service. Dispossessed routinely, limp in 50/50s, disinterested on the break, Zambo had an off day and we really needed him to turn up with his best.
It's a rarity when Zambo doesn't rule the roost. Chelsea's midfield, even without N'Golo Kante, is dynamic, lively and compatible and throughout, it was clear that Fulham needed an extra body centrally to counterbalance the run of play in central areas, perhaps. Harrison Reed screened as a solitary element as Anguissa stalled and stuttered, and though he was not solely at fault or even remotely responsible for the way in which we chased shadows for the duration, he didn't necessarily support and enforce to his customary standard. Just an observation, mind, but I wasn't especially impressed or satisfied with his underlying application.
We Need Goals
Embed from Getty Images
Without harping back to Cav's key blunder too much, our severe lack of accomplished, trusted depth up top will drive a substantial wedge into our chances of survival, if we fail to remedy it in the transfer window. It's thought that Aleksandar Mitrovic was nursing a slight muscle tweak, picked up at Loftus Road, and though he hasn't necessarily set the world alight in recent outings, we maybe could've utilised his proven, albeit dormant presence in the final third, opposed to Aboubakar Kamara's nomadic, headless tendencies. We may have managed 10 shots overall, 3 on target, but those efforts were without venomous conviction.
This game, in particular, highlighted exactly why we can't rely on the attackers we currently have on our books. We've only scored three goals in our previous seven meetings and, whilst those goals were crucial, in fairness, we've only mustered two wins in seventeen games in this season. The tide, in that respect, has to turn. Drawing six consecutive games is admirable to an extent, however from those encounters, admittedly, we've fed our points tally on meagre scraps. Antonio Rudiger and Thiago Silva contained Ademola Lookman, Cav' and AK47 systematically, neither of the players that led the line are out-and-out hitmen and that, sooner or later, is going to condemn us indefinitely.
Before we went down to 10 men, we were relatively convincing on the break, with our front three interchanging across the width of the park, but that adaptability will only get you so far, once the movement's detectable and the routines have expended themselves. The Blues anticipated our fleet-footed approach and counteracted it superbly, doubling up on and constraining our makeshift strikers, and with that strategy being deployed by Parker, wouldn't a versed, verified target man, with expertise and experience, make all the difference? We have to dip into the transfer window, it's imperative, our squad is worryingly thin, given suspensions and injuries, and we require nothing less than tried and tested offensive reinforcements, pronto.
Effort Restores Dignity
Embed from Getty Images
There's no use in ending this article on a sour, deflated note, so highlighting the positives, palpable and apparent, is definitely the correct way to sign off. Given the circumstances, with a depleted squad, Fulham's exerted effort has to be commended, again, because we could've completely imploded after Mount's winner. We didn't. In the second-half, it was one-way traffic, the Blues advanced persistently and could've widened the margin on multiple occasions – if they'd strikers, like us, that could actually play ball – but we resisted, just, to save face and dignity. All hands on deck, clinging on by our fingernails, we held our shape and discipline whilst weathering consistent pressure from the visitors, who were evidently prepared to compound our rotten luck.
Chelsea's tactics weren't to jostle beside the corner flags in the closing minutes, they wanted to punish us further and to our credit, we did enough to offset their composure in front of the target. Even when Timo Werner raced through, one-on-one, the desire from our trailing defenders was present, and camped within our own 18 for virtually the entire second 45, we upheld discipline and awareness. Mount's strike stung, of course it did, but I think we can all agree that it was coming. Despite this, however, we didn't down tools entirely. There are other examples, but Joachim Andersen and Tosin Adarabioyo exhibited another accomplished partnership to stave off a potential mauling, Ola Aina stood up to the task against his former employers and Bobby Decordova-Reid, reshuffled back to a right wing-back capacity, gave his all to shield and strengthen our rejigged composition.
A semblance of belief, determination and resolve lingered, softening the blow and relinquishing that sudden chill of dejection. At some point, Fulham were going to become unstuck, outwitted, although as for willpower and commitment under adversity, we certainly weren't outfought. I try to ignore stats, I'd rather talk about the physical essence of the game, but with 70% less possession, with 11 less corners on top of countless crosses from both channels, the Whites lost for the first time in 6 games with their respectability intact, and bearing the torch of optimism, following a somewhat sobering reality check, is precisely how we'll bounce back against Manchester United. Parker would have prepped his men for each eventuality and now, how we respond in the aftermath of a defeat, laden with constructive footnotes, is as crucial as it's ever been.