Five Thoughts: Tottenham Hotspur 1-1 Fulham
Written by Cameron Ramsey on 14th January 2021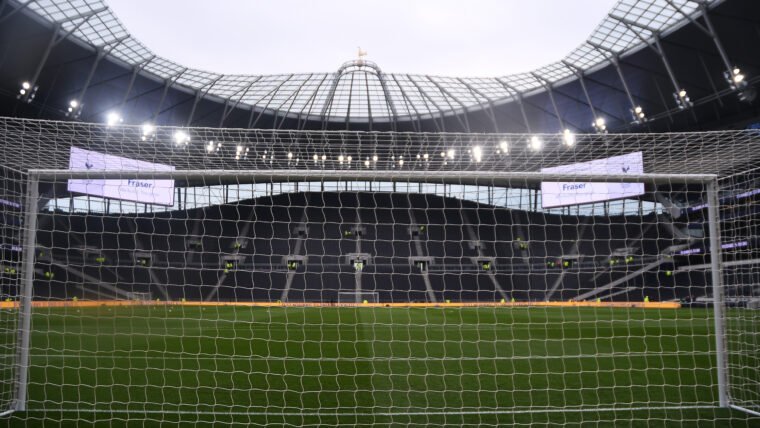 Scott Parker allowed his men to do all the talking on his behalf on Wednesday evening. Scripts are regularly strewn when Fulham's a member of the cast and against another title-chasing monopoliser, directed by another petulant prima donna, the Whites wrote their own plot with an unforeseen ending.

Jose Mourinho craved an apology and Scott set the record straight. He and the club begs no pardon to anyone. Tottenham Hotspur are nearing the summit and we, in our delicate position, are just as eager for points. It was all smiles before kick-off, mind, and for those in luminous yellow, the grins stretched from ear to ear as Paul Tierney's final whistle sounded.
Remarkably, that's our first top-flight London derby point in 13 previous meetings, and next up we have Frank Lampard's stuttering, yet jeopardous, Chelsea, in the pleasant side of SW6, by the river. Do I fancy our chances? You bet your bottom dollar, and if the Blues are hoping to find their feet again in familiar surroundings, they'll have to bring their very best. A tough run of games ahead is nothing in the Barclays, every game is as treacherous as the next, so let's ride our momentum and relish the journey ahead. You Whites!
Respond With Unity
Embed from Getty Images
Capitulation, open floodgates, they're obsolete by-products, banished to the cupboard under the stairs because now Parker's plans have seemingly bedded themselves in, Fulham are a side that functions on unity, rather than singularity. Two seasons ago, in our last futile foray in the Premier League, the Whites would have submitted, shoulders would've dropped and heads would've rolled, along with spectating eyeballs, although this side of ours is stubborn, competitive and I, for one, am eternally proud of the squadron the gaffer's pulled together over the course of the campaign thus far.
Sergio Reguilon's peachy swing was met by an unmarked Harry Kane and the game's opener crashed home in the 25th minute. Could you imagine, Andre Schurrle downing tools, Denis Odoi plunging into meltdown, not this camp, though. The Whites reacted superbly, they rallied, regrouped and refocused on the task at hand, and at the hands of a side as potent as Spurs, the only way a team should respond is defiantly. The Whites recognised where the danger surfaced from, the flanks, and after the first goal of the evening, we tightened up, pressurised as a unit and constricted the zones in which the hosts had to operate within. Collaboratively, each department cooperated cohesively, a shared conviction that ultimately muzzled Mourinho's lethal offensive cohort.
There were brief scares. the post was struck, a goal was disallowed and Moussa Sissoko galloped from Tosin Adarabioyo, with the goal at his mercy, although the young defender didn't give up. Instead of admitting defeat, he got even with a last-ditch challenge, emulative of Terence Kongolo's outlandish interception against Manchester City in the FA Cup last season. It's that application and attitude that sets this current collective apart from any other we've possibly ever known. The class of 2020/21 doesn't submit, it rises as one, resilient and irrepressible and though we may still be within the drop zone, we are five games unbeaten against a cluster of the division's nonpareil, and if we're to survive, if we're to fall, do we want it standing up, or on our fuckin' knees? One value that compliments Parker's philosophy is simple: if you forget to fear, then you have nothing to doubt.
Carefully Selected Subs
Embed from Getty Images
Parker game management and tactical awareness has progressed to the next stage and his selected substitutes, Joshua Onomah (90+1), Aboubakar Kamara (86′) and, most importantly, Ademola Lookman (67′), worked spellbinding wonders. Onomah replaced a jaded Ruben Loftus-Cheek and resumed the Chelsea loanee's sturdy exploits, Kamara, surging like a top fuel drag racer without a parachute, gifted Ivan Cavaleiro a well-earned rest and Lookman, entering the fray for a recently reintroduced Kenny Tete, manufactured a tempo that jarred the game wide open, from the left and across the breadth of the final third.
The correct subs, for the appropriate personnel, at the right times, critically and crucially. The squad was refreshed at intervals where Spurs were building up a genuine head of steam, they were beginning to establish themselves with territory and a heart-in-mouth post-nudging scuff, courtesy of Son Heung-min, but with Lookman's fresh legs scampering up the flanks at breakneck speeds, we gradually turned the screw in the opposite direction. AK47 revitalised our physical offensive edge in the dying embers, there was no resting place for Serge Aurier and equally Reguilon as the bustling Frenchman shunted into action. "Tek like" Onomah got stuck in with minutes to go, enhancing and complimenting the Whites' ever-lasting determination and with a narrow window to exact revenge or, more fittingly, redemption against his boyhood club, the resurging box-to-box merchant gave a decent account of his all-round aptitude.
As for Ade', well, he's easily, without a doubt, the excitement within our counter attacks, the innovation in Tom Cairney's absence and his constructive perception, even whilst being hounded by Sanchez, was novel and completely necessary. We berate wingers for maybe taking on a little to much, for biting off more than they can chew, although Lookman's a different breed to Anthony Knockaert, for example, the Red Bull Leipzig loanee's blessed with authenticity, and he tapped into that rich pool of talent to sit Spurs' Colombian centre-half on his arse with the hips of a snake, if there is such a thing, and his perfectly-weighted assist was bloody Bisto. He should start as part of a front two, that's for sure, but if he's also capable of upping the ante from the bench in games where an injection of pace and guile's required, the Whites will prosper regardless.
Reed Collects Bodies
Embed from Getty Images
All I see is Harrison Reed bodying guys twice his size. The middle of the park was a gruelling place to reside for Tanguy Ndombele, who flip-flapped into oblivion under the doggish red-head's duress, Harry Winks yelped on a short leash and Pierre-Emile Højbjerg's "Viking" talk was swiftly shoved on mute. Reed announced the register, and anyone who wasn't present was in for a ruddy good thrashing in his cruelly-devised detention facility we commonly call "the engine room". Whatever you do, don't sleep on Harrison.
We touted Andre-Frank Zambo Anguissa as the emphatic catalyst before kick-off, a dance off with Ndombele was enticing, although the sauce provider skimped on the spice, and Reed took charge as the dominant enforcer in every given instance. Unremitting, doggish, the diminutive anchorman swept up rogue runners with a sledgehammer, demolishing Spurs' direct passing phases unceremoniously, imposing his own lockdown upon proceedings. One second too many with the ball, clamped. A step-over too far, hustled. One foot out of line where he's within a 10-meter radius, fucked.
Nowadays, where expensive trims and extravagant footwork's alluring, Reed is a throwback to a bygone era. He demands respect from his peers, a consummate professional that trusts the basics and will never disregard them, either. Tottenham's trio couldn't shake Reed, for all the flicks and faints, they failed to counteract the 25-year-old's impulsiveness. Reed launched counter attacks, he stifled as he patrolled his department and as Spurs forged openings, Reed closed them simultaneously, deeming them routes for non-essential travel.
Cav's Nodded Approval
Embed from Getty Images
That, ladies and gentlemen, is precisely what Parker sees in Ivan Cavaleiro as an auxiliary striker. It's been a long time coming for the stopgap attacker but a solid, competent evening in Fulham's reimagined strike force befell Ivan Cavaleiro, and for a bloke with a 50 pence piece for a bonce, he somehow dispatched his equalising header immaculately, an inch-perfect nod nabbed from Aleksandar Mitrovic's discarded notebook. A few podcasts back, I and the panel lambasted his thriftless goalmouth tendencies, so it's nice to know he's obviously taken stock of the stick he's rightfully received, eh?
Picture this, relive the mismatch: Cavaleiro is 5'9, Eric Dier is 6'3, so we've no clue how the Portuguese winger managed to propel himself above and beyond, because the England international's cranium's honestly about 2ft wide, but he found something extra in those jazzy Mercurials of his, and now he's shown us all what he can really do in front of the target, he'll have to replicate it from this day onward, without shilly-shallying his revised duties. It's wholesomely befitting, Cav' opened our 2020 account against Reading, following Charlie Adam's toothless grin, and he welcomed us into the new year to a similar effect in N17, only this goal meant a whole lot more to us and, evidently, himself.
A scapegoat for many, a go-to cause for insufficient collective efforts, Cav' has weathered his fair share of the blame in games gone by because the bitter truth is, he seldom exhibits himself in the brightest of lights. He's scarcely a player we can rely on, although his contributions have become abundant since shifting into a central role up top and he fended the final third terrifically, dragging Dier and Davinson Sanchez out of their comfort zones as he held and administered possession responsibly. An elaborate sprinkling of twinkle-toed flair, twinned with a borrowed killer instinct, Cav' comfortably outdid himself, but I doubt this'll halt the calls for a new striker to emerge in the January transfer window. For now, though, he's earned the right to bask in the glory, praise which has been particularly hard to come by where he's concerned.
Areola, Stop It
Embed from Getty Images
Not to tempt faith or jinx anything, but I can't think of a single moment this season where Alphonse Areola hasn't been a clear cut above the rest. Three outrageous saves denied the hosts and make no mistake, there was nothing routine about his outing between the sticks, under the lights, in north London. Areola's significance is presidential, the best 'keeper up in the proverbial bitch, and we can't really thank him enough for his reliable expertise, so the least we can do is laud it, lap it up, because this man is quite comfortably the most capable, dependable stopper we've had since Mark Schwarzer, and he's certainly on the same cloud as Edwin van der Sar, for that matter.
Son jabbed goal-bound, he met a pinpoint cross with a diving header but on both separate occasions, the South Korean poster boy was agilely thwarted by the Frenchman, his angles were well and truly covered, Winks whipped it from 30-yards in the second half, it appeared innocuous, but the playmaker's effort was swirling towards the inside of the upright, although Areola's grateful palm had other ideas. Leaving nothing to chance, the 27-year-old raised the bar, yet again, and his outstanding performance in the ominous company of Kane and co. was not a miraculous anomaly, a one-off. Every single matchday, he turfs us out of tricky situations with moments of unbridled brilliance and every damn time I pick up the laptop, Areola's on the mind.
Take that as you will, although there's plaudits aplenty and his personal highlight reel has got be at least 10 minutes long already, and we're barely half-way through the campaign. From audacious reflexes to constructive distribution, Areola is everything an elite stopper should be, and much, much more. He's committed, consistent and commanding, hallmark traits that are designed specifically for the pinnacle of the game, and if his intentions were to utilise this loan move to prove his worth to his parent employers, Paris Saint-Germain, he's certainly made his case known and his instantaneous impact as Fulham's undisputed No.1 has been louder than bombs. Tottenham crossed paths with a stopper that's no stranger to the heights, a figurehead that was unfazed by Mourinho's watered-down firepower.