Tosh Chamberlain (1934-2021)
Written by Michael Heatley on 11th January 2021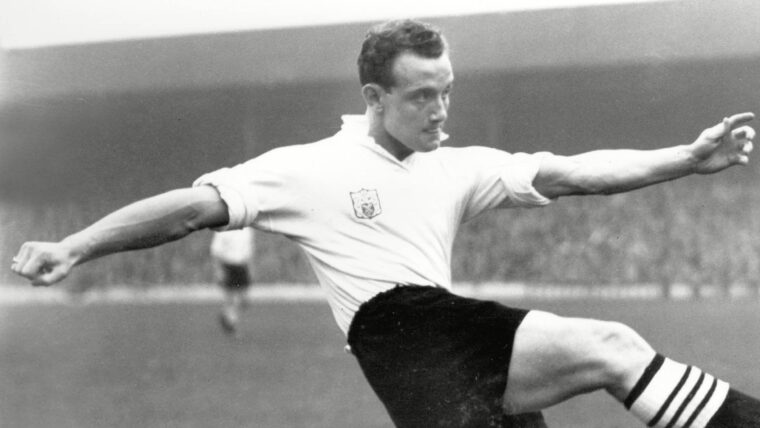 Former club programme writer Michael Heatley pays tribute to a club great.
Born Trevor Chamberlain in Camden Town, Tosh – whose death was announced yesterday, 10 January 2021 – became a legend even to those who never managed to see him play. He left the Cottage for Dover in 1965, but his heart clearly remained in SW6 as he was a regular and welcome visitor to his only League club for the next five decades.
It was he who was asked to gauge the realism of the Johnny Haynes statue, for the simple reason that without him the Maestro would never have become a Fulham player. They played in the same District side as schoolboys, and Johnny spurned offers from Spurs and Arsenal to join the Lilywhites In 1950. He was Fulham's Number 10, Chamberlain Number 11; you couldn't get closer.
Unlike the much-capped Haynes, Chamberlain's international honours stalled at youth level; years later, he revealed to programme contributor Jim Sims that he once got a telegram summoning him to an England training camp, but it fell on his wedding day: 'I got my priorities right and never got asked again.'
In many ways Tosh was the perfect 'Fulhamish' player. Late FFC historian Dennis Turner memorably summed up his skills thus: 'He could hit a ball as hard as anyone in the club's history, but it did not always go where he wanted it to go.' Shades of AK47 or, slightly further back in history, Luis Boa Morte?
Nevertheless, a handsome percentage of attempts ended up in the back of the net – 64 in 204 games, including his first kick of his first start, against Lincoln in November 1954. The most prolific season was his third, 1956-57, with 15 goals in 41 games. The previous campaign had seen him notch 14 in 22, an even better strike rate; Scott Parker could certainly do with a player like that now.
He was only booked once, for failing to retreat from a free-kick against West Ham. Jimmy Hill, apparently, issued the instructions and Tosh complied, to his cost. But Ken Tucker, his West Ham counterpart, was so shocked he put an arm around the referee as they left the field and persuaded him to erase it!
Tosh Chamberlain was, by some distance, the oldest of the 15 players who contributed to my book Match of My Life (Pitch Publishing, 2012); his more famous pal was too modest, but did pen a short foreword. The game Tosh chose to recount was the FA Cup tie of January 1956 that finished Fulham 4 Newcastle United 5. He scored a hat-trick against the Cup holders, yet finished up a loser…not that it wiped the smile off his face for too long.
While Johnny Haynes was accorded a fitting send-off in 2005, Tosh tearfully delivering a wreath to the centre circle, we shall sadly not be able to gather and celebrate his memory in similar fashion. Yet in a world full of so-called 'national treasures', we can at least silently appreciate a Fulhamish treasure.