Five Thoughts: Newcastle United 1-1 Fulham
Written by Cameron Ramsey on 20th December 2020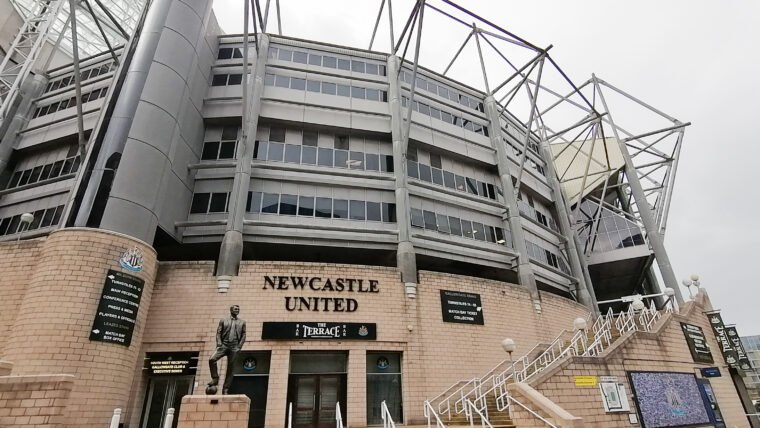 Howay the lads only come away with one point? I know, terrible pun, and that isn't the worst of it, as we'll discover and revise as this article thickens with anguish and disdain. Hold on, though, there's also notable reasons to be cheerful, upbeat and chipper, so sod the tier system, we're all in this together.

Steve Bruce's Newcastle United were sluggish, predictable and they couldn't break a 10-man Fulham's back, no matter how many times they flopped to the freshly mowed cuttings. St. James' Park, it's a long way to go for a draw, however we'll take solace in knowing that Scott Parker's men left it all out on the pitch, as they always do.
The Magpies snatched a share of the spoils, the cads, and that 1-1 result drags us up to the dizzying heights of 17th, for now, and as you all come round to reading this over your morning cuppa, midday spritzer or late night chaser, the standings would've invariable changed at the foot of the Barclays once more. Best make it a double in that case, straight.
Very Atrocious Refereeing
Embed from Getty Images
Fuck me sideways, you really couldn't write this but here I am, recounting another game-changing dissension that, yet again, stripped Fulham of three points. VAR, though the evidence was staring us in the face, was ignored by another arrogant, wide-faced excuse of a top-flight referee, Graham Scott. Scathing doesn't quite cut it. How many points have Fulham been mugged of in the space of two weeks? Six? Seven? and it's all down to the power hungry, fame-feening imposters that will not swallow their pride. If a panel of fellow officials is unanimously unsure, then your lone judgement is debatable and Parker was correct in his post-match interview, video assisted refereeing and officiating in the Premier League as an institution is "a mess".
For Joachim Andersen, a red card was deserved, but it wasn't a penalty, not in any dimension where strikers are allowed to continue for 10 yards before tumbling like a sack of shit in the penalty area. slowed down, sped up, from every possible angle, the footage proves that the contact, which was a minimal tug, occurred outside the box and the suspected trip, which sparked Callum Wilson's laughable play acting, didn't even happen. With past and present players, pundits and everyday fans berating Scott's scandalous verdict, the injustice is rife and this, as helpful as a point on the road is in hindsight, could dent Fulham's season, catastrophically so. The Raheem Sterling debacle, the Ivan Cavaleiro corruption, Scouse favouritism and now this, a ghostly coming together.
It's time for these farcical rulings to stop indefinitely and immediately. VAR is, in my opinion, revolutionary, but only if it's consulted correctly and respected at all times. Referees seem to forget that the imagery they see isn't simulated, it's fact, there is no differentiation, so it must be an integrity complex that's blocking their rationality, or maybe it's the great whacking set of bollocks, drooping from their foreheads, that's impeding their vision. I'm not usually one for name calling but Graham, you are a dickhead with a shrivelled sense of deduction, a perception ruined by conceitedness and from this moment on, you will be known by the masses as a dishonest shlong, a cheating, limp shaft, a big faced phoney.
Lemina's Unfriendly Fizz
Embed from Getty Images
Named alongside Andre-Frank Zambo Anguissa at Harrison Reed's expense, Mario Lemina plied his trade within a highly dynamic double pivot commendably, with bonus sprinkles of no-nonsense, letter-of-the-law administration, too. Emulating Zambo isn't advised, the Cameroon international sets his own standard, however Lemina established himself upon proceedings with founding hallmarks of his own style, calling cards that disturbed and distressed Jonjo Shelvey, Sean Longstaff and Joelinton, who floated into the Gabon representative's ruthless orbit far too many times if I'm honest.
Before now, I've been dubious of Lemina's quality and I've questioned his contributions but against Newcastle, he was simply magnificent, all whilst being a menacing handful that the Toon couldn't shake off. Mistimed passes, an extra nudge of the ball under pressure, I'll let 'em slide because what he invested defensively, that horrid, unfriendly disposition he wears so naturally, that stunted the hosts and it would've brought a fair few tears to Reed's eyes, too. Textbook anchoring, professional shithousery, that's what Lemina presented to Saturday night's 8pm showing and I was hooked, Bud in hand, as the Southampton castaway chopped legs, hacked shins and exacted his command.
The thing is, Lemina is unpolished but that's what makes him a a worthwhile asset, especially at this level, where purified excellence steals headlines expectantly. We could have a team full of Kevin De Bruyne's, but it wouldn't survive, not realistically, because a cohesive team demands an aggressor, a component that doesn't mind getting his shorts muddy if it halts an opponent, dead in his tracks. A stud-wielding lunatic? I'm not asking for that, Lemina's somewhat unhinged but there is an air of sensibility about him and it came to prominence in the centre of the park against adversaries that are also known for their, let's say, alternative methods. I like Reed, a lot, but this guy, with bleached hair, is growing on me similarly.
Short-Sighted Mitro
Embed from Getty Images
That captain's armband really suits Aleksandar Mitrovic. Tom Cairney and Mitro were reenlisted into Parker's starting XI and in a presumed show of allegiance to our jettisoned Serb, the gaffer elected last season's leading goal scorer as our chief despot, debriefed with an objective to sew the seeds of terror in the final third. Well, it wasn't as dramatic as that, at all, but it was rather pleasing to see Mitro back where he belongs and within 20 seconds or so, the striker had fired a warning shot at his former employers from range, a marked signal of plan and purpose.
A physical element was needed to subjugate Federico Fernandez and Ciaran Clark and, customarily, Mitro provided his bread and butter services, although in short-sighted moments of indulgence, the 25-year-old actually spoiled convincing attacking phases by, well, biting off a little more than he could chew, if I'm honest. Nimble footwork isn't Mitro's forte, and there were instances, particularly in the second half, where he could've incorporated Bobby Decordova-Reid on the parameter of the penalty area, but he tried to waddle his way through a central defensive buffer instead. Slipped in by Ademola Lookman, Mitro charged into a key crossing position but his untimely control let him down at the last hurdle. There may not have been anyone to aim for, really, but I'd fizz that across the face of goal to tempt a rogue deflection, if anything, but our skipper for the day wasn't explicitly observant, really, but I'd blame that on being deprived of minutes.
Ultimately, Mitro wanted his longed-after comeback to begin with a bang, although it more or less fizzled out after he'd realised his efforts were ineffective and marginally unnecessary. Expended, visibly drained, Mitro made way for Ruben Loftus-Cheek in the 77th minute, wrapping the armband around Anguissa's arm for the remainder, an early Christmas present for the ever-present enforcer. There's no doubting that Mitro'd put in a commendable shift, but he'll definitely need to acclimatise himself again to the club's advancement in structure and philosophy. No longer is Mitro the main focal point, the entire fold is wired towards a common goal and the strapping marksman will have to come to terms with that, if he's to prosper as a vital, yet equal cog within a machine that's gradually building up a head of steam without him.
Robinson's American Encounter
Embed from Getty Images
A Stateside battle royale – filmed on Tyneside – erupted along the left channel between Antonee Robinson and Newcastle's DeAndre Yedlin, a confrontation laden with pace, guile and Americanised jibes, I imagine, and though Robinson's short was yellow, his belly wasn't. Causing a ruckus with his expansive initiative, backed up by Lookman, of course, our American import, refined on Merseyside, will be the sole reason why his compatriot wakes up the morning after with blood-blistered heels, because he spent the duration of the game rocking back and forth on his spurs, as he attempted to wrangle our marauding left-back.
Long and short is, Robinson was pukka, again. The left side has never felt more secure and he had his office, as it were, under lock and key, with Ade' manning the door like a pint-sized bouncer that really had no right to be there whatsoever. There just wasn't any escaping the 23-year-old for Matt Ritchie, Callum Wilson and Yedlin. Once they'd opened their stride, heading for our final third at a rate of knots, a jet-propelled Robinson reeled them back in before further damage could be done. Heat maps, we love 'em, and his would resemble a stove which is just too damn hot to touch, because he was cooking up a solution and a plot at both ends of the deck.
Wherever Robinson found himself, he acted beneficially without committing himself so much that he couldn't recover if his diverse dexterity was required. Miguel Almiron periodically frequented the left channel and every time the scrawny Paraguayan strayed into Robinson's no-fly zone, he was gunned down theatrically. Infuriating, as Almiron would make a meal out of the slightest of connections but palatable because I also like to see bitches squeal, but that's neither here nor there. Robinson could lose possession, but he'd churn up the turf to swiftly win it back. He could miscue a routine in-swinger, a simple pass, but he'd always make himself available in the next phase. We talk of bargains and at, what, £2m? Robinson is one of them.
Bless This Balance
Embed from Getty Images
With eleven men on that pitch, Fulham at the back, in the middle and up top functioned with absolute harmony. As a unit, Parker's set-up adapted to the changing tempo in the opening stages, when the game was open for both clubs to express themselves and as we established an approach that hemmed the hosts into disadvantageous zones, multiple outlets were available, support showed, and we rotated possession in a manner that constrained the Magpies, forcing them to pump dismissive long balls to relieve the burdening stress exerted by our consistently oppressive snare tactic. Familiarised and dedicated, even with 10 men in action, the Whites dusted down and reinstated their collective discipline to stave off Newcastle's resurging liveliness and that's what I admire about this group of players. When the chips are down, odds stacked up against our hopes, we jolt into an extra gear and we neutralised the Toon.
Contentious penalties aside, the last goal we actually conceded from open play was at the Etihad against Manchester City, in 5th minute. Since that meeting, where we were comprehensively outclassed in the opening 45, Fulham have adjusted to the non-stop, oscillating momentum of the Premier League and we're a totally different side, unrecognisable to the rag-tag misfits that limped through our early exchanges. Our midfield is working in tandem with our back four, the driving forces have the engines to facilitate a robust, enterprising spine and moving forward, the intent exists, even if the final product doesn't in a similar measure. In our previous outings, against domestic heavyweights, and Brighton, we've been examined, inspected and assessed and we've passed with flying colours. Newcastle are not superior and if it were a level playing field, our enduing resolve would've warranted a hard-earned victory.
This team is currently going through a rapid evolution, an ameliorative alteration in confidence, self-worth, understanding and ability, and our overall performance and application in the north east was deeply encouraging to behold. Ademola Lookman, outmanned and stranded, didn't sway from his unwavering, ankle-breaking exercise in the final third. Tosin Adarabioyo, partnered by Michael Hector for the closing 25 minutes, grasped the opportunity to steer the helm in Joa's wrongful absence. Anguissa, boxed in, quarantined, still endeavoured to jink from congestion, streaming forward to amplify our resistance. All are individual, but they still factor into a system designed for the greater good, the preservation of dignity and elite professionalism and now we've recognised our capacity as a squadron, our potentiality both singularly and mutually, we are an exceedingly tough pack to overpower and outmanoeuvre, a credit to the country's premier division.