Rhys's Pieces: How good were Hangeland and Hughes?
Written by Rhys Daly on 4th December 2020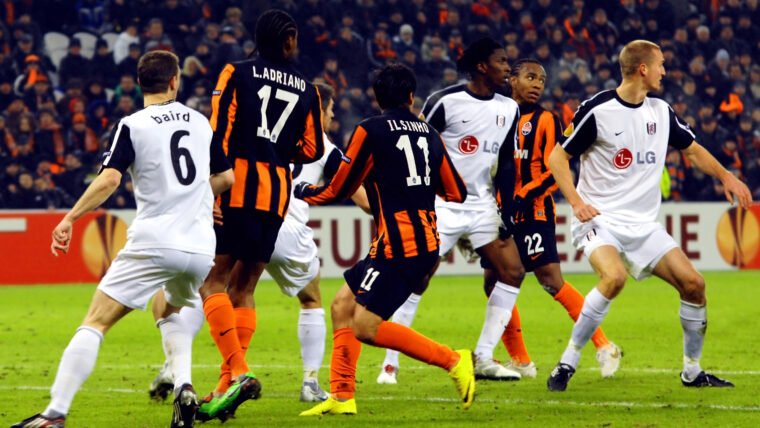 As enthusiasm cautiously builds over the promising partnership of Tosin Adarabioyo & Joachim Andersen under Scott Parker at Fulham, Rhys remembers the formidable duo of Brede Hangeland & Aaron Hughes between 2008/09 and 2012/13.
---
When scrutinising over any new defensive partnership at Fulham it's a near impossible task not to compare their ability and compatibility to that of Brede Hangeland & Aaron Hughes.
The towering Norwegian and versatile Northern Irishman forged an unlikely duo that helped the club secure three top-half Premier League finishes between 2008/09 and 2012/13 – as well as reach a major European final.
Brede Hangeland
Hangeland joined Fulham in January of 2008 having dismissed links to Newcastle, Liverpool and Aston Villa in favour of staying at Copenhagen the previous summer.
The colossal Norwegian noted that it was always his dream to play in the Premier League after reuniting with Roy Hodgson at his relegation battling side for a trivial £3.5m.
The 26-year-old had captained FK Viking under the tutelage of Hodgson at the beginning of his promising career before forming a defensive barrier with Danish international Michael Gravgaard at Copenhagen.
The Copenhagen Air Force, as they were fondly known, lifted back-to-back league titles during their brief time together – but director Carsten V. Jensen felt powerless in blocking Hangeland's Premier League dream.
He said at the time: "We will of course miss him in the club. However, we received an offer we could not say no to, and since Brede's big ambition is to play in the Premier League at the same time, there was no going back."
The player himself was delighted to be making the move to England, despite his new side sitting 19th in the table when he put pen to paper on an initial three-and-a-half year contract.
Hodgson might not have been aware just how crucial Hangeland would become over the next five seasons, but he was confident that he had what it takes to impress at the highest level.
Hangeland told Fulhamish in 2018: "It did feel like a bit of a gamble, but as a young player you dream of playing in the Premier League so I was desperate to go there."
Aaron Hughes
Embed from Getty Images
Hughes had been at Fulham for seven months before his new partner, joining Northern Ireland boss Lawrie Sanchez at Craven Cottage on a bargain £1m switch from Aston Villa.
The 27-year-old had spent nine years on the books at Newcastle before his two seasons at Villa Park, famously making his senior debut in the Champions League defeat against Barcelona at the Camp Nou in 1997.
He said after joining: "I have got a lot of experience in the Premier League and in international football and hopefully he sees something in me that can improve the side.
"He has big hopes for Fulham and it is a big compliment that he wants me to join hopefully I can be a part of it.
"The ambition is to finish higher than last season, they (Fulham) are a bigger club than people perceive.
"The Premier League is one of the most competitive leagues in the world, certainly we hope we won't be looking over our shoulders and we can finish as high as we can."
With a rave review, Sanchez hinted at a philosophy that never materialised for the FA Cup winner at Fulham: "I am delighted that we have been able to bring Aaron to Fulham.
"As my captain while I was manager of Northern Ireland, I saw his obvious leadership skills and his qualities as a player, which are widely recognised, so I'm delighted he becomes my first signing of the summer.
"He'll bring some much needed depth to the squad and a level of commitment and tenacity that forms an integral part of my philosophy for next season's campaign."
Thames Barrier
Embed from Getty Images
Crunching the numbers and statistics from the five full seasons of the 'Thames Barrier' evokes pure nostalgia.
During their time together in west London, Hangeland and Hughes played together on 207 separate occasions, a total of more than 18,000 minutes – or 300 hours – or almost two actual weeks.
The Points Per Game during that period stands at a respectable 1.43, which would be enough for 54 points across a single Premier League season.
While Hangeland used his almost unrivalled size to muscle forwards away from Fulham's goal before shifting the ball to a holding midfield colleague, the composure of his right-hand man, which led to only 18 yellow cards and no reds in 660 club appearances, proved to be the perfect balance.
Both men started in a memorable victory over Portsmouth on the final day of the 2007/08 season, which handed them a solid platform to build in Hodgson's first full campaign.
The Whites went on to secure their highest ever league finish of 7th, bettering the ninth-place of 2004.
Hangeland made 37 league appearances next to the ever-present Hughes as Fulham conceded only 34 goals in 38 matches to qualify for the inaugural Europa League season of 2009/10.
Refraining from eulogising about the historic European run that followed, the pair would go on to feature regularly in the next four campaigns which led to finishes of 12th, 8th, 9th and 12th again.
The downfall that followed under Martin Jol saw their fine defensive alliance come to an end, and Fulham have never quite been able to replicate their solidarity since.
Hangeland told Fulhamish of their partnership: "Aaron is one of my good friends still, he is a great guy and a top professional.
"What's important is not just the type of player that they are but also the type of person. We had a good relationship off the pitch, and obviously the endless hours of defensive drills with Roy where he would set up the whole team attacking against myself and Aaron and Mark Schwarzer.
"When you play three against 11 you really have to perfect everything so there was a lot of repetition to the point where we didn't really have to communicate on the pitch."
Embed from Getty Images
Schwarzer, who played 205 times with Hangeland and 185 times with Hughes was also a huge part of the Fulham side that was so solid for the aforementioned five-year period.
That trio would be broken up over the course of 12 months before Fulham's first Premier League stint came to an end, with Schwarzer joining Chelsea in July of 2013, Hughes joining QPR the following January and Hangeland moving to Crystal Palace in the August.
Adarabioyo & Andersen
Embed from Getty Images
The second coming of the Thames Barrier? Without getting ahead of myself, it really is too early to tell. But the early performances of Adarabioyo and Andersen have filled many with promise.
Both men are very capable both in and out of possession, and with respect to Tim Ream and Michael Hector, who were both vital in promotion from the Championship, both of the new faces look to be solid long-term options for Parker at the back.
In both the possession based, and counter attacking, wins over West Brom and Leicester respectively, Adarabioyo and Andersen proved to be composed at the back and reliable in their distribution.
Only time will tell if they can forge a partnership that holds up through the rigours of English football, but Premier League survival and a permanent deal for Andersen would be a dream outcome as Fulham look to recapture the form that made them so consistent during the glory days of Hangeland and Hughes.