Five Thoughts: Fulham 2-3 Everton
Written by Cameron Ramsey on 22nd November 2020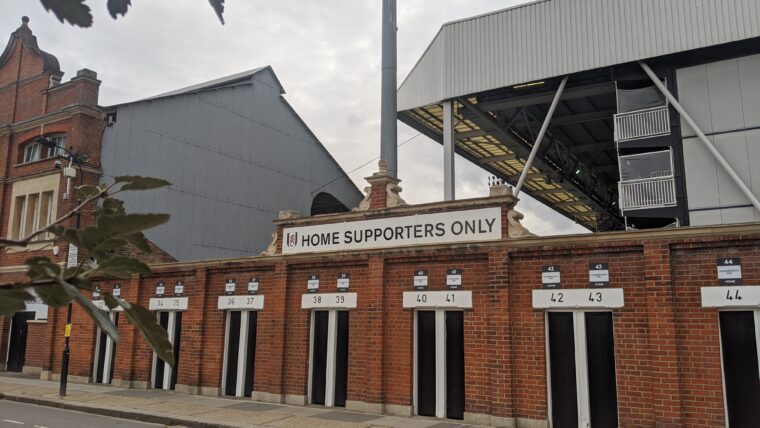 Normality, begrudgingly, resumed following the November international intermission. Fulham lose another Premier League fixture by a slim 1-goal margin and penalties are just as good as goal kicks. Carlo Ancelotti's Everton were on a perilous downward spiral before they travelled south to the capital but Fulham were, and still are, in greater need of points.

Scott Parker had a tissue in pocket for that runny hooter of his and the only thing more leaky than his nostrils was our defence, shock horror. The manner in which we began proceedings would reduce any grown individual to tears but things, as we will bring to light, did get better.
Brace yourself, though, for we now have three meetings against Leicester City, Manchester City and Liverpool to navigate. I'm not a betting man – £5 accumulators don't count – although with the run-in we have leading into December, I'd say the odds are stacked against us but, as we're always the underdog, upsets can and invariably will happen. Quote me on that, we're getting nine points from nine. Chins up, we're still 17th, come on you Whites!
Defence, Let's Talk
Lucas Digne roamed along his respective channel freely and rinsed Ola Aina unceremoniously. Everton recognised Aina's positional infirmity, spread the play to the Thames and made the makeshift right-back walk the plank, much like Crystal Palace did a few weeks ago. All three of the visitors' first-half goals were fashioned at Aina's expense but collectively, Fulham were vastly unprepared defensively and we paid a hefty price. Just as we thought we'd ousted those crippling defects at the back, the chilling frailties that have condemned us consistently in the Premier League returned without remorse.
Martin Keown's a charmless clown but I did agree with a few points of his, admittedly. There is a noticeable lack of communication at the back and our defensive procedures are reactive, rather than proactive. In the Premier League, that is inexcusable, someone has to take charge and whilst Joachim Andersen's a superb component, his leadership credentials are still fictional and that's the same story for Tosin Adarabioyo. They'll both flourish into no-nonsense, letter of the law enforcers, I've no doubt of that, but they're not there just yet. These experiences will hopefully toughen their mindsets as young central defenders and I'm sure they'll wince at the sight of the back four's disfigured anatomy, when they come to analyse the performance at Mostpur Park in the coming days, just like we will in turn.
These insecurities of ours have to be ironed out before we meet Leicester City on the 30th, otherwise we're cruising for a 5-goal bruising at the very least. To leave ourselves so desperately exposed along the right not once, but three times within 35 minutes was utterly deplorable and it speaks volumes about the connection our back four has with one another. They're all new faces, adjusting to life at the base of the table and if we're being critically honest, none of them have gained enough game time at this level and that is key to forging a pragmatic, efficient collective relationship. If this is the four to carry us forward (please come back soon, Kenny), we have to see extensive improvements. Closing incoming players, we were hesitant, soft in the challenge and top-flight teams will thrive on that standard of indecision we've set ourselves. Richarlison weaved his annoyingly compelling magic, Dominic Calvert-Lewin basically had a picnic in the centre of the goalmouth and now it's down to us to rain on upcoming parades at the King Power Stadium and beyond. Don't hold your breath.
Embed from Getty Images
Banging Bobby's Drum
Other than Aleksandar Mitrovic, who do we have that's truly capable of deputising at the pointed end of our offensive regiment? Parker deployed Bobby Decordova-Reid as our leading marksman and before kick-off, I doubted the diminutive attacker's abilities as a lone ranger but remarkably, he actually held his own fairly well against Everton's physical rearguard. Of course, he didn't pose the same problems that Mitro would so readily, but he explored the final third with an investigative thirst, peeling off his markers without a trace, and that's how he bagged our 15th-minute leveller, his third of the Premier League season.
Combining with Tom Cairney on the outskirts of Everton's penalty area, Decordova-Reid completed a textbook one-two with the skipper and darted past a flat-footed Mina. Setting himself, the 27-year-old the Jamaica international picked his spot and drilled into the left-hand corner of the net, a strike that was aided by Jordan Pickford's misjudgement. Prior to his goal-scoring moment, he'd actually swiped at a clear-cut chance to restore parity sooner, but in fairness, the ball rolled into his path was marginally behind his stride.
Nonetheless, BDR worked himself into prime positions, exactly how a false nine should. He didn't last the full 90, Ivan Cavaleiro did, for some reason that flouts knowledge and rationale, but the multi-functional offender participated admirably and these performances are precisely what we've come to expect from him. I won't excuse him for the miscued lay-up that effectively guided Everton's first of the afternoon, but I will applaud his underlying input within his natural area of the pitch, because it exposed the Toffees' soft, penetrable underbelly in periods where we had to capitalise. He coasts through games, you could mistake him for a passenger and defenders write him off as a manageable pest, however BDR is, as the visitors learnt, anything but.
Self-Inflicted Mayhem
Masters of self-inflicted mayhem. Fulham, under Parker and those that have gone before, are instructed to play out from the back with the view of exhibiting total football but in the first-half, our flimsy tendencies across the back four briskly unveiled complete catastrophe. Pressed by Everton's attack, the Whites bobbed into deep, hot water, all within 42 seconds, as they gifted the Blues an opportunity to break the deadlock, well before the game's even been established. The quickest goal of the campaign to date, supposedly, Fulham's dubious custody across the back four tempted disaster and Everton dined upon a three-course feast, initially fixed by BDR, plated by one too many cooks then after.
I can see why Parker wants us to assemble sequences from the depths of our 6-yard quadrant, kind of. Alphonse Areola's distribution's constructive, Adarabioyo's slightly more assured than Tim Ream, for example, and Andersen's equally as comfortable with the ball under his spell, but this is coming from an idealistic viewpoint. Once Everton doubled their lead, our heads went. Andersen's a reliable passer of the ball but even his decision making was contentious, he literally punted it out of play to hand Everton a corner and though we regrouped latterly, inviting unneeded strain and stress with detectable, uninspired dabs across the back four stirred the tension. There's no denying it, we're not good enough to entrust an out-and-out passing philosophy at this level as certain games will require, such as this one, will require quick-fire evasive measures in order to douse the opposition's momentum.
Unconsciously, the Whites wrote their own downfalls, as they so often do, and it showed in the second-half that if we flicked that mental switch whilst administering possession, we'll actually limit the opposition to a bare minimum. In fairness, it wasn't just our defence that faltered, certain members of the midfield department also fumbled routine passes and this pistol's loaded with Mario Lemina's name etched on each bullet. He put himself about, maybe tried a little too hard and his passing range in the centre of the park was atrociously amateur. Whenever the ball channelled through his supervision, it left with the wrong address, or it'd been pickpocketed from under his over-zealous nose. I want players to be bold and trust the system, however I simply don't have the patience for incompetence in innocuous situations and he was an ever-constant culprit.
Embed from Getty Images
Ruben Does Bits
Living in close proximity to a tiresome brigade of Chelsea fans, we're constantly questioned to why Ruben Loftus-Cheek, our "best player", hasn't featured in every minute of every game we've encountered this season and the simple answer doesn't really compute very well with the curious Blue. RLC came to the brighter side of SW6 with an esteemed regard and I, for one, raved about his injury-prone expertise but in his sporadic outings so far, he's been markedly average. Shoehorned into undesignated areas of the pitch, the 24-year-old has faded out of various occasions although against the Toffees, tasked with the responsibility of altering proceedings in our favour, the resurging England international was a prominent instigator in our advances and his dormant class gushed out of every touch in torrents.
Replacing BDR, it didn't take Loftus-Cheek very long to influence the game in the way he'd intended. Weaving his way into the penalty area, after a neat interchange on the fringe of the 18, RLC's deceptive movement bamboozled Ben Godfrey, who subsequently felled the Chelsea loanee with a rogue swipe of the shin pad. Piercing, progressive, Loftus-Cheek manufactured a deceptive groove that unsettled the visitors, and though Ivan Cavaleiro spurned the resulting spot kick so comically, the midfielder's intuitive enterprise instilled an instant confidence into his teammates, an infectious outlook that pledged a foundation to build upon. Yes, when he wants to, Ruben does bits.
Two minutes after Cav's turf-turning blunder from 12-yards, Loftus-Cheek atoned on the winger's behalf. Ademola Lookman charged into the danger zone, clear of his marker, and located his fellow loanee with an intelligent cut back. Deflecting off Mina, RLC's goal-bound strike cannoned past a rooted Pickford and the prospect of shared spoils was automatically lodged into the afternoon's unscripted agenda. With the ball, Loftus-Cheek constructed mindfully, drifting out of central positions to develop attacking situations from the right flank and out of possession, he hustled and harried Everton's restricted ball carriers. Incorporating him on a weekly basis from the off, that's an unpopular conundrum. To get the very best out of the Blues' boy, he has to reside behind the striker, or so we thought, anyway. Confining RLC to one core position, I'm not entirely sure it's necessary. Would I have him along the left? Indefinitely. Could he cohabit the middle of the park with Andre-Frank Zambo Anguissa, very possibly. The variations could be endless where Loftus-Cheek is concerned and as he's already relatively adaptable, there's definitely solid ground for his personal game to evolve, on or off the bench.
Second-Half Resurgence
At 3-1 down at the break, a second-half onslaught from Everton was fully anticipated but to Parker's credit, the substitutions introduced to the fray spearheaded a spirited fight back in the closing 20 minutes or so, advertising a brand of football that's attractive, as well as distinctly flawed. Loftus-Cheek, as we've discovered, held the torch for the Whites in their sequences, Anguissa ventured to hassle Tom Davies and Gylfi Sigurðsson, which he most certainly did, and Mitro pinned Yeray Mina and his central partners to the edge of the 18-yard box, enabling the Whites to press on in their quest for an elusive equaliser.
Fulham, in its entirety, rallied to deny Everton after the restart, barring the odd scare, and though a trouncing was initially predicted, the Whites displayed a defiance that demanded reward and our guests had their backs pressed firmly against the metaphorical wall. We could feel aggrieved in the aftermath, knowing that our efforts amounted to nothing in the grand scheme of things, although I'm only interested in highlighting the reborn attitude in our approach, particularly after another howling miss from the penalty spot. The all-round application was commendable and if we could somehow devise a system that allows us to perform with vitality, verve and determination from the start, we'd surely stave off the drop, and that's not an irrational statement to make in the slightest.
Tools were not downed. Reinvigorating our game plan was essential and we chopped and changed at the right time and for the correct personnel. There is life within this squad, we genuinely possess enough heart and willpower, however that all-important end product's proving to be our Achilles heel. We can harp on about numerous troubles at the back – and boy haven't we done so incessantly – but the one defining factor that's dampening our chances is the unrefined quality within our patterns in the final third. We asked major questions of the Toffees' composition, our purpose and movement constrained their relevance, although a killer assist, alongside a lethal extinct, wasn't present once we'd manipulated the visitors' shape and fortitude. We fell short of the mark, just shy of the required standard, although we shouldn't resign ourselves to a winter of doom and gloom because there is a palpable unity within Parker's camp.